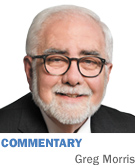 My job takes me out of my office into the community on a regular basis. As I'm out talking with folks in the business community, a common theme surfaces almost without fail on a weekly basis.

The conversation usually turns to something that sounds like this: "So, everything must be going well at IBJ. You guys are the only game in town when it comes to business news. The paper seems to be full of stories and I see a lot of ads in there."

I humbly thank the observer for his or her kind comments and normally respond that, while revenue is not what it was in the "glory days," we're doing just fine—thank you for noticing. The bottom line is that the perception of the future viability of the newspaper business is so bleak that people are surprised when they see a success story right under their nose.

There are reasons we have a viable business plan, even though we're in an industry that is experiencing great transformation. First, and foremost, we have great, local owners who are deeply committed to our business and the community in which they live.

If we were a publicly owned company controlled from afar, I firmly believe we'd have about 25 percent fewer staff members. We wouldn't have the resources to give you, the reader, the vital in-depth news and information you need to help your business or organization succeed.

IBJ can be successful in a rapidly changing industry because we haven't decimated our newsroom like many newspaper companies have been forced to do over the past several years. It takes a village to be successful, and every single staff member in every department contributes to our success.

However, the key to our business is content, content, content. Provide relevant and unique quality content that folks want and need. Then deliver that content to them how, where and when they want it, and the rest should take care of itself (if you watch expenses carefully). If you build it, they will come—and pay for it.

As a side note, you can get a glimpse into the business principles held dear by Mickey Maurer, our majority shareholder, by reading his new book, "10 Essential Principles of Entrepreneurship You Never Learned in School."

To my earlier point, I'll give you an advance look at the topic of chapter one—it's "people." Did I mention you can purchase that book for the holidays at ibj.com/books? I never apologize for a shameless plug.

On the advertising side of the business, one reason we continue to attract strong investments from area companies, at a time many similar publications are experiencing steep declines, is because of the quality of our readership. Here are some quick facts about typical IBJ newspaper readers (as provided by a study conducted by Research USA in 2012):

• Fifty-one percent are owners or partners in a business and 55 percent are in top management.

• Eighty-one percent have purchasing/specifying authority for products and services bought by their firms.

• Average household net worth is $2.8 million.

• Average individual income is $223,300.

• Forty-nine percent have attained millionaire status.

• Average time spent reading IBJ each week is 43 minutes.

I could fill this whole page with more impressive demographic statistics, but space does not permit.

I've focused on IBJ, the newspaper, because many people have the incorrect perception that most newspapers are dying, and by association, IBJ must be dying on the vine, too. Not so.

Yet, the truth is, more and more of what we do resides in the digital realm—online, via mobile devices like smartphones and tablets, and in e-newsletters we push to your inbox. Our growing digital offerings broaden our reach.

Beyond the small but highly targeted influential and hard-to-reach audience of the newspaper, we're seen by a much larger and more diverse audience numbering in the hundreds of thousands. More people know the IBJ brand today than at any time in our history. This additional distribution of quality news and information from the brand people know and trust will only increase as each year progresses. And next year, we'll once again present at least a dozen quality business events that will attract thousands of attendees.

So, the future looks bright. Thank you for your advertising and sponsorship support. And thanks for reading IBJ. Happy Holidays to you, best wishes and much success in 2013.•

__________

Morris is publisher of IBJ. His column appears every other week. To comment on this column, send e-mail to gmorris@ibj.com.