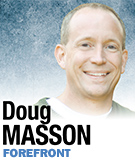 As I recall the story, the guys in my dad's fraternity used to haze the pledges by cracking eggs, emptying them down the stairwell and making the new guys catch them in their mouths down at the bottom.
When the idea of forgoing the hazing was floated, Dad recalled that his brothers were not keen on the idea because, after all, they'd had to put up with that nonsense.
"It was tradition and develops brotherhood," they said.
Turns out this dynamic is not limited to frat boys embracing hell week.
When the Indiana Department of Education decided to remove cursive from the mandatory curriculum of Indiana schools, there was a great wailing and gnashing of teeth in some quarters. This was more evidence of a society in decline. Sen. Jean Leising floated a bill that would have made cursive instruction mandatory. It passed the Senate 45-5, but failed to make it out of committee in the House.
The teaching of cursive is still, of course, permitted, but at the discretion of the school district. My 9-year-old son is now at the receiving end of that discretion. Next semester, his class will be required to write entirely in cursive.
Count me among those who do not view it as an especially valuable skill. Class time could be spent in more valuable ways. Learning to juggle, perhaps.
I'm biased, and old grudges die hard. My fifth-grade teacher declined to give me a handwriting grade because "it would be a shame to mess up a perfectly good report card." I abandoned cursive as soon as I was permitted and consider typing one of the most valuable classes my high school offered.
So, it is perhaps not surprising that, in the debate of Leising's bill, I found the post-hoc rationalizations for mandatory cursive less than convincing. Two of the more prominent examples from the debate were, "How will kids read the Constitution?" and "They need to be able to sign their name."
As to the former, I will note that I cannot read the original Magna Carta but find the translations perfectly serviceable. As to the latter, go ahead and take a couple of hours teaching signatures. Maybe teach a little in art class if the beauty of the form is your concern. But an entire semester is far from necessary.
Occasionally, you will see claims about the cognitive impact of learning cursive. However, it appears unlikely that these claims about cognition, signatures or reading old texts are the true, underlying motivation for the passion of pro-cursive advocates. Rather, the nostalgia for cursive comes first; the justifications are an afterthought.
This is not an unusual pattern when tradition is threatened. Emotion comes first; reason follows. In this case, the dynamic was powerful enough to send the mandatory cursive bill through the first chamber by a wide majority, apparently overcoming the stated "limited government" sensibilities of a number of legislators.
This pining for the good old days crops up repeatedly in the legislative and political processes—usually some variation about how kids these days don't know how good they have it. I doubt there has ever been a generation that thought the younger generation was smarter or harder working, wore snappier clothes or listened to better music.
And, yet, the polkas of Lawrence Welk give way to the Beatles; cursive gives way to keyboarding; and somehow humans have, overall, continued to progress since they got kicked out of Eden.•
__________
Masson is a Lafayette attorney, author of Masson's Blog and former counsel for the Legislative Services Agency. Send comments on this column to ibjedit@ibj.com.
Please enable JavaScript to view this content.