Concerned that a shortage of high-quality schools is fueling a loss of population in Marion County, Mayor Greg Ballard's administration and a series of community groups have drawn up a preliminary plan to help replicate the city's most successful schools.
The plan would encourage Indianapolis' charter schools and all 11 of Marion County's traditional school districts to launch new schools modeled on ones around the city that achieve great outcomes even in tough neighborhoods. Their applications would be fielded by The Mind Trust, an Indianapolis-based education reform group, which would then make grants and offer non-finanical support to help schools replicate in under-served neighborhoods throughout the county.

Jason Kloth, Indianapolis' deputy mayor of education, has spearheaded discussions of the plan.
The plan, called "Neighborhoods of Educational Opportunity," is far from being fully fleshed out. But even in its skeletal form, the plan's countywide focus is broader in scope than anything Ballard or perhaps any of his predecessors has attempted in education before.
The plan calls for nearly doubling the number of "high-quality seats" available in all of Marion County's public schools—whether traditional ones or charters—over the next decade. Getting to those 30,000 additional high-quality seats could, according to one illustration shared by the mayor's staff, require 70 new schools, with roughly 500 students each.
"It is broad, but it also has a local focus, which I think is the beauty of it," said David Dresslar, a former public school superintendent who is executive director of the Center of Excellence in Leadership of Learning at the University of Indianapolis. Dresslar said the plan is a logical next step for Marion County after years of focus on the Indianapolis Public Schools district and charter schools.
For decades, the core of Indianapolis has been losing families with school-age children to the outlying townships of Marion County. But more recently the townships have been seeing families with school-age children leave—or never settle there in the first place.
An analysis of 2010 Census data by the Indiana University Public Policy Institute found that Marion County lags the counties that surround it in the percentage of children and adults 35 or older—and that the gap has widened since 1990. Also, Marion County has fewer households with incomes higher than $50,000 than the doughnut counties.
Losing middle-class families with kids means a loss of incomes and a dampening impact on property values—two key sources of tax revenue for the city, noted Jason Kloth, Ballard's deputy mayor of education.
"When large numbers of our community leaves, it has a dire effect on everyone else," he said. Kloth, who joined the administration nearly a year ago, has spearheaded the discussions with community groups that led to the Neighborhoods of Educational Opportunity plan.
The plan wants to use the goal of 30,000 new "high-quality" seats to spur teacher and principal training programs—such as Teach for America and its Indianapolis Principal Fellowship—to grow their programs to be large enough to staff the slew of new schools. Those outside groups then could use those goals to help in their fundraising pitches to national and local donors.
There is no concrete fundraising plan to support the Neighborhoods of Educational Opportunity plan, and the financial needs of the plan could change wildly depending on which groups participate and which don't. But in one example included in a December slide presentation by the Mayor's Office, the groups involved would need to raise $97 million over five years.
"I welcome the additional resources that the mayor brings to the table," said Tom Little, superintendent of the Metropolitan School District of Perry Township. He added, "Given the right resources and the right support, I believe I can meet the needs of children walking through the door."
Too few 'high-quality seats'
An internal analysis conducted by the Mayor's Office and Stand for Children, an education reform group, found that only 26 percent of the nearly 141,000 classroom seats in Marion County schools are "high-quality."
Elementary and middle schools were deemed high-quality if 80 percent of their students passed both the math and reading portions of the state standardized test and if students' scores grew faster than the statewide average. High schools were deemed high-quality if 70 percent of their students passed the state standardized math and English tests and if 25 percent of students demonstrated college- or career-readiness.
Those standards are roughly equivalent to schools scoring an A or B on Indiana's controversial A-F grading model. Statewide, 61 percent of schools received an A or B in 2012.
"We have far too few high-quality seats across Marion County," Kloth said.
Those high-quality seats are scattered throughout the county, and do not correspond to any particular school district, according to preliminary analysis by IFF, a Chicago-based lender and consultant for not-for-profits.
IFF is still conducting its full analysis to see exactly how many classroom seats in Marion County are high-quality and how many of those seats are available to students in each neighborhood of Indianapolis.
The IFF study is expected to be released in mid-March, Kloth said.
By late March, Indianapolis is due to hear whether its Neighborhoods of Educational Opportunity plan has won a prize in a competition called the Mayors'Challenge, staged by Bloomberg Philanthropies. The city is one of 20 finalists for five prizes of $1 million or more.
If Indianapolis wins, Kloth intends to use the money to work with other local stakeholders to produce a detailed plan and fundraising strategy.
Marion County superintendents said the initial estimate that only 26 percent of seats are "high-quality" is not an accurate picture of schools' quality in Marion County.
"Not even close," said Little, the Perry Township superintendent. "There's a flaw there somewhere. There has to be."
Jeff Butts, superintendent of the Metropolitan School District of Wayne Township, agreed there are more high-quality options than the grading system indicates.
He noted that his district received a D grade last year, yet his township's teachers are frequently recruited by school systems outside Marion County. And Wayne Township has developed Ben Davis University High School, which has achieved 100-percent graduation rates even though three-quarters of its students are from low-income homes.
It's schools like Ben Davis University, as well as IPS' Arlington Woods and Carl Wilde schools, and charter schools like the Christel House Academy, that Kloth wants to see replicated.
Like Little, Butts also praised Ballard's attention to education.
"The mayor is working hard to make all of Indianapolis a great place to work, live and raise children," Butts wrote in an e-mail. "I applaud him."
Hurdles for the plan
Like any plan to improve schools, Neighborhoods of Educational Opportunity faces many hurdles.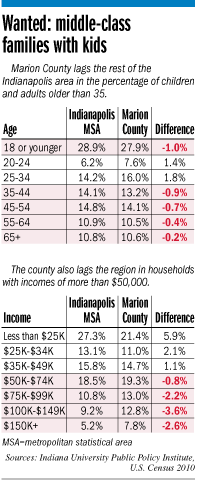 Local broadcaster and journalist Amos Brown said the plan might have a credibility gap in the townships, since the focus of most Indianapolis mayors in the past has been on IPS and charter schools.
"There's no credibility behind this because they haven't heard that rhetoric coming out of the Mayor's Office," Brown said, noting that Kloth made a slide presentation about the plan to the IPS school board in December but has not spoken to the township schools.
Kloth acknowledged that he has yet to discuss the plan with township schools, but he said their input will be crucial for fleshing it out.
"It's all in the idea phase," he said. "It's all trying to be collective and inclusive."
The groups that have been involved so far include Teach for America, The New Teacher Project, Stand for Children, The Mind Trust, the Urban League, the United Negro College Fund, La Plaza, the IPS board and a few others.
Joe Slash, president of the Indianapolis Urban League, said his group is involved because he agrees that improving schools is foundational to growing the local economy and reducing crime. Slash, a former deputy mayor under Bill Hudnut, called having high-quality schools across the county the "final piece" in Hudnut's vision of restoring the core of Indianapolis.
"To have every school be an A school, that's what we're striving for," Slash said.
Brown, however, questioned whether Kloth is making too much of Marion County's loss of families with school-age children. According to U.S. Census data, from 2000 to 2010, Marion County lost about 2,000 families with children under 18. That was a decline of 2 percent.
The loss was entirely attributable to the loss of white families, as the numbers of black and Hispanic households with school-age kids grew.
"It's a complicated issue and to say it's all because of schools is disingenuous," Brown said.
In response, Kloth noted that during the "What's Possible?" surveys and community conversations that an array of community groups conducted last year, 83 percent of respondents cited schools as a critical factor that drives where they live. Failing to acknowledge that phenomenon is a blunder he thinks Indianapolis and other cities have made for too long.
"It's a colossal mistake," he said. "It's a mistake cities have made across the country."•
Please enable JavaScript to view this content.