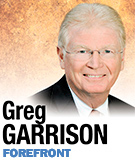 No more than an hour had passed on that awful day at Sandy Hook Elementary School before the usual suspects began their mantra: The whole thing was because of the gun.
If only the shooter had not had access to an assault weapon with a high-capacity magazine. Those scary-looking things were once banned, and surely if that law were still in effect all this could have been avoided—the same tired nonsense the left always regurgitates.
Now, anyone even modestly familiar with firearms knows the claims are ridiculous, as a single 9 mm semi-auto pistol with a couple of extra magazines, in the hands of a killer, can easily create just as much mayhem. And never mind that aside from these rare multiple shootings, these military-looking rifles are almost never used in homicides that involve firearms.
But wait. There's more. It turns out the whole gun control debate is based upon a remarkable ignorance (or concealment) of the facts. President John Adams is credited with having observed that "facts are stubborn things," and as usual, he was right.
The hysterical claims concerning "gun crime" (whatever that is) circulate in a factual vacuum, one in which data in huge quantities demonstrates their falsity.
Since 1994, gun ownership by private citizens has risen almost 100 million, from roughly 190 million to 290 million, a number (as of 2009) sufficient to arm the entire adult population. "WOW" you cry, "no wonder gun crime is out the roof!"
Well my fine friends, tain't so.
Gun homicides are down sharply over that period, roughly one-third, and 50 percent where minors are the victims. Gun-murder numbers fell nearly 7,000 from 1993 to 2011—from 17,000 to 10,300—a drop of about 40 percent.
As for juveniles, in 1993 there were 1,975 gun-related murders of persons 18 years and under, but by 2009 that number had dropped to 887, a decrease of about 55 percent.
All this while private gun ownership had grown by 100 million.
The conclusions are simply unassailable. Over the past two decades, life in America has become substantially safer, with gun violence plummeting as gun ownership soared.
And consider this from William J. Krouse, who wrote the Gun Control Legislation report Nov. 14 for the Congressional Research Service: "The estimated number of firearms-related non-lethal violent crime incidents decreased from 428,670 in 2000 to 326,090 in 2009, and from 2.4 persons to 1.4 persons per 100,000 of population ages 12 and older."
All the figures set out here come from that research—actually produced by Congress—but for some reason it hasn't ever made it into the debate. 'Magine that.
So why are we fixating on scary black guns and ammunition magazines for them that hold "too many rounds?" And when such weapons account for less than 0.5 percent of all such crimes, why is the debate so intent on banning them?
Simply put, the machinations of screwballs like Piers Morgan at CNN or the hysterical bloviations of a Diane Feinstein or a Barack Obama—behind the veneer of concern for "the children"—is a fundamental animosity toward the Second Amendment.
The real issue to them has nothing to do with "gun violence" and everything to do with disarming an independent population for their own purposes. We must remember always that private gun ownership was placed in the Bill of Rights not to help us stave off robbers or to put food on our tables. It is there to protect us from our government.•
__________
Garrison is a partner in Garrison Law Firm LLC in Indianapolis and a talk show host on WIBC-FM 93.1. Send comments on this column to ibjedit@ibj.com.
Please enable JavaScript to view this content.