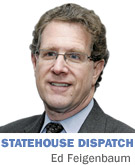 We've made it halfway through the 2013 legislative session with much less in the way of figurative fisticuffs than in the last several sessions—for which the participants and observers seem grateful.

While we don't foresee a repeat of recent session hi-jinks, you should be aware that some bills that have cleared the House or Senate threaten to raise either partisan or philosophical hackles.

Democrats are decidedly unhappy with a measure pushed by Sen. Mike Young, R-Speedway, that would revamp Indianapolis city government to expand the powers of the mayor and eliminate the four at-large city-county council seats.

Many Democrats are also concerned about two Senate-passed abortion-regulation bills and about House-approved measures to grab power from their sole statewide elected official (the superintendent of public instruction), to prevent school districts from collecting union dues via teacher paychecks, and to drug-test welfare recipients.

Tensions also have arisen over a proposed reduction of state subsidies of admission-tax dollars from riverboat casino host communities, and over the central Indiana mass transit proposal, which would allow local governments to raise taxes. That legislation appears more vague (but as a result perhaps more acceptable) at each legislative juncture.

Keep your eyes on the fascinating political dichotomy between pragmatism and principle.

The nine-member Indiana Republican congressional delegation is faced with backing indiscriminate sequestration spending cuts simply because they are significant reductions.

There is a similar drama shaping up far from the Potomac back home on the banks of the White River.

Republican Gov. Mike Pence served in Congress when the sequestration deal was struck. He recalled—for President Obama during a recent National Governors Association visit to the White House—that the across-the-board cuts were to be replaced by targeted expenditure carve-outs and a new set of serious spending reforms.

Yet, absent any responsible spending cuts and entitlement reform, Pence appears perfectly willing to accept the sequestration cuts and have Indiana take a hit that he believes we can afford because of our strong fiscal position.

That might place him at odds with many members of his own party in the General Assembly.

Some suggest that the state benefited from billions of dollars of federal stimulus money that Pence's predecessor, Republican Gov. Mitch Daniels, used to balance the budget and preserve education spending in one budget biennium—while taking full credit for balancing that budget.

But Pence appears more bent on adhering to principle and is far less pragmatic than his own party's state legislative super-majority.

Pence is hanging tough on his signature proposal for a double-digit-percentage individual income-tax rate cut and preference for a budget that fails to return K-12 education spending to pre-recession levels. He's not happy with the increases in education appropriations advanced by House Republicans ("strategic restorations," as they refer to them), or their decision to push for much more infrastructure funding ("strategic investments") than he had proposed.

While the House GOP budget would pay off a slew of state bonds and immediately deep-six the inheritance tax being phased out, Pence continues to hold out for his favored tax cut.

There also is a delicate dance taking place over utility issues. Some lawmakers want to pull the plug on a Daniels-backed coal-gasification-plant deal that requires more state and federal support, choosing winners and losers, and may cost consumers more, while the governor is neutral. He covets the multibillion-dollar investment and doesn't want the state to earn a reputation for abrogating a contract.

Some House Republicans are taking a longing look at the $10 billion-plus the feds are dangling as a carrot for Medicaid expansion—even if we must assume a chunk of that tab in 10 years. They note the 30,000 jobs and a $3.4 billion economic impact from expansion touted by the Hoosier health care industry—one of the state's largest employers—and the eight GOP governors who have signed on. And while Pence prefers to expand the Healthy Indiana Program if needed, there are a lot of unknowns about the cost of increasing that coverage from some 40,000 Hoosiers to 400,000.

With less than two months left to receive details from the feds, parse program requirements, and crunch the numbers (before we can determine what else might fit in the budget after health care is accommodated), time is running short. Pence's principles may collide with legislators' pragmatism—regardless of party.•

__________

Feigenbaum publishes Indiana Legislative Insight. His column appears weekly while the General Assembly is in session. He can be reached at edf@ingrouponline.com.