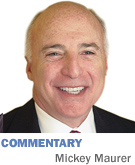 Quentin Paige Smith died in January at age 94. If you didn't know the Big Q, you missed a hell of a man—his own man—unbowed by the evil racism of the pre-Civil Rights era. I wrote his biography for my book "19 Stars of Indiana—Exceptional Hoosier Men," and now I can tell you the rest of that story.

Big Q was one of the Tuskegee Airmen, the black air force that trained at Tuskegee Army Air Field in Tuskegee, Ala. They were the first black aviators in the segregated Army of World War II, serving their country with pride in the face of discrimination.

They distinguished themselves in countless missions with daring and flair. I was anxious to hear of Smith's exploits.

"Mr. Smith ..."

"They call me Big Q."

"OK, Big Q, tell me about those missions."

"Missions? I didn't fly any missions."

Smith's superiors realized that his formidable size—a muscled 6-feet, 2-inches—and the required combat paraphernalia would make it impossible for him to "ditch" from the smaller planes in which he was trained. So he was assigned as commander to a B-25 Mitchell medium bomber, an aircraft used in both the European and Pacific theaters.

According to Smith, most of the higher-ranking officers in the Army were southerners who brought their racial prejudice with them. That prejudice permeated the force, creating a belief that blacks could not lead, could not fight and could not fly complicated aircraft. Nearly all of the black soldiers worked in the kitchen, dug ditches and hauled supplies. In the paratroopers, the officers were white.

At Tuskegee, blacks eventually took their place as officers. As a fully trained bomber pilot of the 477th Composite Group, Smith had to wait to become an officer until black personnel were trained, because Army brass would not allow whites to take orders from a black commander.

"Big Q, if you weren't transferred overseas to fly missions, what did you do all day?"

"I chased chicks—Los Angeles, New York, anywhere."

"They let you go anywhere you wanted? You could fly an Army airplane anywhere you wanted to go?"

"That's right. As long as I didn't get caught. Anywhere. Friday I was off, and then I flew back just in time to report at the base on Monday."

"Mission? No mission?"

"That was the mission."

In March 1945, Big Q was shipped with the 477th to Freeman Field, near Seymour. At 26 he was a first lieutenant, but despite his rank and the fact that money was deducted from his pay to support the officers' club, he was not allowed to use the facility.

Base Commander Robert Selway, a strict segregationist, had designated members of Smith's unit—all either qualified pilots or seasoned support personnel—as "trainees." He then issued a directive outlining when "trainees" could use certain facilities, effectively prohibiting the black officers from using the officers' club. Selway ordered Smith to sign the document. Smith refused.

The commander told him failure to obey the order would be a violation of Article 64 of the Articles of War, which stated: "Any person subject to military law who … willfully disobeys any lawful command of a superior officer, shall suffer death or other such punishment as a court martial may direct."

Selway repeated the order. Smith said "No sir." He was immediately placed under arrest and, along with 100 others who refused to sign the directive, moved to Goodman Field at Fort Knox, where they were locked in a stockade.

Their heroic stand was brought to the attention of President Truman, who responded, "Turn them loose." A defense team captained by Thurgood Marshall, a brilliant lawyer and future Supreme Court justice, was retained by the NAACP. In addition to securing releases for all of the officers, Marshall obtained honorable discharges for those who wanted to leave the military, including Smith.

Although Smith never had an opportunity to prove himself in combat, his brave action and that of his comrades garnered national attention and forced the armed forces to rethink its policy of segregation. Two years later, Truman signed an order desegregating the military.

That was Big Q's mission.•

__________

Maurer is a shareholder in IBJ Corp., which owns Indianapolis Business Journal. His column appears every other week. To comment on this column, send e-mail to mmaurer@ibj.com.