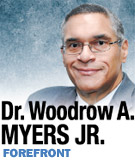 Indianapolis is a long way from reaching its potential. Yes, we have advantages with cost of living (compared to both coasts), and great professional sports franchises and an array of quality cultural institutions like the Indianapolis Symphony Orchestra and The Children's Museum of Indianapolis, and many more.
But we are nowhere close to where we need to be for our children, grandchildren and city to thrive in the exceptionally competitive decades to come. Today, Marion County no longer competes with simply the doughnut counties or other states.
We are also competing with Singapore, Ireland and even Mozambique in all the arenas where we've felt comfortable, where we've rested on our laurels.
Singapore is one of the world's leading financial centers and has one of the busiest ports in the world, and its people now enjoy the third-highest per-capita income (the United States is eighth, and Indiana is 33rd among the states).
Ireland has the 10th-highest education expenditure as a percentage of gross domestic product, while the United States is 18th. The Irish high school graduation rate is 91 percent; in the United States, it is 76 percent, and in Indianapolis in 2012, it was 66 percent.
Mozambique is one of the poorest countries, with a per-capita GDP of about $1,100. The prize in Mozambique is undeveloped and underdeveloped land—and lots of it, along with the water and inexpensive labor to grow crops.
We live in a global economy, and the "borders" between countries and their people are disappearing every day. In the days before relatively easy world travel and transport, and before instant communication with the global iPhone and Android, and now in the days after continent-wide wars, Indianapolis, Indiana, is no longer economically safe from Singapore or from Ireland or from Mozambique.
They all want what we want: prosperity, especially a better life for their children. They are using their resources to rapidly develop their assets and people in a relentless drive to compete with the United States—not to harm us physically—but rather to take our markets and our customers for their own.
That's why Singapore will become the world's leading financial center, and why Ireland may become the world's leading country for call centers and administrative processes (like insurance claims), and that's why Mozambique will emerge as a leading producer of grain, meat and produce over the next decade.
There are other competitors. Most foreign countries are sending their best students to American universities (like IU and Purdue) where we gladly take their tuition dollars and they eagerly take our knowledge—back to their homeland and use what we've taught them to improve their products and productivity.
Yet in the midst of the most rapid and impressive economic expansion in history, we as a county and a state are unable to agree on the best ways forward to optimize public transit, public education, public safety and public health.
We've been insulated for so long from the rest of the world that we've lost the sense of urgency needed to fight globally, so instead we fight locally. We value inefficiency over efficiency and procrastination over progress, and that has to change. The evidence is unambiguous, and it is federal, state and local.
We need a collective wakeup call and a new spirit of cooperation. We still have the best system of higher education, the best transportation infrastructure, the best research—especially in the sciences—and the best ability to respond to crisis.
What's missing is the will to win.•
__________
Myers is a former chief medical officer for WellPoint Inc. and served as health commissioner for Indiana and New York City. Send comments on this column to ibjedit@ibj.com.
Please enable JavaScript to view this content.