Republic Airways Holdings has two big items to check off its to-do list. Unload Denver-based Frontier Airlines, and reach a contract agreement with the union representing 2,000 pilots at its traditional regional-jet business.
Frontier drew nibbles from two investor groups earlier this month, but the pilots' union is treating Republic's latest contract offer like it's a middle seat.

Heller
The International Brotherhood of Teamsters Local 357 canceled a vote that was scheduled to begin on March 17, even though Republic had sweetened its basic offer, worth an additional $12 million in the first year, with a $7 million signing bonus. Since then, the National Mediation Board in Washington, D.C., has said it won't schedule additional meetings between Indianapolis-based Republic and the union for the foreseeable future.
"I've never been in this situation where we're trying so hard to give the individuals a raise, and they're saying, 'No, we don't want it,'" Republic Chief Operating Officer Wayne Heller said.
What the union wants are significant changes to the work rules that govern pilots' schedules, total pay and where they might live. All those factors affect pilots' quality of life, and the union insists they also play a big part in safety.
Safety is an especially high-profile issue in the regional-carrier business, which generated nearly 40 percent of Republic's $2.8 billion in revenue last year. Regional carriers—which fly shorter routes for major airlines for a fixed fee—handle more than half of all U.S. flights and 64 percent of those out of Indianapolis International Airport.
Teamsters Recording Secretary Dan Silbaugh doesn't hesitate to mention the last fatal U.S. airline crash, Continental Flight 3407, operated by regional carrier Colgan Air. The 2009 crash killed all 49 people on board, plus one person on the ground outside Buffalo, N.Y., prompting scrutiny of regional carriers' operations and a host of new regulations addressing pilot fatigue.
The captain of Flight 3407 reported for duty in Newark from his home in Tampa, Fla., and his co-pilot flew overnight from Seattle, where she lived with her parents.
Republic bought some of the former Colgan's jets, Silbaugh noted.
"They're now operated by Republic with arguably worse working conditions," he said.
Heller said the company addressed some of those conditions but can't afford to grant every wish.
"We operate under the same standard of safety—training, rest and oversight—as a major," he said. "It actually makes things tougher for us."
Silbaugh realizes that the union's decision not to vote on Republic's latest offer, a four-year contract, leaves no clear path forward.
"I'm not sure there's a single person on the face of the planet that really understands what's going to happen," he said.
Republic and the union have been in talks since late 2007. Pilots will be paid under the prior contract until a new one is worked out.
Stuck in stalemate
The recent delay doesn't bother airline stock analyst Bob McAdoo at Imperial Capital in Los Angeles.
Airlines union talks drag on longer than in other industries because they're governed by the Railway Labor Act, which limits the union's strike rights, McAdoo said, noting that American Airlines pilots have their first new contract since 2003.
"It could take a while," he said.
But both Republic and the Teamsters have something to lose in a continued stalemate. CEO Bryan Bedford has said he wants to dispose of Frontier by the end of the second quarter, and the pilots' union could latch onto that revenue-generating event to bolster its demands.
Acquiring Frontier and entering the scheduled-service business in 2009 turned out to be a disastrous bet that caused steep losses and a plunge in Republic's stock price. Bedford has since turned the company around and is ready to focus on Republic's root business as a contract carrier.
Republic swung from a loss of $151.8 million in 2011 to profit of $51.3 million in 2012—a turnaround that has ignited the stock price. The company's shares have risen from a two-year high in January of $7.14 to $11.29 on April 24.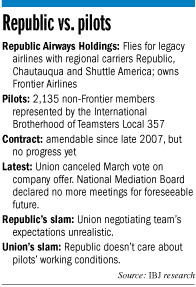 The Wall Street Journal reported this month that two private-equity firms, Indigo Partners LLC and Anchorage Capital Group LLC, were competing for Frontier.
Waiting for a better deal
For the union, holding out for a better contract means half its members, the junior pilots, will continue earning some of the worst hourly rates in the industry, according to Republic's own comparison. First officers earn about $23 to $36 per hour, depending on their years of service, while captains' hourly wages range from around $56 to $108, depending on seniority and size of plane.
The raises for first officers would range from 12 percent to 30 percent.
"This has gone on too long," Heller said. "We have people we feel are being economically harmed. This union won't allow them to get a raise."
Republic captain Daniel Sneddon, a member of the negotiating team, said the company's attempts to appeal directly to the rank-and-file only galvanized his membership.
"It's the lower-ranking pilots that are insisting on a quality-of-life change," he said.
Competitive edge
Republic and the Teamsters operate dueling websites addressing the contract issues. Over at myrjetworkplace.com, Bedford uses a video presentation to make the case for keeping a competitive edge.
After 10 years of consolidation and bankruptcies among regional carriers, Bedford said, Republic now has just two competitors—industry leader SkyWest and much smaller Trans States Airlines.
"Literally only three companies have come through the decade unscathed," he said.
And Republic will have one less potential customer after the American Airlines-US Airways merger is complete.
Republic's two advantages are its fleet, which is weighted toward the 70-seat and larger jets that major carriers favor, and low costs.
"We have to be competitive, or we will cease to exist," Heller said.
Even so, Heller said Republic is willing to make a "huge, huge concession" in the way pilots are paid. Currently, pilots bid for and are awarded a certain number of flying hours each month. If any of those flights are canceled, however, the pilot doesn't get paid, though he still shows up for duty. Republic has offered to guarantee pay for all awarded flight time.
Republic also offered to bump up per-diem pay, add a holiday and pay for one out of every 4.75 hours that pilots spend waiting between flights.
But the union is holding out for better terms on trip scheduling and base transfers, Sneddon said, because the company's track record is so poor in those areas.
The way schedules work out now, eight hours of flying can mean 14 hours on duty, he said.
Pilots also are feeling the sting from bases opening and closing, which force them to move their families cross-country or make long commutes to report for duty. In the most egregious example, Sneddon said, Republic closed a base in Hawaii and moved everyone to New York.
Pilots are also aware of how the industry has changed. They can no longer count on spending a few years with a regional carrier, then jumping to a better life with the legacy airlines.
"I consider myself somebody that's staying for the long term," said Sneddon, a 36-year-old based in Pittsburgh. "The last thing I would want is something that would put them out of business."•
Please enable JavaScript to view this content.