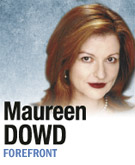 Please don't ask me this anymore.
It's such a silly question. Of course Hillary is running. I've never met a man who was told he could be president who didn't want to be president. So naturally, a woman who's told she can be the first commandress in chief wants to be.
As long as there are no more health scares—the thick glasses are gone—Hillary's age won't stop her. The Clinton scandals and dysfunction are in the rearview mirror, and the sluggish economy casts a halcyon glow on the Clinton era. Hillary is a symbol and a survivor, running on sainthood.
She was supposed to go off to a spa, rest and get back in shape after her grueling laps around the world.
Instead, she's a tornado of activity, speaking at global women's conferences; starting to buck-rake on the speaking circuit; putting out a video flipping her position to support gay marriage; and signing a lucrative deal for a memoir on world affairs—all as PACs spring up around her, Bill Clinton and Carville begin to foment, and Chelsea lands on the cover of a recent Parade, talking about how "unapologetically and unabashedly" biased she is about her mother's future.
Hillary jokes that people regard her hair as totemic, and just so, her new haircut sends a signal of shimmering intention: She has ditched the skinned-back bun that gave her the air of a KGB villainess in a Bond movie and has a sleek new layered cut that looks modern and glamorous.
In a hot pink jacket and black slacks, she leaned in for a 2016 manifesto, telling the blissed-out crowd of women that America cannot truly lead in the world until women here at home are full partners with equal pay and benefits, careers in math and science, and "no limit" on how big girls can dream.
"This truly is the unfinished business of the 21st century," she said. But everyone knew the truly "unfinished business" Hillary was referring to: herself.
The real question is not whether but whither. Did she learn, from her debacle with health care, to be more transparent and less my-way-or-the-highway? Did she learn, after voting to support W.'s nonsensical invasion of Iraq without even reading the intelligence estimate, that she doesn't need to overcompensate to show she's tough?
Did she learn, from her viper's nest and money pit of a campaign in 2008, how to manage an enterprise rather than be swamped by rampant dysfunction? Did she learn, when she wrapped herself in an off-putting and opaque mantle of entitlement in the primary, that she's perfectly capable of charming reporters and voters if she wants to, without the obnoxious undertone of "I'm owed this"?
Hillary was an indefatigable secretary of state and a star ambassador, especially on women's issues. But many experts feel, as John Cassidy wrote in The New Yorker, that, compared with the work of more geopolitical secretaries, her "signature achievements look like small beer."
Still, the job allowed her to get out of her husband's codependent shadow and develop a more authentic aura of inevitability. Obama allowed his former rival to take Hillaryland into the State Department and then build it out, burnishing her own feminist brand around the world.
The idea of Hillary is winning, a grand historical gender bender: first lady upgrading to president.
The real question about Hillary is this: When people take a new look at her in the coming years, will they see the past or the future—Mrs. Clinton or Madam President?•
__________
Dowd is a New York Times columnist. Send comments on this column to ibjedit@ibj.com.
Please enable JavaScript to view this content.