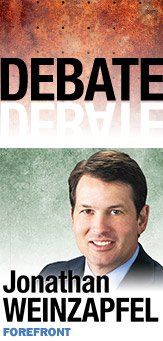 Question: Political scientists are debating the relevance of the discipline. Some criticize the field as having grown too esoteric and unfocused on real-world issues, while others suggest that it envies "hard" sciences for those disciplines' stronger ability to offer predictions. Was political science ever relevant, and if so, has it lost its way?
Answer: Political science is a relevant and important academic discipline. In short, it is the study of how decisions are made in the theater of politics and government, and the factors, influences and relationships that make it happen.
So … if we want to know how to find and agree on solutions to the challenges of the day and how to get them implemented, the study of political science is incredibly important. As a variation of the old saying goes, you have to know where you have been and how you got there if you want to know how to get to where you are going.
The foundation of the study of science is the scientific method. In the scientific method, an experimenter would ask a question, do background research, construct a hypothesis, test the hypothesis by conducting an experiment, analyze the data, draw a conclusion, then communicate results.
For most, it is easy to see how the scientific method is used in the hard sciences—chemistry and physics. What is not so clear perhaps is that it also applies to the field of political science.
Political science scholars examine timely questions about American politics. Some focus on being systematic in their observations, the gathering of quantitative data and the analysis of that data. Other scholars use qualitative analysis by focusing on historical knowledge and interviews with specific people in order to put together a narrative that can explain a particular event.
One is more rigorous than the other, but both are still scientific.
The obvious challenge is that nations and states cannot be put into a controlled experimental setting or subjected to the scientific method. But you can examine their measured characteristics through various models to see which attributes have the greatest predictive power in determining a particular outcome.
Maybe political science tends to be overly focused on number crunching and statistical modeling and that takes it away from the unique and idiosyncratic twists and turns of the "real world" of politics. Maybe political science pays too much attention to big patterns and trends in large data sets that make the field look too arcane and disengaged from the practical concerns of everyday people. There may be some merit to these charges.
But despite its real or perceived limitations, the study is important. It develops a way of thinking and an approach to problem solving that we desperately need in the world.
Political science has a role to play in helping to craft policy solutions to our debt crisis, challenges with slow economic growth, lackluster job creation, and immigration problems, then getting those solutions implemented. It has a role to play in helping us understand modern political movements like the Tea Party, or the push for marriage equality or the rise of Barack Obama.
And just as the world evolves and science must progress to help explain it, so should the study of political science advance to help us understand the changing times.
Politics is the science of people getting things done. As we witness the inability of Congress to agree on how to address the major challenges our country faces, maybe we should be encouraging more young people to study political science. Perhaps our country would be better off.•
__________
Weinzapfel, a former state representative and mayor of Evansville, is an attorney at Faegre Baker Daniels LLC. He is a Democrat. Send comments on this column to ibjedit@ibj.com.
Please enable JavaScript to view this content.