ExactTarget Inc.'s sale will swell the value of employee stock options to nearly $300 million—a windfall local tech experts expect will launch a wave of entrepreneurship over the next several years.

The Indianapolis-based company gave stock options to all 1,700 employees, from top executives through the rank-and-file, ensuring everyone will cash in on the company's $2.5 billion buyout.

San Francisco-based Salesforce.com said June 4 it would pay $33.75 a share, a 53-percent premium over ExactTarget's closing price the previous day.

Options give holders the right to buy shares in the future at the price on the date of grant. Some of ExactTarget's earliest employees hold options with exercise prices as low as $1.25—96 percent below the buyout price.

Dorsey
In addition, many rank-and-file workers and executives hold shares outright—pushing the overall financial windfall far higher. For example, CEO Scott Dorsey holds $45 million in stock in addition to options worth $28 million.

Not all aspects of the sale are positive for the city, which will suffer the loss of a headquarters of a New York Stock Exchange company. And many questions remain, including whether ExactTarget will cut or add to its 1,000-person downtown work force.

But what is clear is that the buyout will generate staggering wealth in Indianapolis—a huge new source of capital for startups in technology and other fields.

Technology investor Mark Hill, managing partner at Collina Ventures and board chairman for promotional group TechPoint, compared the sale to IBM's $200 million purchase of Indianapolis-based Software Artistry Inc. in 1997.

Investors took their gains and ushered in a new wave of startups, one of which was ExactTarget in 2000.

"And what we're talking about here is an order of magnitude difference," Hill said, contrasting the $200 million Software Artistry deal (worth about $290 million today in inflation-adjusted dollars) to ExactTarget's $2.5 billion.

"Over the course of the next five to 10 years," he said, "we're just going to see a lot more activity."

Investment returns

Employees will pocket much of their stock-option wealth once the all-cash sale closes, which is expected in late July. But some option grants are too recent to have vested and will convert into Salesforce.com options at the equivalent value.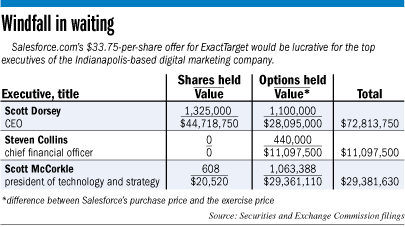 Regardless, Securities and Exchange Commission filings show, employees are sitting on huge paper profits. As of the end of the first quarter, ExactTarget employees held options to buy 11.1 million shares at an average exercise price of $8.82 per share. Based on Salesforce.com's offer, that translates to a profit of $24.93 per share.

In total, employees' options are "in the money" by about $277 million.

"Literally, since the beginning of the company, every employee has been given stock options," Dorsey told IBJ.

Much of that wealth will flow to locals, given that most of the company's jobs are here and the outposts the company established elsewhere house generally newer employees.

"All of this bodes well for continued reinvestment in the region," said Don Aquilano, managing director at Allos Ventures in Carmel. "There's no secret that you can build a strong technology company here in Indianapolis."

Growth won't be a quick process, Hill said, but it will happen over five to 10 years.

"I don't see us being Silicon Valley in the next year, but I do see us continuing to grow a software infrastructure, just continually marching forward," he said. "Is it going to happen tomorrow? No. It's going to happen over a long period of time."

Experts say more firms will launch in one of two ways: Newly rich ExactTarget employees will become angel investors, or they will splinter from the company and start their own firms.

'A point of pride'

Several companies already have spun off from ExactTarget during its 13-year existence.

"We've had that happen quite a bit over the years prior to this transaction," Dorsey said. "It's a point of pride."

Even an ExactTarget co-founder—Dorsey's brother-in-law Chris Baggott—did it.

Baggott in 2000 helped hatch the idea for the email marketing company with Dorsey and former colleague Peter McCormick.

Baggott stayed on until 2007, when he joined fellow ExactTarget employee Ali Roach to launch Compendium, which started as a blogging software developer and since has broadened its digital marketing services.

"When you think about it, when you're in a startup, the people who join the startup are entrepreneurs by nature," Baggott said. "You take a big risk when you join a startup."

Others have followed similar paths.

Right On Interactive, Marketpath and Smarter Remarketer also have roots at ExactTarget, among other companies.

Howard Bates, CEO of Smarter Remarketer, said his company always has had an amicable relationship with ExactTarget, even though co-founder Angel Morales left his retail strategies director job there to start Smarter Remarketer in 2010.

Bates expects more ExactTarget employees to follow suit once they sell their shares and have the money to launch their own businesses.

"I'm not going to say that everyone who received a nice check will do that," he said. "But I'll say that most of them in that leadership position are seen as very entrepreneurial."

Questions remain

Dorsey, in a memo to employees, said the company will operate independently from its new parent and continue to invest in its Indianapolis operations.

Dorsey said he and his senior team plan to remain in Indianapolis, and that he will report directly to Salesforce CEO Marc Benioff. But he would not elaborate to IBJ on what changes, if any, await the local work force.

Jeff Houston, a Barrington Research analyst who covers both companies, said ExactTarget could lose jobs that are redundant in areas such as accounting and human resources. But he said the new parent company is going to need employees experienced in email marketing, a new frontier for Salesforce.

"ExactTarget is a huge presence and has a huge momentum behind them, and they've got a lot of customers," he said. "And they're not going to take that approach [cannibalizing the company] with ExactTarget."

Aquilano, of Allos Ventures, noted that some previous buyouts of Indianapolis tech firms have spurred increases in local employment, such as Ohio-based Teradata Corp.'s $525 million purchase of Aprimo in 2010.

Bates said the connection to San Francisco should help draw more West Coast investors' attention to Indianapolis at a time it is hard to find anything more substantial than seed money.

"There are a number of shareholders that will be handsomely rewarded," he said. "Those people will become angel investors. They will have relationships with other investor groups."•