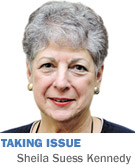 Congressman Marlin Stutzman wants to take food stamp authorization out of the farm bill, so it will be easier to reduce the SNAP payments that help the poorest Americans buy food while retaining those all-important farm subsidies. (Stutzman knows how important those subsidies are because he himself has reportedly received at least $200,000 worth.)
Stutzman is hardly alone in waging what seems like a mean-spirited campaign against the "least of us." Every day, it seems, there's a new effort to avoid providing low-wage employees with basic health care or sick leave or decent wages.
Leaving aside issues of fundamental fairness, these efforts are hardly consistent with the enlightened self-interest required by market economies.
A recent Bloomberg column by venture capitalist Nick Hanauer makes that case far more eloquently than I could. Arguing for a $15 minimum wage, he writes, "The fundamental law of capitalism is that if workers have no money, businesses have no customers. … In a capitalist system, rising inequality creates a death spiral of falling demand that ultimately takes everyone down."
Hanauer argues that raising the minimum wage to $15 would inject $450 billion into the economy annually. It would also save taxpayers money by substantially reducing dependency upon government public assistance programs.
Virtually all workers who earn today's minimum wage—about $15,000 per year—depend on a wide range of taxpayer-supported benefits, including food stamps, Medicaid and housing subsidies. Taxpayers are subsidizing Walmart and other low-wage-paying employers, effectively socializing their labor costs. As Hanauer notes, that's great for Walmart and its shareholders, but it's terrible for America.
The time-honored objection to raising the minimum wage is that such a raise would force businesses to shed employees. This seems logical; however, research rebuts the presumption. Alan Krueger, chairman of the White House Council of Economic Advisors, found that in 60 percent of the states that raised the minimum wage during periods of high unemployment, job growth was faster than the national average.
Furthermore, virtually all the low-wage jobs that would be affected are service jobs that can neither be outsourced nor automated. ("You want fries with that?")
Hanauer's argument is well worth reading in its entirety, but it shares its basic insight with the principle first enunciated by Henry Ford, by all accounts a real SOB without a compassionate impulse to his name, who nevertheless recognized that he needed to pay his workers enough to allow them to buy his cars.
Today's take-no-prisoners attitude toward the working poor often makes me think back to a conversation I had years ago with a wealthy friend. He explained his support for higher taxes on the wealthy and a correspondingly more robust social safety net thusly: "I'm better off paying higher taxes than I would be if people get so desperate that they take to the streets. Social unrest isn't good for anyone's bottom line, and when you grind people down too far, eventually that's what happens."
Market economies distribute economic rewards unevenly, but when markets work properly—when there is a level playing field—they provide incentives for a level of productivity and innovation that benefits us all.
I don't know anyone who begrudges paying more to the diligent and creative. It's when the playing field isn't level, when the most privileged and affluent use their power and influence to squeeze those at the bottom ever harder, that we incite popular resentment and invite social unrest.
What's the saying? Pigs get fed, but hogs get slaughtered.•
__________
Kennedy is a professor of law and public policy at the School of Public and Environmental Affairs at IUPUI. She blogs regularly at www.sheilakennedy.net. She can be reached at skennedy@ibj.com. Send comments on this column to ibjedit@ibj.com.
Please enable JavaScript to view this content.