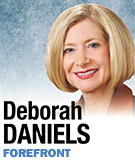 Pundits and public officials are trying to make sense of the level of crime in Indianapolis, the relative safety of our community, and the apparent "new breed" of young toughs—and everyone has an opinion on what we ought to be doing to make the community safer.

Let's start with the facts: While overall crime is actually down 10 percent in Indianapolis from a year ago, aggravated assaults (a reliable measure of violent crime) are down 15 percent, and shootings are level, our homicide rate is up.

To paraphrase Public Safety Director Troy Riggs, the difference between a shooting and a homicide is a fraction of an inch. So the homicide increase this year may not be a trend. But when people see shootings occurring downtown, they are likely to feel unsafe, and in public safety, perception is as important as reality.

As a community, we do not and should not tolerate these shootings. But what should we do?

Everyone agrees we need more police. Current understaffing was exacerbated by the merger of the Indianapolis Police Department and the Marion County Sheriff's Department, which significantly broadened the geographic area policed by IMPD while adding too few sheriff's deputies to cover the expansion.

The IMPD now polices 361 square miles (compared to New York City's 305 square miles) and a growing suburban population due to out-migration from the old city limits. It does this with 1,567 sworn officers, only about one-third more than in the former IPD that covered a much smaller area.

At the same time, as we continue to make it more vibrant and livable, the desirability and excitement of downtown will entice not only law-abiding residents and tourists, but also young toughs, with more swagger and less respect for authority than their predecessors. This requires heavier coverage than in years past.

Again, what to do? Public safety already eats up nearly 90 percent of the city budget. But IMPD is putting 100 sworn officers back on patrol, moving at least another 35 back to the street from desk jobs, and hiring civilians in non-sworn roles. The mayor's hybrid vehicle initiative will save millions of dollars.

Other efficiencies are in the works. These and other savings will enable the hiring of another 100 officers over the next two years.

One thing we simply should not do is to spend one-time dollars—including any part of the Rebuild Indy funds—to hire police. Hiring personnel without sustainable funding is the real bridge to nowhere: It is terrible fiscal policy and will inevitably lead to layoffs.

Having said that, Rebuild Indy can make a big difference in crime. Repairing crumbling streets and sidewalks and rehabilitating abandoned homes are crucial to overcoming the "Broken Windows" effect, a term coined by renowned criminologists George Kelling and the late James Q. Wilson: Crime thrives in run-down areas where it appears people don't care enough to stop it.

Beyond that, we must do a better job as a community. Businesses, churches, youth-serving groups and schools must partner with police to reduce the tendency toward violence among the young.

Parents are going to have to lock up guns and supervise their children. It was stunning that the mother of a young man detained after the recent Marriott garage shooting didn't know he'd been arrested until told by a reporter the next day.

I commend those who are striving to find solutions to this dilemma. I sincerely hope, though, that we'll reject simplistic solutions in favor of a thoughtful, community-wide effort.•

__________

Daniels, a partner at Krieg DeVault LLP, is a former U.S. attorney, assistant U.S. attorney general, and president of the Sagamore Institute. Send comments on this column to ibjedit@ibj.com.