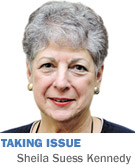 In Florence, Italy, in one of that city's many museums, there is a famous marble statue of Hercules and Diomedes wrestling. One of them—presumably Hercules—has his hands around the testicles of the other, and ever since we first saw it, my husband has referred to it as the "fight fair, dammit" statue.
Most of us have a gut response to behaviors we see as unfair. I don't know whether to attribute that response to nature or nurture, but it certainly seems instinctive: On any playground, even toddlers will render a scathing judgment—"Not fair!"
Political life is no exception. Legal philosophers tell us that in order to function properly, democratic systems must be perceived to be fundamentally fair—that citizens must have confidence that electoral "fights" aren't rigged.
Democratic systems begin with an implicit deal: Parties contend in the public arena for the support of the voters, making their respective cases through a process that allows their respective voices to be heard and contending arguments considered. Citizens then choose whom they prefer in a fair election, defined as one where all eligible voters have an equal opportunity to cast a ballot.
Political psychologists tell us that the willingness of the losers to accept defeat and work with the winners to solve public problems depends in large measure on their belief that they had a fair opportunity to make their case to the voters.
Anyone with even a modicum of electoral experience can point out all the ways in which we fall far short of this idealized version of democratic fairness. Humans being human, most candidates emulate Hercules and grab the other guy by the you-know-what if the opportunity presents itself. Some candidates will have more money than others, and be able to reach out to more voters. Others will engage in "spin" that crosses the line into outright lying.
None of these tactics are new. What is arguably new, however, is the extent to which our democratic system is being distorted by a perfect storm of electoral gamesmanship.
Gerrymandering has been a feature of the electoral system since it received its name from Elbridge Gerry—and he signed the Declaration of Independence. Both parties are guilty of it. But computers have taken what used to be a relatively inexact effort to a whole new level.
One result of partisan redistricting is obvious: In the last congressional election, Democratic candidates received a million more votes than Republicans, but Republicans won more seats. (Democrats would have drawn equally unfair lines had they controlled the same statehouses.)
Another result is less obvious, but arguably more troubling: a dwindling number of truly competitive districts. In too many districts, Republicans don't fear Democrats, but do fear primary opponents from the right. Democrats don't worry about Republicans, but fear opposition from the left. We've lost the middle—a not-inconsequential reason for our polarized, toxic political environment.
Add to gerrymandering the unprecedented amount of special-interest money flooding the political system ever since the Supreme Court held, in Buckley vs. Valeo, that money equals speech—a flood that has accelerated in the wake of Citizens United. And add to both the utterly unprincipled and widely publicized efforts to suppress the votes of less advantaged Americans—minorities and the poor—under the pretense of preventing (virtually nonexistent) in-person "voter fraud."
The result of all this? A widely-held belief that our elections are rigged, and two equally unhealthy reactions: cynicism and anger.
We need to fight fair, dammit.•
__________
Kennedy is a professor of law and public policy at the School of Public and Environmental Affairs at IUPUI. She blogs regularly at www.sheilakennedy.net. She can be reached at skennedy@ibj.com. Send comments on this column to ibjedit@ibj.com.
Please enable JavaScript to view this content.