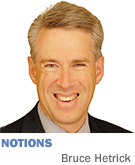 At IUPUI, Chancellor Charles Bantz loves to talk about translational research. The notion is that we faculty members should learn things that will make an impact in the real world. It's the opposite of research that collects dust on a shelf.
So here's some unscientific research with useful implications for people who manage people.
Because my students have been studying employee communications, I posted a note on Facebook asking my friends to share the best or worst example of employee communications they'd experienced during their careers. Naturally, they remember and report bad examples far more than good ones.
Lesson 1: Speak and write simply.
A friend in Indianapolis cites "senior staff and executives using acronyms and names that they assume everyone in the organization is familiar with. Meanwhile, junior staff are left feeling uninformed."
Every organization has secret lingo and industry jargon worthy of a fraternity handshake. It grows commonplace. Taken for granted. But if you're a newbie or underling, the mumbo-jumbo can leave you with that "I'm-not-in-the-know" feeling.
Lesson 2: Say why.
Another local communicator writes, "The worst example of employee communication is no communication when it comes to organizational change. As an employee, I hated coming into the office and finding out through another employee that some big change was going to happen."
Leaders making big changes work on them for months. They understand the rationale, believe in the new course.
But by the time they explain things to the masses, they're too often using shorthand. They forget to explain why. Like a good murder mystery, people facing change want to understand motive. Without that, there's little chance of acceptance, let alone support.
Lesson 3: Protect privacy.
A training professional here told me about a boss who "tagged" [identified] employees in a Facebook post that pointed out specific areas for improvement. In early America, that was called flogging in the public square.
But it gets worse. A former broadcast journalist tells this story:
"A colleague of ours took some time off to go into rehab. The company put up a memo in the lunch room and the bathrooms about his absence that started, 'As you all know, James has been battling a serious drinking problem for some time …'"
Egad.
Lesson 4: Employees become like family. Respect that.
Another former broadcast journalist remembers, with horror, "being informed via internal email after two days off that my weekend newscast graphics designer had taken his own life."
"No one considered that they should call me," she writes. "I had to produce a show while dazed and in grief."
The kicker: "Management would not give me a few hours off to attend his [funeral] service."
Lesson 5: Don't save complaints for annual reviews.
"Many years ago," said a friend, "I had a boss who wrote down things I did that she didn't like, and stashed them in a file to bring up at my annual review. I would much rather be told at the time so I could correct or defend my behavior!"
Amen.
Lesson 6: Rally—don't threaten—the troops.
A former PR colleague from Connecticut recalls, "The day my company announced a large layoff, I convinced my CEO he needed to have a company-wide meeting to deliver my carefully scripted speech speaking from the heart about how difficult it was, but the cuts were necessary for the health of the company." Then, she said, the CEO was to say: "We are counting on you, our best and brightest, to deliver our go-forward plan."
But at the last minute, the CEO chose to wing it. His focus: "Everyone who is left should feel lucky to have a job and work really hard or they could be next."
Great morale booster.
Lesson 7: Don't make people feel small.
A retired executive wrote to share a hiring horror tale. "I knew one senior executive who called all the applicants for a position together in one place so he could go around the tale to tell each one, in turn, why they didn't get the job. Then he told the last person in the room about their promotion. Think about it: The unsuccessful candidates now had to work for the successful one. What class!"
Lesson 8: Talk straight, not B.S.
I'm always amazed at the obfuscations we use to avoid saying "layoff" or "You're fired." We say, "downsizing" or "right-sizing" or "reorganizing" or "reinventing" or "realigning."
But this tale from an Indianapolis friend took the bologna cake: "The plant where I worked was eliminating 1,000 out of 3,500 positions. Lots of senior people had to take demotions and pay cuts to keep their job rather than be unemployed.
"Through a process called 'paired comparisons,'" he said, "we were instructed to call them 'demotional opportunities.'"
Demotional opportunity should, of course, befall anyone botching employee communications as badly as the managers mentioned here.•
__________
Hetrick is an Indianapolis-based writer, speaker and public relations consultant. His column appears twice a month. He can be reached at bhetrick@ibj.com.
Please enable JavaScript to view this content.