One of the best places to generate a tech-industry profit could be not-for-profits.
An emerging group of software companies focused on serving charities—combined with the fact the city is home to the only philanthropy college in the country—could make the area a hotbed for an often-ignored area of business, industry experts believe.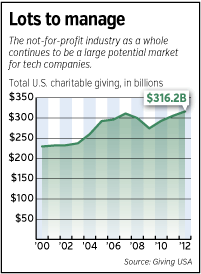 "I think because the sector's called 'nonprofit,' businesspeople and investors think there's not a lot of money to be made there," said fundraising consultant Nathan Hand.
But a handful of entrepreneurs—including some of the Indianapolis tech industry's biggest names—have found otherwise.
Digital auction service BidPal Inc., for example, was the state's fastest-growing company in 2012 as its revenue shot to $10.2 million that year from $231,000 in 2009, according to Inc. magazine.
Then there's donor-management software firm Bloomerang LLC, which, after a year in business, reports its monthly sales are 200 percent higher than projections (which it declined to share).
And several other local tech companies have popped up over the past few years with the goal of generating profits by serving not-for-profits: Cause.It, Qtego and Boosterville, to name a few.
There's an altruistic appeal to running a company that serves charities.
"I hope my tombstone says something other than, 'He made a good buck here and there,'" said Bloomerang founder and CEO Jay Love, "something that says, 'He gave back to society and he gave back to the world.'"
But there are also big market opportunities.
The companies are pursuing business in a sector in which a million public charities spent almost $1.5 trillion—everything from salaries to programs—nationwide in 2011, according to the National Center for Charitable Statistics.
Fundraising alone totaled $316 billion in 2012, according to research by Indiana University. Roughly 25 percent of that money, or $79 billion, covered fundraising costs.
"Clearly, it's a sizable environment," said BidPal Chairman and CEO Scott Webber, who became an investor and tech industry mentor after he steered the city's first public software company, Software Artistry, into a $200 million sale in 1997.
Love has had similar successes in his career, which has centered around not-for-profits. He was CEO of Indianapolis fundraising software developer Master Software Corp. when it sold for $11.5 million in 1997. He turned around and started a similar company, eTapestry Inc., two years later and ran it before it sold in 2007 for $24.8 million.
The firms' executives say they face much less competition in their niches compared with more crowded tech industries such as social media or marketing software.
Industry giants such as Microsoft and Oracle offer software that not-for-profits can use. But the products are often too complicated or too expensive for a small charity, said Hand, director of advancement for The Oaks Academy in Indianapolis.
"In the nonprofit world, it can be frustrating because a lot of people don't think it's a business market," he said. "Oftentimes, our [software] solutions, our email marketing solutions are met with less-than-quality options."
It doesn't hurt that the Indianapolis companies work down the street from the country's only college dedicated solely to the not-for-profit industry, Indiana University's Lilly Family School of Philanthropy in Indianapolis.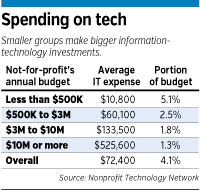 Webber and Love both pointed to ready access to the university's resources as a distinct advantage to their businesses.
"We're sort of a nonprofit hub with the school of philanthropy being here," Love said.
Clustered around campus
Industry clusters—a term used to loosely describe similar businesses in an area—almost always revolve around a university or another major research institution that drives innovation.
"Universities can play a powerful role in the development of industry clusters," Carnegie Mellon University researchers wrote in a 2004 report for the federal Economic Development Administration.
Industries tend to form out of university research, the report said, but the universities' research strengths and resources need to actually align with the industries' needs.
"The task for the university [and for regional stakeholders] is to identify and support areas of university expertise that align with clusters of opportunity for the region," the report said.
Purdue University and Rose-Hulman Institute of Technology already pump out droves of computer engineers and programmers for Indianapolis' fundraising tech firms to recruit each year.
Indiana University's philanthropy school, based on IUPUI's campus, is the city's edge. The university formally created the 235-student school in 2012, but the Center on Philanthropy has been around since 1987.
Gene Tempel, the school's dean, said he's open to meeting with tech industry leaders to figure out how to develop companies serving charities.
The trick to developing a cluster, Tempel said, will be to get companies, not-for-profits, schools, local government and everyone else involved to actually sit down and strategize.
He described a need for "any kind of convening of these people who work specifically in this subsector as opposed to the technology sector more broadly."
Open market
Hand broke down fundraising technology into two primary areas: digital fundraising and donor databases.
Blackbaud Inc., a publicly traded fundraising software company in Charlotte, N.C., that bought both eTapestry and Master Software, has the undeniable top spot in the market.
Smaller fundraising tech companies are emerging around the United States, but Blackbaud is the only public one in its niche, said Matthew Kempler, an analyst for Sidoti & Co. who covers Blackbaud.
Wall Street analysts for the company, which reported $447.4 million in revenue last year, generally compare it against much larger companies with broader services, such as Microsoft Corp., Oracle Corp. and Salesforce.com Inc.
Some of the larger corporations, however, also offer their services to not-for-profits at a discount or free.

Webber
ExactTarget and new parent Salesforce both provided some of their technology to charities through the companies' foundations, said Kyle Lacy, senior manager of content marketing and research at ExactTarget.
He rejected the notion that not-for-profits always need software specifically tailored to them, compared with what the for-profit world needs.
"No matter what you're selling, it's an idea," said Lacy, who previously ran MindFrame, a digital marketing firm that targeted not-for-profits as clients.
"I don't care if it's Nike or I don't care if it's Indiana University … you want them to give money. It's the story, it's the content that's different."
Penny pinchers
When not-for-profits go shopping for technology, sticker shock can be an issue.
"Nonprofits tend to lag in the tech cycle because they have limited capital budgets, limited IT resources as well," Kempler said.
Not-for-profits spent an average of $72,000 on IT in 2012, according to a survey by the Nonprofit Technology Network in Portland, Ore. That accounted for 4.1 percent of their total operating budgets for the year, which is believed to be much lower than the average for-profit business.
Not helping the market, charitable giving still has not recovered to its pre-recession peak. After adjusting for inflation, donors gave $344.5 billion in 2007, which was 9 percent higher than in 2012.
The fundraising drop has, in some ways, been a windfall for the tech companies because they promise more revenue for lower costs. BidPal, for instance, raises 40 percent more money for its customers, on average, Webber said.
Scarcer resources for charities means they need to do more to compete for the money that is available, said Hand, of The Oaks Academy.
Making the sale to a not-for-profit can be a lot tougher than to a for-profit company, said Bloomerang's Love. That might explain why so few businesses pursue the market, he said.
Donors often scrutinize how much of their money goes toward a charity's programs or services. And, especially in small organizations, it's difficult to know whether contract decisions are made by an executive, a board or even an influential donor who calls the shots, he said.
"They tend to sort of operate with this mentality that they shouldn't have proper infrastructure or proper technology," he said, "when that's the very tool that's had the biggest effect on their revenue stream."
Charity work pays
Not-for-profits appear to be paying off.
Webber expects BidPal will reach $100 million in revenue within the next three years or so.
The company locked in $5.6 million from investors in 2011, plus $2 million more in debt funding since then.
Bloomerang, which is much quieter about its financials, has reeled in plenty of investor interest.
"When I looked at the [projections] and saw what those returns could be 10 years from now, 20 years from now … they are very, very attractive," said investor Don Scifres, a partner at StepStone Business Partners.
Scifres said he prefers to invest in companies with a "social element." But fundraising tech companies have blatant opportunities that have flown under the business world's radar.
"I think they're missing it."•
Please enable JavaScript to view this content.