Big budgets used to rule in college rankings. But that could be changing.
A new report from the Indiana Commission for Higher Education is the latest effort among several nationally to score universities on their bang for the buck.
The report lists all state-funded universities by their real average cost per year, the average amount of debt their students rack up, and the average salaries their graduates earn. The study includes only state-funded universities and salary data only from graduates who remain in Indiana.
Among the major residential campuses that hand out bachelor's degrees, Indiana University-Bloomington proved to be the best value. IU's bachelor's degree recipients were only the third-highest earners, but it offered significantly more financial aid than its peers, which boosted overall value.
At the bottom of the major bachelor's-granting campuses was Ball State University in Muncie. It had somewhat lower earnings but was second-highest in cost, behind Purdue University's West Lafayette campus.
Such value-based rankings are sparking intense conversations at universities across the country, as educational professionals argue whether the metrics are fair. But these kinds of measures, coupled with the increased cost-sensitivity among potential students and their parents, are also causing universities to change how they operate.
For example, Indiana's public universities increased tuition this year by a slower rate than in any year since the 1970s. Also, many schools are working to improve their on-time graduation rates.
Also, since President Obama has proposed creating a system for measuring value that would be used, in part, to determine levels of student-loan funding to universities, such rankings could come to have a direct impact on universities' finances.
"I see them becoming very focused on, first of all, being transparent on what it costs to provide higher education and keeping costs down so students can afford to go to school," said John Walda, president of the National Association of College and University Business Officers. "The challenge comes when you're trying to compare different types of institutions with different missions on a standard set of measures."
Indeed, that's exactly the problem Ball State officials have with the latest data from the Commission for Higher Education. Some of Ball State's largest undergraduate programs are in education, marketing, nursing, communications and liberal arts—which typically do not lead immediately to high-paying jobs.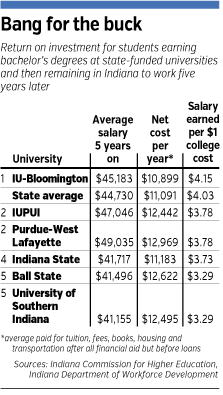 "Every institution offers a really different mix of degrees. And that mix, in large part, was really determined by that institution's history," said Randy Howard, Ball State's vice president of business affairs. Noting that Ball State began as a teachers' college, he added, "Doctors and engineers are going to make more than elementary teachers."
Howard also noted that, while Ball State's actual costs of operations are among the lowest in the state, the school receives roughly $2,000 less per student in state aid than other state-funded campuses. So its cost to students was second-highest, behind only Purdue University, among the major campuses.
"We control our costs better than any institution in the state," Howard said. "But our challenge is, we don't have the same level of state funding. And we may not have the same donor base."
Meanwhile, Purdue President Mitch Daniels has loudly proclaimed his support for these bang-for-the-buck metrics, predicting that Purdue would rank well on them.
In the Indiana study, Purdue tied with IUPUI for second-best based on graduates' salaries after five years.
"Today, you get credit for spending more money," Daniels said, referring to the US News college rankings, in an August interview. "There's definitely a need and probably a market for better assessments. It's both the right thing to do, but I also think it will prove to Purdue's benefit."
Teresa Lubbers, Indiana's commissioner for higher education, acknowledged that complexities arise when comparing institutions. She noted that the commission's report also includes detailed cost and earnings data for specific degree programs at each school, which might be more useful to students.
"The numbers are what the numbers are. Now there may be explanations behind those numbers," Lubbers said, but "you have to consider this as one factor when making decisions."•
 
Please enable JavaScript to view this content.