TOP HONOREE, Public Companies
Patrick Walsh joined Emmis Communications Corp. in 2006 armed with ideas for operational improvements. And, he recounts, some of the systems he had put in place to upgrade performance were going along pretty well.
Then, he said, "The world changed."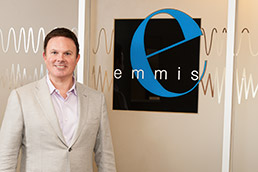 (IBJ Photo/Eric Learned)
Age: 46
Family: wife, Jacqueline; sons Theron, 14, and Liam, 11
Hometown: Plymouth, Mich.
Education: bachelor's, University of Michigan; MBA, Harvard University
Civic involvement: 500 Festival, Center for Leadership Development, director for the National Association of Broadcasters
Hobbies: skiing, travel, University of Michigan athletics
When the economic downturn hit, the first thing major companies canceled was the variable expense of advertising. Smaller businesses, worried about survival, saw advertising as a luxury rather than an essential element and cut back as well.
As such, "revenues for companies like Emmis—everyone in an ad-supported medium—saw big changes," Walsh said. "To some extent, we had to crumble up the game plan and move into a crisis mentality. We had to operate with the mentality that we had a great company with great culture but if we didn't survive this punch in the jaw, nothing really mattered."
Even after difficult cuts, Emmis was still left with too much debt relative to its size. That meant orchestrating the sale of some of its properties—not easy during a downturn.
"I'm really proud of what our finance staff did," he said. "Our team was incredibly creative and resourceful. Some of what we structured—the way we sold the Chicago stations—was unprecedented. The deal we created with ESPN in New York. The station we leased and sold to a Mexican entity in L.A. All cutting-edge."
And, Walsh added, "We were left with most of the most valuable assets that we had at the start of the process."
The upshot: A company with debt-to-earnings ratio of 14-to-1 now is under 4-to-1. And a stock that was at 76 cents and the recipient of a de-listing notice from NASDAQ rose to over $3.
After earning his Harvard MBA, Walsh worked at General Motors Corp. and Deloitte before becoming a management consultant at McKinsey & Co., where he worked with financial institutions, energy companies and, significant to his future, technology firms. That led to IBiquity Digital, the developer and licenser of HD Radio technology, where he served as chief financial officer.
"There," he said, "I got to know all of the large broadcasters quite well, including the team at Emmis. When headhunters called and mentioned an opportunity in Indianapolis with 'a major broadcaster,' I was particularly interested."
With entities scattered around the country, Walsh sees value in knowing when to communicate—and when not to.
"The 16 people who report directly to me give me a broad perspective on the business," he said. "That span could be a blessing or a curse. Fortunately, I have a really talented group in Indy and across the country."
While he tries to spend time each week with as many as he can, he believes in giving people he trusts the freedom to do their jobs.
"I try to operate on an exception basis," he said. "We sit down early in the year to talk about what we are trying to get done and how to get there and then check in periodically."
Because of the ever-evolving nature of the media business, Walsh has to keep one eye on the present and another on the future. That means a fair amount of experimentation and exploration, which, for a media company, can be expensive.
"It means investing in new platforms," Walsh said. "In many cases, it means training your salespeople and your content development people to do business in different ways. And it does take money. Fortunately, the core business continues to perform well—in the last three years, we grew better than our competitors did.
"I thought and continue to think that radio has this incredible penetration in American lives," he said philosophically. "It matters so deeply. People have an intimate relationship with the content, personalities and events. In spite of digital and mobile, radio has a long tail."
Still, he's always looking at longer-stage investments that might require more software development—such as Sprint's NextRadio app—that have a longer lead time but also more potential payoff. "We need to communicate effectively with investors so they understand where we are placing our bets. Digital is growing north of 20 percent. We hope that gives us a bright future."•
Please enable JavaScript to view this content.