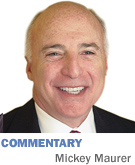 Did he know?
The answer to this question will determine whether New Jersey Gov. Chris Christie, a Republican, can mount a viable campaign in the 2016 presidential election.
Can you keep a confidence? In order to explain my take on this affair, I must make a confession. But first, some background.
In the course of his reelection campaign last year, Christie sought endorsements from leaders of both parties, but when Democrat Mayor Mark Sokolich of Fort Lee demurred, it was payback time. Under the guise of a traffic study, the governor's office abruptly ordered the closing of access lanes to the George Washington Bridge, the world's busiest. Cars from Fort Lee, like so many ants heading for the same sugar bowl, were jammed interminably—creating economic havoc and inconveniencing and even endangering commuters. People were late for dinner.
Christie scoffed at accusations that he or anyone from his office engaged in such base political retribution, until that is, email discovery made it clear that culpable parties worked at the right hand of the governor.
Did he know?
Is it possible that this "hands on" governor was unaware of the lane closings? In a valiant effort to survive "Bridgegate," Christie swore his lack of knowledge and involvement, fired his deputy chief of staff and apologized to Mayor Sokolich. Christie's political rowdyism sets the tone of his administration. No doubt, aides felt they were acting according to the wishes of the boss. Christie's explanation is plausible, but there are skeptics.
Did he know?
It is not difficult to put one over on the boss. I plead guilty. In 2005, the early days of the Indiana Economic Development Corp., Gov. Mitch Daniels issued instructions to eliminate the legal department that had existed in the Department of Commerce under the Kernan administration. The rationale was that any legal problem from the IEDC or any other state agency could be referred to the state's attorney for advice and adjudication.
Cocksure that compliance with that directive would slow down the IEDC and prevent deal-making "at the speed of business," I told the governor, "Yes, sir" and proceeded to recruit a team, including Chief of Staff Nate Feltman (attorney), Chief Financial Officer Chad Sweeney (attorney) and International Economic Development Manager Steve Akard (attorney).
In spite of the fact that we had no "legal department," we drafted regulations, drew up contracts, negotiated deals and closed transactions efficiently. At the specific request of the governor, one or two items were referred to the state attorney's office. We are still awaiting a response on those matters.
That's not all. The new governor and many of us in the administration were in brisk demand to communicate the goals and aspirations of the administration. My responsibility, job creation, was of particular interest. I limited speaking engagements to three times a week, but even that regimen was tough. After working all day, I drove up and down the state to share our vision and then dragged myself home before the next day began. It wasn't long before I hired a limousine (at my cost). The routine changed: On the way up, prepare for speech; on the way home, sleep.
Gov. Daniels was not pleased. He said, "You were spotted the other evening exiting a limousine at the LaSalle Grill in South Bend. We cannot have our state employees arriving via chauffeur-driven vehicles." (I'm sure he meant other than the governor). "It sends a bad message. Do not engage in this practice." I responded, "Yes, sir." Henceforth I directed my limousine driver to park three blocks away.
Did Daniels know? I think not—not about the de facto legal department, the limousine or a few other capers I keep to myself.
Did Gov. Christie know? In light of my experience, it is entirely possible that he did not. I'm going to give him the benefit of the doubt.•
__________
Maurer is a shareholder in IBJ Corp., which owns Indianapolis Business Journal.  His column appears every other week. To comment on this column, send e-mail to mmaurer@ibj.com.
 
Please enable JavaScript to view this content.