Indianapolis International Airport officials are looking for a way to cut their sewage-treatment bill, which topped $1 million last year because of the large volume of de-icing chemical that ends up in retention ponds.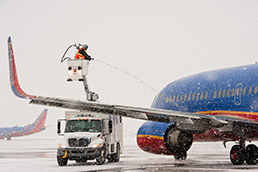 Unlike hub airports, Indianapolis International doesn't send planes to a designated area for de-icing, so capturing chemicals is tough. (IBJ photo/Eric Learned)
The chemical, propylene glycol, is not toxic but robs water of oxygen. As a result, the airport can't release storm water captured in winter months into nearby streams. Instead, the water is pumped to a Citizens Energy sewage-treatment plant. But that's becoming more expensive by the year.
Industrial sewage rates have increased 10.75 percent or more a year for the past eight years, and Citizens is seeking approval for another 13.4-percent hike. With rates going up, the airport soon will issue a request for proposals on cost-effective alternatives to its massive capture-and-pump system, Environmental Director Tim Method said.
The airport can store 67 million gallons of storm water in three basins, the largest spanning about 20 acres at a depth of 10 feet.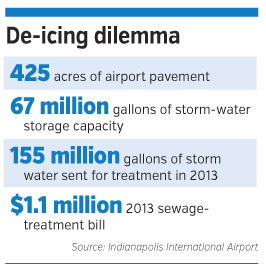 All that water runs off about 425 acres of pavement, and the airport can't pump it into the sewer system all at once. With heavy rain in December, followed by snow storms this month, Method said, "We're pumping every day. We'll be pumping for months here."
Last year, the airport pumped 155 million gallons to Citizens at a cost of $1.1 million. That cost includes a surcharge on the amount of contaminants in the water, 1.4 million pounds.
The airport might be able to cut its costs by reducing the amount of de-icing chemical that's used in the first place, said Don Larson, vice president at Indianapolis-based Commonwealth Engineers Inc., which specializes in water systems.
"I would look at the use of the material to make sure, first of all, it's being efficiently applied," Larson said.
Part of the airport's dilemma stems from the FedEx cargo operation, which uses more de-icing chemical than passenger airlines do because multiple planes have to be ready for take-off during a narrow window of time, Indianapolis Airport Authority President Mike Wells said.
FedEx has invested in equipment that allows it to use less chemical in de-icing, Method said, but the company still doesn't have the option of waiting out the weather.
"It's pretty unique to have the schedule they have," Method said. "They don't have delays."
Indianapolis differs from hub airports in that it doesn't send planes to a designated area for de-icing, which would make capturing and recycling the chemicals easier, Method said.
The airport could build de-icing pads, but that wouldn't be a practical solution for FedEx.
"They've got so many planes going at one particular time, they can't send them all through one carwash type of thing," Method said.
The airport also could build its own treatment facilities. Last time the airport looked at alternatives, a water-treatment plant was projected to cost $50 million to $100 million, Method said.
The last study didn't consider costs and benefits in detail, so he hopes the RFP, which will go out this winter, generates more specific solutions. Other possibilities include recycling the de-icing chemical and pre-treatment systems.
For now, the airport is adding more storage—a 10-million-gallon basin at a cost of $5 million.
Airport officials haven't determined how they would pay for other system improvements, though the airport could qualify for federal funding if those improvements help comply with federal water-quality standards.
The airport releases water from its storage basins into Seerley Creek, which flows to the east fork of White Lick Creek, a tributary of the White River.
Pumping water to Citizens isn't the airport's only pollution control. In summer months, water is released into the city's storm-water system after going through a separator that sifts out dirt and other solids. In addition, filters are at each outfall that would collect oil in the event of a fuel spill.•
Please enable JavaScript to view this content.