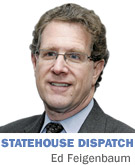 Pitchers and catchers are reporting to spring training, so we must have reached the halfway mark of the 2014 legislative session.
Despite concerns that debating a constitutional amendment defining marriage would rip our state apart, that didn't happen and the General Assembly has proven quite productive—as well as judicious in deciding what issues not to become entangled in during the "short" session.
However, many legislative hurdles must be jumped for bills and resolutions to remain alive for final mid-March passage.
Gov. Mike Pence has enjoyed a positive session.
He entered 2014 taking aim at the business personal property tax. After quickly backing off calls for its full elimination, he watched the House and Senate pass innovative plans for change.
With local governments and school districts clamoring to be held harmless from changes, the Senate opted for an interesting approach (even impinging upon some sacred cows for big business, biotechnology firms and major manufacturers), and you should see Senate Bill 1 enacted in large part, with elements of House Bill 1001 sprinkled in.
Pence coalesced support from both parties for his preschool education expansion initiative, albeit on a much more modest pilot basis. Everyone seems to have found elements to tout to their respective bases—leaving much of the heavy lifting on long-term financing for 2015.
A career-tech diploma option is proceeding, and efforts by Democrats to derail via legislation the governor's Center for Education and Career Innovation framework were thwarted.
Pence-sought adoption tax credits, and his request to index individual income tax personal exemptions to inflation are crossing from the House to the Senate. While changes are likely, he should emerge a winner on this low-hanging fiscal fruit.
A pared-down controversial measure once labeled as the Right to Farm, Fish and Hunt Act now simply declares state policy on agriculture and farmers' rights. That amended bill is moving across the Rotunda to the House in spite of a strong buy of radio spots harshly criticizing the measure.
As drafted, the law would be construed to protect the rights of farmers to choose among all generally accepted farming and livestock production practices, including the use of ever-changing technology.
A related bill—that opponents derisively dub "ag-gag" and proponents euphemistically refer to as "enhanced ag trespass"—also passed the Senate by a large margin after it, too, was watered down from prior sessions.
The House that now adds causing property damage to an agricultural operation to the existing crime of institutional criminal mischief. If a trespasser intentionally causes property damage, additional penalties could result, depending on the damage caused. But some original provisions barring disclosure of some activities at farming operations have been amended.
A portion of debate over this hot-button bill centered on personal and business privacy rights, and lawmakers have also now started to address broader privacy rights in a technological context.
Under bills passed by the House (the Senate turned down a more stringent measure), police must possess a valid warrant before deploying drone surveillance, downloading information involuntarily from a seized cell phone, installing a GPS device on a vehicle, or seeking surrender of a computer password.
Individuals would not be allowed to deploy hidden cameras on property they do not own.
The central Indiana mass transit bill passed the Senate, with one unrelated "poison pill" removed, and the House focus will shift to a collective bargaining ban for transit workers, the financing mix, and ensuring that the Senate's desire for local business to have some "skin in the game" tax-wise isn't too oppressive. House Speaker Brian Bosma, R-Indianapolis, expects major House revisions.
Lots more "stuff of government" legislation continues to wend its way through the legislative maze, and while it appeared that lawmakers opened 2014 with an ambitious agenda, solons seem inclined—and equipped—to shovel out over the remaining five weeks.•
__________
Feigenbaum publishes Indiana Legislative Insight. His column appears weekly while the Indiana General Assembly is in session. He can be reached at edf@ingrouponline.com.
Please enable JavaScript to view this content.