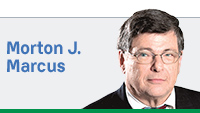 Sometimes it seems our political leaders know only four-letter words like jobs. They often precede this with another four letter word: good.
What is a good job? Presumably, one that pays well, offers important benefits and provides reliable security over time.
Today, the emphasis in Indiana and most of the United States is on the number of jobs. Although the unemployment rate continues to fall, the nation as of December was still 649,000 private-sector jobs short of the level six years earlier.
This sounds worse than it is. That deficit of jobs is just -0.56 percent; for Indiana, however, the deficit percent is twice as high (-1.12 percent), or 28,900 jobs short of December 2007.
Only 13 states had more jobs this past December than they did at the start of the recession on 2007.
Yet, there is much more to the story. How much are jobs paying? Is Indiana gaining or losing ground?
The average hourly U.S. wage in December 2007 was $21.37 and rose by $2.94 (13.8 percent) to $24.31 in December 2013. Indiana's average hourly earnings rose $2.18, or 10.7 percent (31st among the states), over the same period.
The wage gap between Indiana and the nation widened during the recession and the recovery. Where we were $1 per hour behind in 2007, that gap is now $1.76. Thus the buying power of our workers, relative to those in other states, is reduced.
But wait, there is more to be considered. The Consumer Price Index for the nation rose 11 percent from December 2007 to December 2013. The average U.S. worker had a slight increase in real hourly earnings (2.8 percent) while the Hoosier worker experienced a small decline in real hourly earnings (0.3 percent).
Still, we don't have the full story of the past few years. A worker's take-home pay depends on the hourly rate times the number of hours worked. Nationwide, there was a decline in the average number of hours worked per week from 35 to 34.8—that's 12 minutes a week. In Indiana, we went from 35.7 hours per week to 34.9, a 48-minute reduction in average weekly working hours.
More part-time jobs? Less overtime? I don't know.
Whatever the cause of this decline in hours, the result was a significant increase in the gap between the average weekly earnings of a Hoosier worker and that of the average American worker.
In December 2007, that gap was $20.74; by December 2013, the gap between Indiana and the nation grew to $58.99 per week.
Is this the economic progress our elected legislative and executive leaders travel the world to advance? Is this consistent with those boastful press releases we read about how well Indiana is doing because of our low business taxes and slack regulation?•
__________
Marcus taught economics for more than 30 years at Indiana University and is the former director of the university's Indiana Business Research Center. Send comments to ibjedit@ibj.com.
Please enable JavaScript to view this content.