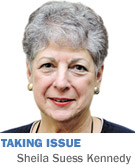 November will be here before you know it. The primaries, of course, are nearly upon us (I hope we'll get spring along with the campaigning; it's been a pretty brutal winter).
In anticipation of election season, I've been looking for a meaningful litmus test I can use to decide who is worth re-electing to Congress and who needs to be shown the door.
I've been casting about for a shortcut, a vote on an issue that will give me an insight into individual lawmakers. Is he/she irresponsible? Despicable? Crazy?
I am certainly open to other possibilities, but I think I've settled on the vote that is least open to contending interpretations, and most illuminating: the vote in February on whether to raise the debt ceiling.
Two Democrats and 199 Republicans voted no.
In other words, 201 representatives favored an American default on its obligations that would probably trigger a worldwide financial meltdown because? Because they don't approve of debt that the House of Representatives ran up? Because they don't like the president? Because they're pandering to people who are too uninformed to know what the debt ceiling is?
Let me spell this out.
The Constitution requires that Congress make all spending decisions—the president proposes, but Congress disposes. Sometimes—OK, a lot of the time—Congress authorizes more spending than the government collects in revenue. That requires government to borrow the difference, in order to cover the deficit that Congress itself has already authorized.
For reasons that are not entirely clear, Congress also votes to authorize that necessary borrowing to the extent that it will exceed the previously-set debt limit, or ceiling.
To many of us, this seems a bit silly, since the debt-ceiling vote comes from the same Congress that has already voted for the spending that requires the borrowing, but this practice of raising the debt ceiling has generally been uncontroversial, and for years the ceiling has been routinely raised by votes from large, bipartisan majorities.
Routinely, that is, until we entered the Age of Rabid Partisanship.
Dishonest rhetoric to the contrary, failing to raise the debt ceiling would not do anything to reduce the national debt. Congress has already authorized the spending. Instead, it would be a vote for the United States to default on what it already owes.
Even using the threat of nonpayment of the nation's bills as a bargaining chip sends a chilling message to world financial markets and undermines America's reputation as a sound place to invest.
If Congress actually refused to raise the ceiling, the results would be catastrophic; such a refusal would require the United States to stop paying many of its bills—including amounts owed to senior citizens for Social Security, defense contractors and members of the military who defend the country, and many others.
Conservative and liberal economists alike warn that such a failure to pay our bills could precipitate a worldwide economic collapse. That's why John Boehner—who periodically visits reality—ignored the suicide contingent in his caucus, and brought a so-called "clean" bill to the House floor.
I'm still looking for a word to adequately describe the House members who voted not to raise the debt ceiling, but I think I've found my litmus test. Those who knew what they were doing—or who were pandering to their base—are beneath contempt; those who didn't understand the implications of their votes are intellectually unfit to hold office.
They failed the test, and need to be sent home.•
__________
Kennedy is a professor of law and public policy at the School of Public and Environmental Affairs at IUPUI. She blogs regularly at www.sheilakennedy.net. She can be reached at skennedy@ibj.com. Send comments on this column to ibjedit@ibj.com.
Please enable JavaScript to view this content.