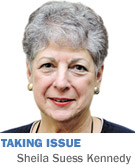 What was that line from Romeo and Juliet? "That which we call a rose. By any other name would smell as sweet."
Gov. Mike Pence has unveiled a proposal that looks a lot like an expansion of Medicaid. But even if it looks enough like Medicaid to satisfy the feds (the jury is still out), Pence insists it isn't Medicaid. It's different. It's "Hoosier" health, and the expanded coverage is to be accomplished through the program called Healthy Indiana.
Different or not, the governor's proposal was promising enough that MSNBC blogger Steve Benen wondered whether Indiana's governor might be "evolving."
Although I'm sure Pence would reject terminology that even slightly referenced evolution, his plan to expand Medicaid through Healthy Indiana is a very good thing. That it is also a brave thing is a sad commentary on the current GOP, which is where most of the criticism of his proposal has come from.
It seems to be slowly dawning on Pence that there is a considerable difference between pontificating in D.C. and actually running a state. In Washington, the man who has been described as "a Tea Partier before there was a Tea Party" could and did sermonize ad nauseum without paying a political price. He could and did ignore the nitty-gritty of actual lawmaking (he served 11-plus years without passing any legislation).
A chief executive doesn't have that luxury; he's expected to actually do something.
And a chief executive with ambitions for higher office will be judged on the "somethings" that he did. Forgoing billions of federal dollars and the estimated 30,000 jobs those dollars would create, leaving 350,000 Hoosiers without access to affordable health care—that doesn't create the sort of record politicians like to trumpet or voters tend to reward.
The problem is, when you are a Republican governor these days, you have to satisfy a base that demands ideological purity at the same time you have to deal with real budgets, real challenges and the real consequences of ideological rigidity.
Pence—along with several other GOP officeholders—thinks he's figured a way to thread that needle.
We saw much the same approach during the debates over Common Core. When the GOP suddenly turned on a dime and after enthusiastically endorsing the standards, yielded to Tea Party pressure and decided Common Core was an evil federal plot to do … something, Republicans who'd previously beaten the drums for Common Core faced a dilemma. They solved the problem by passing "Indiana" standards that looked a lot like a watered-down Common Core, but were called something else.
Now we have Medicaid expansion by a different name. True, as Peter Rusthoven noted in this space last week, the governor's plan requires some enrollees to pay modest premiums, and encourages "unemployed or underemployed beneficiaries to pursue work opportunities and attempting to limit overuse of the emergency room." Rusthoven used his entire column to insist that all the commentators—left and right—were wrong, wrong, wrong to see Pence's proposal as Medicaid expansion.
What's that other Shakespearean quote? Methinks he doth protest too much?
Actually, these strategies Pence is employing are fine with me. There really is no "Hoosier" version of math (unless you count the time the General Assembly changed the value of pi), and 350,000 Indiana citizens desperately need access to affordable health care. If the current administration has to engage in a bit of wordplay to get the right thing done, most of us won't complain.
It's a rose. It smells sweet.•
__________
Kennedy is a professor of law and public policy at the School of Public and Environmental Affairs at IUPUI. She blogs regularly at www.sheilakennedy.net. She can be reached at skennedy@ibj.com. Send comments on this column to ibjedit@ibj.com.
Please enable JavaScript to view this content.