In the 1980s, Eli Lilly and Co. launched the world's first biotech drug and was one of the first big pharma companies to focus research on treating autoimmune diseases.
Then, in the 1990s, Lilly abandoned both its biotech and autoimmune efforts, only to watch biotech autoimmune medicines become some of the world's best-sellers.
So now, Lilly is trying to get back in the game.
As early as next month, Lilly will announce late-stage clinical trial results for two biotech drugs designed to slow the inflammation caused by autoimmune diseases, such as psoriasis and lupus, which occur when the body's immune system gets stuck in attack mode.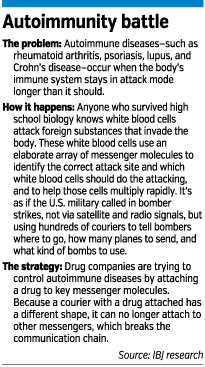 In addition, by the end of the year, Lilly will announce clinical trial results from a third non-biotech autoimmune medicine, for rheumatoid arthritis.
These drugs are Lilly's best shots at catching the second wave of autoimmune drugs. The first wave, which hit the market more than 15 years ago, produced four of the 10 best-selling drugs in the world. Humira, a biotech autoimmune drug made by Chicago-based AbbVie, formerly Abbott Laboratories, led all drugs last year with nearly $10 billion in sales.
It's a drug Lilly would love to have—in fact, a drug Lilly considered buying in the late 1990s. Humira this year will produce half as much revenue, by itself, as Lilly's entire business. Other drugs that are part of the first wave of autoimmune drugs, such as Enbrel and Remicade, had sales last year of nearly $8 billion each.
"In hindsight, would we have liked to have been part of it? Yeah," said Dave Ricks, president of Lilly's biomedicines division, which is trying to bring the three autoimmune drugs to market. "But we're highly interested in the next wave."

Ricks
A decade ago, Lilly acquired a company that has helped its researchers engineer the most complex proteins, called antibodies, into biotech drugs. Biotech drugs are made from proteins produced by strands of human DNA, and are often injected into patients. By contrast, the more common pill form of drugs are combined from various chemicals.
In the past five years, Lilly has invested billions of dollars and hired hundreds of scientists, clinicians and business personnel to ramp up an autoimmune business.

Analysts aren't yet convinced the new generation of autoimmune drugs can match the spectacular sales of the older versions, like Humira. Two recent launches of autoimmune drugs—Pfizer Inc.'s Xeljanz and GlaxoSmithKline's Benlysta—have not come close to analysts' estimates.
Wall Street analysts estimate Lilly's three autoimmune drugs would bring the company $1.5 billion in revenue annually by 2020. Sales could be much greater, however, if Lilly can show its drugs treat multiple autoimmune diseases, as was the case with the first generation of autoimmune drugs.
Analysts say the autoimmune strategy makes sense for Lilly, which is searching high and low for drugs to replace Zyprexa and Cymbalta, which saw their main patents expire in 2011 and 2013. Each of those drugs had peak annual sales of $5 billion.
"Lilly, probably, will be a fast follower" in autoimmune drugs, said Les Funtleyder, a health care stock analyst at E Squared Asset Management. "For a company like Lilly, which is a company recovering from patent expirations, it would move the needle. Because that's new revenue."
In early, out early
In May 1982, Eli Lilly and Co. looked poised to be the world leader for both biotech drugs and drugs that treat inflammatory diseases.
That month, the Indianapolis-based drugmaker submitted the world's first biotech drug, the insulin Humulin, to regulators for approval and launched in the United States a promising new arthritis drug called Oraflex.
Also that year, Lilly started an autoimmune research group, to move past drugs like Oraflex—which helped relieve the symptoms of autoimmune disease—to medicines that actually slowed the progression of the disease.
But it wasn't to be.

Bumol
Lilly had to pull Oraflex from the market after it was linked to dozens of deaths, and the company later pleaded guilty to criminal charges for failing to report the deaths to regulators.
Lilly executives urged their newly hired autoimmune researchers to find replacements for Oraflex, recalled Tom Bumol, who in October 1982 became the second person Lilly hired for its autoimmune research team.
"We thought the science was breaking in the early 1980s," said Bumol, who is now Lilly's head of biotech and autoimmune research.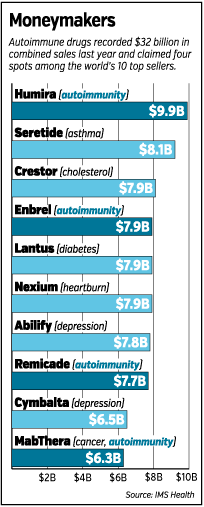 The research team tried hard for eight years to find non-biotech drugs to treat autoimmune diseases, but after no success the effort ended in the early 1990s, Bumol said.
In addition, despite several attempts, Lilly's biotech business never branched outside diabetes. Lilly paid $400 million in 1986 to buy San Diego-based Hybritech, which made diagnostic products and also tried to find biotech drugs for cancer.
Hybritech alumni, many using the Lilly money the Hybritech sale brought them, went on to found at least 150 biotech companies, spawning the vibrant San Diego cluster that is still humming today.
But Lilly got little from the deal. It stopped researching biotech cancer drugs in 1991 and sold the Hybritech diagnostic business a few years later.
Instead, Lilly's executives streamlined their research and development efforts to focus on five areas: cardiovascular, cancer, neuroscience, diabetes and anti-infectives.
That focus was highly successful at the time, helping Lilly to launch blockbusters such as Gemzar, Zyprexa, Humalog and Evista.
Except for its diabetes research, Lilly continued to prefer drugs made from chemicals, also known as small molecules, rather than biotech drugs, which are also called biologics.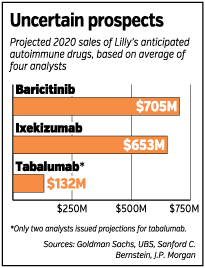 "Many people in Lilly, and in the industry, thought [in the early 1990s] that small molecules were the answer to all the problems," said Dr. Alfonso Alanis, former chief medical officer at Lilly, who now runs his own clinical trial firm, Anaclim, in Carmel. "Biologics in the early '90s were very, very expensive to manufacture. And very difficult to show that you're going to have commercial success, because you had to price them very high."
Bad timing
Roughly a year after Lilly halted its autoimmune research effort, researchers in Greece demonstrated for the first time that biotech proteins slowed the progression of rheumatoid arthritis in mice.
That breakthrough led to the first successful human trial of a biotech autoimmune drug, the results of which were announced in 1994 by Pennsylvania-based biotech firm Centocor. When Centocor's drug proved effective in 19 of 25 patients, it knew it had something that worked.
That drug, launched in 1998 as Remicade, became the first of the new wave of autoimmune drugs.
"That was the big tipping point, the big 'Aha!' moment," Bumol said of the work that led to Remicade.
Lilly had worked with Centocor to launch a cardiovascular biotech drug called ReoPro, in 1994. But the two companies never worked on autoimmune drugs.
Meanwhile, in the early 1990s, biotech drugs started to show they did not have to be merely niche products. In 1996, two biotech drugs sold by Amgen Inc.—Epogen and Neupogen—became the first to reach $1 billion in annual sales.
The next year, Lilly relaunched its biotech effort, with Bumol, the autoimmune researcher, as its head.
Biotech drugs didn't attract as many patients as say, Prozac, Lilly's iconic antidepressant. But they did command higher prices. Remicade, for example, costs typical patients more than $20,000 per year.
In the early biotech days, it wasn't clear that large numbers of patients and their insurance plans would pay such high prices.
That's why, when the company that created Humira—BASF Knoll—shopped it around to all the big pharma companies in the late 1990s, Lilly passed.
"We considered licensing Humira," recalled Dr. Steve Paul, who was Lilly's head of research and development from 2003 until 2010. "Was it obvious that it would become an $8 billion drug? Well, if it was obvious, we would have gotten it."
But by 2004, the situation looked different. That year, Lilly paid $400 million to acquire San Diego-based Applied Molecular Evolution, and identified autoimmune drugs as one of the areas AME's technology would help the company target.
By that time, sales of the autoimmune drugs had done well. And scientists had made significant advances in understanding how the immune system works, which provided drug companies with lots of new ways to combat autoimmune diseases.
"It was realized that, although we were a biologics company, by dint of our insulins, we were at risk of really missing the boat on the biologics revolution," Paul said. While Lilly had worked with smaller proteins, called peptides, on its biotech insulins, it was not until the AME acquisition that it could work on the larger proteins, antibodies, which have become the most successful biotech drugs.
"We were a little late to the party, but I think we made up for it," Paul said, noting that more than half of the drugs in Lilly's pipeline today are biotechs.
Precision bombing
One big advantage of biotech drugs is that they can be engineered to attach to specific targets in the body, increasing their effectiveness and decreasing side effects.
To fight autoimmune disease, drug companies try to attach biotech drugs to some of the myriad messenger molecules that help the body's white blood cells attack bacteria, fungi and other foreign substances.
The first wave of autoimmune drugs attached to an early messenger in the immune process, which is called tumor necrosis factor, or TNF. TNF helps white blood cells get out of the bloodstream and the lymphatic system, so they can attack infected cells. It also helps send out lots of other messengers to other cells to promote and coordinate an immune response.
Nearly all autoimmune patients have too much TNF, for reasons that are not well understood. The early drugs, by attaching themselves to TNF molecules, reduced the levels of TNF active in patients.
"The anti-TNF [drugs], they're a little bit more like carpet bombing, rather than going in and being more precise," said Dr. Eiry Roberts, Lilly's vice president of autoimmune product development.
That's why Humira, Remicade and their cousin drugs are effective in only about half the patients who take them.
The second-generation drugs Lilly and other companies are developing attach themselves to messengers in the immune system that act closer to the site of a disease.
For example, Lilly's drug for psoriasis, ixekizumab, attaches to a messenger protein called IL-17, which gets involved late in an immune response to a bacterial or fungal infection, and seems particularly active in skin cells.
Lilly's drug baricitinib attaches to molecules that help white blood cells translate the message delivered by a messenger. By blocking the translation, it blocks the immune response. Lilly is studying baricitinib for rheumatoid arthritis and diabetic kidney disease.
The company's third autoimmune drug in late-stage testing is tabalumab. It is being studied in patients with lupus, which causes inflammation all over the body and in various organs. The drug tries to slow this process by attaching to a key messenger involved in activating white blood cells produced in bone marrow.
Lilly thinks its drugs will help more patients and help them in more significant ways than early autoimmune drugs. For example, in previous tests, ixekizumab helped 80 percent of patients reduce the amount of inflammatory plaques on their skin by 75 percent.
Humira and Enbrel, by contrast, achieved that much reduction in 30 percent to 50 percent of patients.
"This is for real," said Ricks, Lilly's biomedicines executive. "This is a big change."•
Please enable JavaScript to view this content.