True story: In the late 1950s, abstract expressionist Mark Rothko received a commission for a set of murals to hang in the most commercial of commercial New York venues—The Seagram Building's new Four Seasons restaurant.

Not-true story: At the same time, he had taken on a new assistant, an artist haunted by his past who sparked high-voltage verbal confrontations with Rothko.

Those factual and fictional threads weave through John Logan's "Red," the Tony-winning Best Play that has become one of the most popular shows in regional theaters these days. The Indiana Repertory Theatre is staging its local premiere through Nov. 9.

Red isn't a traditional bio-drama. Uninitiated audiences will leave the 90-minute show knowing more about the fictional assistant's family than Rothko's. And while one can guess Rothko's fate, Logan leaves it up to Google to deliver the specifics.

In "Red," artistic creation is as much about contemplation as it is applying paint to canvas. Henry Woronicz and Zach Kenney star in the two-hander.
Instead, the playwright focuses on the conflicts—how it feels for an artist to topple the giants who came before him only to be next on the toppling block. What it's like to live in a world of reds and blacks and to struggle to find the balance between them. How, often, most of the act of artistic creation consists of staring or raging rather than applying paint to canvas. How there's only so much an artist can do to control how his work is seen—and the frustration that comes with that lack of control. What it feels like to take your work so seriously that anyone else's perspective appears to be coming from the mind of a child. Welcome to Mark Rothko's brain.

Henry Woronicz (familiar to IRT audiences from "An Iliad" and "A Midsummer Night's Dream") brings an earthy truthfulness to Rothko. If not for talent and drive, this guy could be that crank across the street chasing the kids off his lawn. His is a Rothko who at times seems less a creator and more an artistic zealot seeking a truth he knows is out there.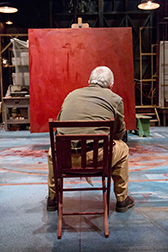 Zach Kenney, as the assistant, has arguably a more difficult role—one that doesn't feel as organic. He brings a slightly goofy smugness to the part, which earns some laughs and empathy but doesn't make him a formidable giant-slayer. I'd have preferred fewer of their confrontations pitched as shouting matches, but what's being shouted is always interesting.

Set entirely in the artists' studio, the play includes the building and priming of a sizable canvas, but that's the closest we get to seeing Rothko's art. Unlike with other productions of the play, we are left to imagine the pulsating colors and their unsettling geometry. That's a valid choice, just one that left me less satisfied.

On the other hand, Rothko's work isn't about leaving its viewers settled.•
(Photos courtesy of IRT/Zach Rosing)

__________

This column appears weekly. Send information on upcoming arts and entertainment events to lharry@ibj.com.