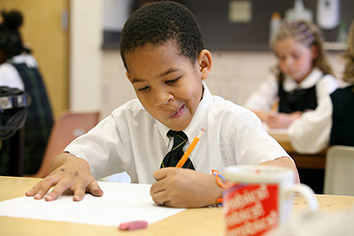 It wasn't supposed to work out this way.
The main idea behind charter schools was that giving them greater freedom to innovate while also making it possible to close them for poor performance would lead to better education for students.
But, at least by one measure, that doesn't appear to be happening.
The percentage of Marion County charter schools receiving a D or an F from state regulators has spiked from 30 percent two years ago to 54 percent this year.
The percentage is slightly lower statewide, but has also increased the past two years.
Both proponents and critics of charter schools acknowledged the low grades highlight a big problem. But they immediately disagreed on what that problem is and how to fix it.
"It isn't really panning out," said Rep. Greg Porter, D-Indianapolis, who was a co-sponsor of the 2001 legislation that legalized charter schools in Indiana. "They want more freedom, but the freedom hasn't gone to anything that's different than [traditional] public schools."
Among Indianapolis Public Schools, 50 percent of schools received a D or F this year, down from 63 percent two years ago.
Charter schools receive public funding just like traditional public schools but are run by private organizations. Porter said the state should halt the opening of new charters so legislators and educators can evaluate what's working and what isn't among the 64 charter schools currently serving traditional K-12 students.
"Let's stop it. Let's see where we are. We're not saying get rid of them. But let's see where we are," Porter said. "Why are we continuing to take the shotgun approach and putting charters all over the place?"

Pelino
Proponents of charter schools acknowledged that poorer grades could bring political pressure to curtail the growth of charter schools, which enroll less than 5 percent of all students statewide, but as much as 30 percent within the Indianapolis Public Schools district.
"It's a real threat to the charter sector," said David Harris, CEO of The Mind Trust, an education reform group in Indianapolis.
But charter proponents said the real issue is letting poor-quality schools open in the first place and then not taking strong action to close them. There are currently six organizations authorizing charter schools around Indiana.
"We believe that it's directly tied to the quality of authorizer," said Brandon Brown, director of charter schools for Indianapolis Mayor Greg Ballard.
Brown noted that, among the mayor's 20 charter schools, eight received D's and F's this year, one more than did so last year. Meanwhile, the number of schools receiving A's and B's doubled, to 10.

By contrast, among the Marion County charter schools not overseen by Ballard's office, six out of seven received either a D or an F.
Four of those schools are overseen by Ball State University, which ended its sponsorship of 11 of its poorest-performing charter schools over the past two years.
Bob Marra, director of Ball State's charter schools office, said it's likely his office will soon revoke or not renew more of the charters of the schools it oversees. But it has tried to give some schools time to attempt a turnaround.
"Yes, it's concerning," Marra said of the rise in D and F grades, "but it doesn't make me say, 'Let's close them right away.'"
Other measures
The reactions on both sides of the issue tend to skate over complexities in how charter schools and the organizations that oversee them are functioning.
The performance of charter schools on standardized tests alone suggests they are doing better than how the A-F scale ranks them.
Among all elementary and middle-schoolers in Marion County's charter schools, 69 percent passed the state-standardized ISTEP test for English earlier this year, while 67 percent passed the ISTEP math test.
At Indianapolis Public Schools—the district that all Marion County charter schools are either located in or near the border of—65 percent of students passed the ISTEP math test this year and 60 percent passed the English test.
Those pass rates have improved substantially over the past five years—for both charters and IPS students—but charter schools have always maintained an edge over IPS.
Some of that performance edge could be attributed to the fact that charter-school students, by definition, have parents or relatives engaged enough to seek out an alternative to the default public school that serves the neighborhood the student lives in. Engaged parents are a good indicator of student success.
However, charter advocates say the greater freedom—and the threat of closure—also contributes to charters' better performance on tests.
While a higher percentage of Marion County charter schools were graded as D or F this year than IPS schools, a larger proportion of charter schools were graded A or B versus IPS schools.
"The trend, which we're seeing over time, is that the number of high-performing schools is growing," said Brown, Ballard's director of charter schools.
The Mayor's Office has been roundly criticized for closing charter schools—including the Indianapolis Project School in 2012 and the Flanner House Elementary school this year.
The Mayor's Office urged two former Catholic schools—Andrew Academy and Padua Academy, both of which received F's this year—to close in the spring of 2015. The board overseeing the schools agreed.
Those actions—in addition to not approving schools with weak plans or management teams—has helped keep the performance of the mayor's schools high, Brown said.
When the Mayor's Office looks at how each student in a mayor-sponsored charter school is doing compared with peers in the traditional public school in that student's neighborhood, every one of the mayor's charter schools is outperforming traditional public schools.
But the performance of some charter schools overseen by the Mayor's Office has deteriorated.
The Andrew J. Brown charter school received an F this year, down from a B in 2012.

Brown
KIPP Indianapolis, which had greatly improved its performance until it received an A in 2012, slipped to a D this year.
Emily Pelino, KIPP's regional executive director, said the middle school saw roughly the same proportion of kids passing standardized tests, but the percentage of students that showed above-average growth on those tests slipped.
"Clearly, the results were not good enough last year and we need to do better for our kids," Pelino said. She said KIPP has instituted a new program for coaching teachers and a new math curriculum, which she hopes will make a difference in helping students learn.
Also, the Mayor's Office bears some responsibility for two of the city's D and F schools. Fall Creek Academy and University Heights Preparatory School (formerly called Fountain Square Academy) received grades of F and D, respectively, this year.
The schools were initially approved by the Mayor's Office when launched by the Indianapolis-based GEO Foundation. But after the Mayor's Office tried to close Fountain Square Academy in 2011, a new operator of those schools transferred oversight to Ball State, which has tried—unsuccessfully so far—to get the school's performance to improve.
Marra said Ball State has seen some remarkable turnarounds with some schools that were struggling, but not with all.
"What you try to do is, you give them an opportunity to fix it," he said. "But the question is, how many chances do you give them?"•
Please enable JavaScript to view this content.