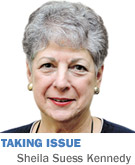 May is approaching, and with May comes primary elections. (I do know there are other things that take place in Indy in May, but this is a political column.) This year, Indianapolis voters will choose a mayor and City-County Council.
There is always a tendency to think that our city—or state or country—is facing new and unprecedented problems. Sometimes we are. But there's wisdom in the old saying, "The more things change, the more they stay the same."
In 1998, in the months preceding the election that pitted Sue Ann Gilroy, a Republican, against Bart Peterson, a Democrat, for mayor, Indiana University economist Morton Marcus and I were asked to write dueling columns for IBJ about the challenges facing Indianapolis.
I recently went back to my files to see what we had identified as priorities for the next mayor, and was struck to see how little has really changed.
The list we started with focused primarily on education and Indianapolis Public Schools, law enforcement (the proposal to merge the police and sheriff's office, and the city's high crime rate), privatization, the environment, and public money for sports and sports venues. Other concerns were citizen apathy, urban planning, support for the arts, and economic development.
Implicated in every one of these challenges, of course, was the question of leadership capacity. Voters were preparing to choose a person who would be called upon to demonstrate more than just a grasp of urban policy, more than an understanding of the city's intricate web of public and private entities and power elites, but also an understanding of the use of the "bully pulpit."
As I wrote then, "Being mayor in any year is a demanding job. A good chief executive must fill multiple job descriptions: manager, cheerleader, communicator, visionary. A mayor, more than any other elected official, gives the community its identity, its sense of itself …
"If we are to regain that communal identity and restore that sense of civic pride, the next mayor must encourage the broadest possible participation in the civic enterprise; it is no longer possible—if it ever was—to administer a municipality from the top down. Cities that work today are cities whose citizens truly own them, and ownership comes from meaningful involvement in the institutions that shape city life. The next mayor must encourage the participation, and value the contributions, of all our citizens."
Politics at its best is the art of building consensus, and that means recognizing the importance of process. How we get there is ultimately more important than where we go, because results achieved without consensus, without broad participation, without genuine citizen ownership, do not last.
Building consensus ultimately rests on trust. Trust is reciprocal; it is a byproduct of transparency and collaboration. To earn it, the next mayor must preside over an open and forthcoming administration, recognizing that every question is not a criticism and every criticism is not an attack.
I would add another attribute to my wish list. We need a mayor who genuinely loves this city, a mayor whose roots and heart are here, who has a deep institutional memory of where we've been and how we've gotten to where we are, and a passionate commitment to Indianapolis in all its quirky parts.
Let's be honest: We haven't had a mayor who fit that description since Bill Hudnut, and we desperately need one.•
__________
Kennedy is a professor of law and public policy at the School of Public and Environmental Affairs at IUPUI. She blogs regularly at www.sheilakennedy.net. She can be reached at skennedy@ibj.com. Send comments on this column to ibjedit@ibj.com.
Please enable JavaScript to view this content.