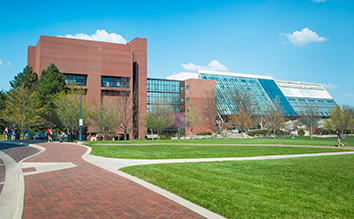 The Great Recession whacked construction and architecture schools with similar intensity; if there's no construction, why the need for architects?
But the state's largest program—Ball State University—is surviving by pitching itself as an upper-end place where serious students migrate no matter the condition of the economy.
Enrollment in Ball State's College of Architecture and Planning has eroded slightly in the past five years, to stand at 311 students this school year.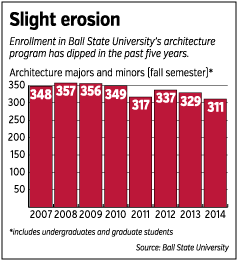 Although applications are down, enrollment has suffered little, said Associate Dean Michel Mounayar.
"We have a highly selective program here at Ball State," he said. "So in the past, we basically turned away more people than we are doing now. But the class size is fairly stable."
The nation's roughly 120 architecture schools are trying to reverse perceptions that the profession is in decline along with enrollment drops at many of the schools.
To no surprise, things got tight during the recession, when private homebuilding and public and private real estate projects all tanked at once.
In Indiana, 1,660 architects and landscape architects were employed in 2007; by 2013, the most recent year for which figures are available, there were only 1,210. That's a 27-percent plunge, according to the Indiana Department of Workforce Development.
Indeed, a 2012 New York Times article titled, "Want a Job? Go to College, and Don't Major in Architecture," reported that the unemployment rate for recent college graduates was highest in architecture, at 13.9 percent.
Even architects with graduate degrees faced a jobless rate of 7.7 percent. The article went so far as to point out that architecture graduate-degree holders had worse job prospects than journalism school graduates.
That bad news has apparently trickled down to high school graduates, who perhaps view a potential architecture career more warily.
Enrollment in architecture programs nationwide has stagnated, inching from 43,198 in 2008 to 43,708 in 2012, according to the Association of Collegiate Schools of Architecture. A closer look shows students pursuing post-professional degrees increased, but participation in undergraduate programs declined at a large number of schools.
"In all honesty, what we've lost is really the bottom of the pool," Mounayar said. "Perhaps it's because they're much better informed that architecture programs are competitive—or at least that this program is competitive."
The school's dean, Guillermo Vasquez de Velasco, seconded the view. He said deans from other schools of architecture report a diminishing pool of undergraduate applicants—and also that programs across the country seem to "share" more applicants these days.
"Some of the students are far more mobile," Velasco said. "So at the same time we see our individual application pools reduced a little, the overall pool has also reduced further."
Jason Shelley, executive director of the Indiana and Indianapolis chapters of the American
Institute of Architects, said the drop in undergraduate school enrollment is fallout from the searing disaster of the Great Recession, during which demand for architects cratered both locally and nationally.
"At that point, no one was hiring," Shelley said. "There was literally nothing out there. Most of the firms were trying to figure out how to shed staff. It was bad for lots of professions, but particularly for architecture. There were numerous news stories out there about how there were literally no jobs. I think that probably spooked a lot of would-be architecture students."
In addition to the news stories, potential architecture students also saw the fates of kids who had the misfortune of graduating in the midst of the downturn. Many moved into different careers, Shelley said. He even ran into one who only recently had gotten into the profession after managing bars and restaurants.
Now might be a good time for folks like him to try their luck in the field once again, because the local market, which Shelley estimates has crawled about 80 percent of the way back to pre-recession levels, might actually have room for them.
"Most firms are looking to hire," he said. "It's to a point now where there's not a lot of candidates left out there. We're getting to a point where there's some poaching going on."
If that's the case, the memo hasn't reached college undergrads just yet. Though, according to Ball State, that might have produced an unintended benefit—an incoming freshman class in which students who lack the drive or intellectual horsepower for architecture simply don't sign up in the first place.
Mounayar asserted that the remaining students are more highly qualified and better informed about the rigors of the BSU architecture program. In past years, the 100-plus undergraduate freshman class was often substantially (and quickly) winnowed as students discovered just how difficult the study of architecture can be. Anyone who wants a license must complete a four-year undergraduate program, then obtain a two-year graduate degree. After that, they must pass an exam to gain certification.
Ball State's architecture department has the highest four-year graduation rate and the lowest attrition rate in the university, Velasco said.
"Perhaps in the past, things were a little more loose," he said. "We might have had more applicants, but perhaps a number of them were not really committed to the kind of investment in time and effort that it takes to study our profession."
And just maybe today's architecture students are more devoted because they've also examined the field's job prospects.
Indeed, federal projections suggest architecture has a future.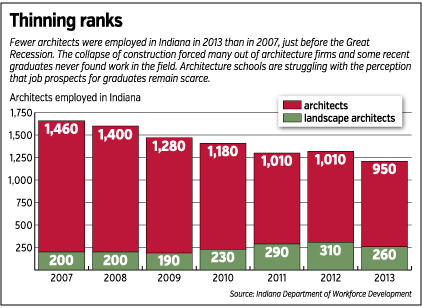 The nation had 107,400 in the profession in 2012, and will need 18,000 more by 2022, according to the U.S. Bureau of Labor Statistics. That's an increase of 17 percent.
The average pay for architects is $73,090, according to the Bureau of Labor Statistics.
Michael Monti, executive director of the Association of Collegiate Schools of Architecture, said a good portion of the national decline in architecture applications can also be laid at the feet of demographics. There are simply fewer college-age kids right now. The gains these days, he contended, are in master's and other postgraduate programs.
"Those are growing," Monti said. "So to say that enrollment in architecture programs is down across the country isn't quite accurate."
A steady increase in the number of architecture programs has also aggravated the hunt for students. Ten await certification in addition to the roughly 120 existing schools nationwide.
It also doesn't help that becoming an architect can be quite costly. Even attending a moderately priced, in-state school (and most likely living with one's parents to economize), can cost $10,000 to $12,000 a year. The price at a prestigious, out-of-state private institution would be much, much more.
Tuition at Ball State currently averages $17,804 per year for in-state undergraduates and $17,220 for in-state graduate students. Out-of-state undergrads fork over an average of $33,070, while out-of-state graduate students pay $29,136 yearly.
Going forward, Mounayar said, the fact that the College of Architecture and Planning offers majors in three disciplines (architecture, urban planning and landscape architecture) will make it stand out with a shrinking pool of candidates.
"Our first-year program is a common first-year program, so you don't have to declare your major on the first day," he said. "You can go through a set of professional courses that explain the various directions you can go. I think that gives us a big advantage over other schools."•
Please enable JavaScript to view this content.