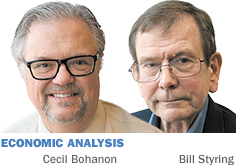 The Delaware County Fair Board canceled its popular and moneymaking hog wrestling contest for this year's fair. This decision was in response to a petition signed by over 25,000 individuals, most of whom live outside the county.
So why is this the subject of an economics column? Lots of folks argue, especially after the state's experience with the Religious Freedom Restoration Act, that an impediment to Indiana's economic development is the perception that the Hoosier state is "backward." Until we shed this image, they say, many outsiders will not invest in our state. But chasing pigs?
Those who signed the petition believe hog wrestling is obvious animal cruelty. A hog wrestle consists of a swine being released into a mud-filled pit. A team of humans tries to corral the pig in the shortest time. The animal tries to evade capture and squeals when it is caught.
It is true the pig does not volunteer to participate in the contest. But a pig doesn't give its consent when it is taken to slaughter. It is our understanding the hogs used in wrestling contests are never slaughtered but spend their presumably longer lives only participating in these contests. It is not clear to us that these hogs are getting a "rawer" deal than their brethren who end up as bacon.
Surely part of the mission of a county fair is to celebrate and showcase agricultural skills. The hog farmers we know assure us the ability to catch a loose pig is a necessary skill for a hog farmer. This is especially true if the hogs are not in confined facilities—another bête noir of animal rights activists.
So we think Muncie's local newspaper, The Star Press, overreacted when it opined: "The fact that it appears [the hogs are harmed] and that hog wrestling in general has been cast in a negative light is sufficient to justify ending the practice."
We suspect the editors were very much informed by the fear of a "backward" image. But what signal is sent to those who consider investing in Indiana if our local governments melt at any criticism, on any issue, at any time? As one critic pointed out, "If we bow down to these threats, where does it stop?"
Hoosiers should be sensitive to outside criticism. But it is also possible to be oversensitive to outside criticism and to overreact. That can't be good for our image.•
__________
Bohanon is a professor of economics at Ball State University. Styring is an economist and independent researcher. Both also blog at INforefront.com. Send comments to ibjedit@ibj.com.
Please enable JavaScript to view this content.