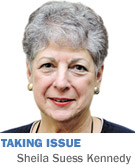 In my column about problems with the city's justice center proposal, I used Eskenazi Hospital's campaign for a bond issue as evidence Indianapolis citizens will support public projects—even when they require a tax increase—when they see those projects as well-conceived and necessary.
Last week, I had the opportunity to tour Eskenazi with Matt Gutwein, CEO of the Health & Hospital Corp. of Marion County. I came away more convinced than ever that Eskenazi's planning process can teach us important lessons about the proper approach to public projects.
The hospital building and grounds are a major contribution to the city's built environment and IUPUI's campus. The architecture and landscape are stunning and inviting. As we toured the building, however, it also became clear that every decision, no matter how seemingly minor—materials, lighting, placement of equipment, choice of artworks, views from patient windows, the "sky farm" on the roof—was the result of meticulous research.
For each area, there was a reason: We did this in this way because …
Planning took three years, and included all stakeholders: maintenance workers, nursing staff, doctors and especially patients. Nor was their participation a "one-off"—after the initial input. The hospital built a model of a patient room in a warehouse, and brought the stakeholders back to critique it. Literally hundreds of people were involved.
The goal was to have every aspect of the design focus on health and wellness.
Unlike other hospitals, Eskenazi doesn't survive financially on fee-for-service billings. Both its mission and its economic model require keeping people well.
Evidence of thoughtful planning with a laser-like focus on patient comfort and safety is everywhere. (Those of us who have lost our bearings in disorienting and intimidating corridors while visiting hospitalized friends will also appreciate the intuitive, color-coded design.)
The result of what I would characterize as "evidence-based planning" is a cost-effective, high-quality and efficient facility. By taking advantage of the opportunity to reorganize care delivery for all departments, planners eliminated wasted space.
As a result, the hospital serves 20 percent more patients in one-third the amount of space, uses 45 percent less energy, and has 12 percent lower operating costs than its predecessor. And although the cost of the facility was an eye-popping $754 million, that still brought it within the lowest quartile of hospital construction costs.
When it came time for the referendum campaign, proponents were armed with ample evidence that the project represented a sound investment.
When Gutwein and his board asked citizens to support a $600 million bond issue, it was 2009—the bottom of the Great Recession. And yet 85 percent of voters said yes. The referendum won in every one of the county's 522 precincts.
What struck me most about this facility, which is substantially although not entirely devoted to care of low-income patients, was its quality. Too often, public buildings devoted to serving powerless or marginalized populations are substandard, often privatized in order to be cheaply built, and conveying a message to users that they are "lesser citizens" undeserving of well-built and well-tended environments.
Our public buildings and physical infrastructure say a lot about us as a community: what we value, how we see ourselves, and whether we are building for the future.
Eskenazi is an example of how to do it right.•
__________
Kennedy is a professor of law and public policy at the School of Public and Environmental Affairs at IUPUI. She blogs regularly at www.sheilakennedy.net. She can be reached at skennedy@ibj.com. Send comments on this column to ibjedit@ibj.com.
Please enable JavaScript to view this content.