Not even the most Mountain Dew-fueled attendee could play every game at Gen Con 2015.
So in compiling my annual list of my favorite new tabletop (non-video) games from this year's convention, I dodged collectable card games, avoided games taking over 90 minutes or so to play, and bypassed anything with hundreds of pieces.
Instead, I focused on games that would please hobby gamers like me while not being too intimidating to those who haven't stretched far beyond Apples to Apples or Stratego.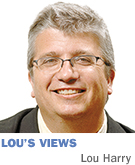 Here are 10—OK, 11—favorites that I look forward to playing again.
Colt Express (Ludonaute). No, it has nothing to do with Indy's pro football team. In this Western-themed game, you are a bandit on a train trying to score loot while avoiding the onboard marshal. While strategy is important, your plans can be knocked for a loop by a stray bullet from the lawman or a punch from a rival. A unique two-level "board" allows action in and on top of the train. Wild, wild fun for up to six players.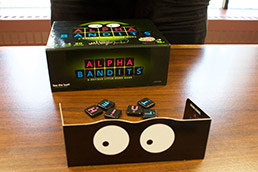 Alpha Bandits adds an attack component usually not found in word games.(IBJ Photos/ Kristen Hambridge)
Alpha Bandits (Wiggity Bang!). In this worthy Scrabble variant, you make as many words as you can out of your letters. Complicating matters: Once you put your letters out in the playing area, your opponents can use bandit tiles to flip, banish, grab or swap them, frantically forcing you to rethink and repurpose the letters you've played. Could cast a spell for those who can handle "take THAT" aggressive game elements.
Codenames (Czech Games Edition). There are 25 words on the table, but only some of them belong to your team. You know which ones they are; your partner doesn't. Your task: Give one-word clues to get your partner to guess those words without inadvertently uncovering the other team's words. A huge hit at Gen Con, selling all of the 750 copies available. I'll have to wait to get one for my permanent collection. Warning: Could cause partner battles because, really, how could he not know that?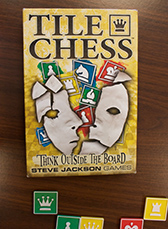 Tile Chess
Tile Chess (Steve Jackson Games). This brightly colored chess variation—in which the pieces are the board—may infuriate purists. But once you get used to the borderless, got-to-keep-all-the-pieces-connected rules, it's intriguing and fun. Bonus: Unlike standard chess, up to four can play. Worth checking out.
Spike (R&R). What at first might look like just a variation on the hugely popular Ticket to Ride train game, Spike goes beyond just laying track to include picking up and delivering goods and playing the commodities market. Alternate paths to victory make taking repeated rides probable.
Extra! Extra! (Mayfair). In this worker-placement game, you need to create a newspaper front page by hiring reporters and stringers, investing in photography, and outbidding your opponents for hot scoops. The number of game pieces might seem overwhelming at first, but this is a solid game with lots of room for variation once you get used to its mechanics. Something news.
Geek Out Pop Culture Party (Playroom Entertainment). The trick in this trivia game isn't just coming up with answers, but being able to come up with the right number of answers. Can you name four songs about the weather? Want to raise the stakes and try for five? What about six named dogs on TV? Helping to rationalize the trivia rolling around in your brain.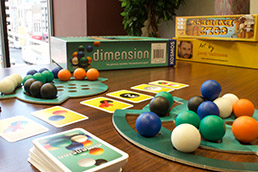 Dimension
Dimension (Kosmos). No theme here, just a batch of colored balls that must be shaped into a pyramid—which would be easy if there also weren't a set of rules affecting your construction (every orange ball has to connect to a white ball, a red ball can't be higher than any other, etc.). Built to last.
Cafe International (Rio Grande). In this English edition of a German game, your job is to place tiles—representing men and women of different nationalities—in a cafe. Maximum points are scored by keeping the male/female ratio balanced and keeping countries together. Not exactly progressive, but a fun, challenging game—especially when seats become harder to find and patrons placed at the bar diminishes your points. Table ready.
Survive: Space Attack! (Stronghold Games). Got competitive kids—or friends who don't mind playing what looks like a kids' game? In this variation on the classic Survive: Escape from Atlantis (a hit from way back in 1982), players try to escape from a deteriorating space ship, avoid Space Invaders-type aliens, and cause trouble for fellow crewmembers. Save space on the game shelf for this one.
Superfight (Skybound Games). For those who like games that are more social and chatty than strategic, here's a dumb-but-fun one. You are dealt a hand of character cards (Forrest Gump, Hillary Clinton) and attribute cards (has two extra arms, has 3-foot fingernails). Players pair these up, add a random card, then make their case for why their fighter would clean the clock of its opponent. For pacifists, a variant is to create the most desirable date. What if I recommended it AND could shoot glitter AND had an army of flying monkeys?
Any of the above sound up your game-playing alley? Have you tried any already? Chime in below.•
__________
This column appears weekly. Send information on upcoming arts and entertainment events to lharry@ibj.com.
Please enable JavaScript to view this content.