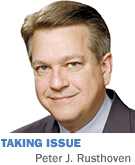 Hillary Clinton dismisses criticism of her using a private email server while secretary of state as "politics" and "partisan games," pledging she "won't get down in the mud" with her critics and—in a particularly nice touch—"won't play politics with national security."
The "victim of partisanship" note seems off-key, as it's the Obama Justice Department that's investigating things. But we, indeed, shouldn't play politics. National security is too important. That's why none of the following points has anything to do with being Democratic or Republican, liberal or conservative:
1. There was no reason—none—for Secretary Clinton to use a private email server. None, that is, that advanced the performance of her duties. It hampered that performance. At a minimum, it violated federal law on handling official records. More important, it compromised the security of sensitive communications to and from our nation's chief diplomatic officer.
This is so regardless of what one thinks of Clinton's "convenience" rationale, or what her motives for using a private email server might have been. Whether one admires or dislikes her, there was no legitimate, job-based reason for her doing this.
2. None of Clinton's shifting claims about sending or receiving classified information is credible. These have moved from "there was no classified material," to "no material was classified at the time," to "no material was marked classified at the time," to—in her press secretary's latest, unintentionally hilarious formulation—she "was the passive recipient of unwitting information that subsequently became classified."
One reason this is nonsense, noted by former Attorney General Michael Mukasey, is that "there is no little creature sitting on the shoulders of public officials classifying words as they are uttered and sent." No responsible official—certainly no secretary of state—needs a "Top Secret" stamp to know that intelligence or other sensitive data sent and received in "real time" is classified.
Further, as the Washington Post's Jennifer Rubin points out, no secretary of state could possibly be doing his or her job without routinely sending and receiving classified information. That's why we have secure electronic communications systems for senior officials, especially those involved in our dealings with foreign powers.
3. Carelessness in dealing with classified information is deadly serious. This was true during the Cold War. It remains true in a world where civilization itself is threatened by terrorism.
That's why former Army general and CIA Director David Petraeus was prosecuted for having classified information at his home. Another former CIA director, John Deutch, was investigated and agreed to a criminal plea when it was learned he had classified information on his personal computer—but then was pardoned by Clinton's husband on his last day as president.
There's little doubt that any other official using a private email server to send and receive sensitive data (regardless of how it was or wasn't "marked") would be cashiered and likely prosecuted.
None of these observations is "partisan." But I confess they're informed by having worked in the Reagan White House.
In part, this involves some experience dealing with classified information. But more important was getting to know people in our intelligence community. These include two who were later killed while serving undercover abroad.
They're a major reason I won't play politics with national security—and why I find Clinton's email practices so irresponsible and disturbing.•
__________
Rusthoven, an Indianapolis attorney and graduate of Harvard College and Harvard Law School, was associate counsel to President Reagan. Send comments on this column to ibjedit@ibj.com.
Please enable JavaScript to view this content.