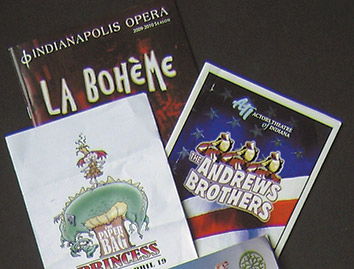 Confession: I am a program hoarder.
From home to dorm to apartment to apartment to house to house, my collection of performing-arts pre-show handout books has grown exponentially. Stacks of them occupy a significant percentage of my IBJ office cubicle. They hold my personal history of artists' efforts to engage, enlighten and entertain.
What's not in the pile: a program for the Indianapolis Opera's August production of "The Man Who Mistook His Wife for a Hat."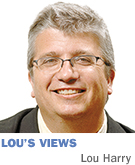 The reason has nothing to do with my feelings one way or the other for the production (for those thoughts, see my review at www.ibj.com/arts). It has to do with a policy by the now-rebuilding IO.
IO announced the new online-only program in a press release quoting IO's new general director, Kevin Patterson, as saying, "We're bringing the audience closer than ever before through new innovations like interactive program books. We are also going green by cutting back on all paper, ink and waste as a result of traditional methods. … Removing the wasted paper of printed books is the first step in our relationship with the opera-goers of the future."
I had two reactions. One was respect for the fact that a rebuilding company needs to make a lot of difficult choices. The other reaction was sadness.
I sent a quick note back stating my understanding of the need to cut costs but that I disliked the idea in part because a program, for me, isn't just an information source. It's a souvenir—a record of one's arts life. "Put it online and, poof!" I wrote.
Not intended as a position paper, my note was still, in hindsight, a woefully incomplete explanation of why I was disappointed in the (perhaps necessary) move.
I should have said that, while I tend to wait until after a performance to read director's notes and other items in a program, I do like to know the background of the performers and the show's creators beforehand. I appreciatively look at ads and patron lists to see who is helping to keep the arts alive. And I look to see if there's information on what else the company has in store at other times during its season.
Some programs go above and beyond. I always read Marianne Williams Tobias' outstanding notes in the Indianapolis Symphony's program, Indiana Repertory Theatre's has insight from costume and/or set designers,
and Beef & Boards offers peeks at what's on the buffet. (Granted, some programs packed with bios thanking mom for support or making inside jokes do seem like a waste of paper.)
In the seated time before a performance, I'm a captive audience. I might use my phone for a last-minute message check or to tweet, but I don't really have a desire to use it pre-show to search out biographies or find out the history of a production. I can't use an online program during a show to note the name of an impressive dancer. I can't glance at it phone mid-show to see how many numbers are left in an interminable musical. And it's also useless as a makeshift fan.
I might be an anomaly in my program collecting, but in a world of disappearing critical commentary, the loss of programs doesn't just reduce the arts' carbon footprint—it reduces its historical one.
Am I being selfish? Perhaps. After my initial note to the opera folks, I received a quick reply from Patterson with the subject line "Still Living in the 20th Century?" He noted that the vast majority of programs get thrown away or have to be recycled, that "moving to a digital format opens up a potential revenue stream resulting from capturing greater impressions and all of the digital analytics that go along with digital media," and that there haven't been enough impressions to justify the cost of a printed program.
My job isn't to decide if something is worthwhile for a company to spend money on. But some groups have successfully managed to make programs a revenue stream and find them worth the time and effort for audience building, stating supporter appreciation, etc. And if any art form benefits from imparting knowledge to its patrons, I'd think opera would be near the top of the list
For the record, trying to access the electronic program at the opening night performance of "Hat," I was told the code wasn't working. When I tried the website directly, it didn't work on myAndroid phone.
On the way to the parking lot after the show, there seemed to be more chatter about the lack of a program than there was about the production itself. Granted, this wasn't a scientific sample, but it did indicate a concern.
I hope those patrons will be a bit consoled by the response of Adam Wasserman, digital editor for Opera News, to my query on the subject.
"This is not, to the best of our knowledge, a trend," he wrote.•
__________
This column appears weekly. Send information on upcoming arts and entertainment events to lharry@ibj.com.
Please enable JavaScript to view this content.