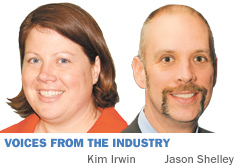 Headlines remind us almost daily that Hoosiers are among the unhealthiest people in the country.
Studies point to a number of reasons, from bad diets and low levels of physical activity to poor air quality and too many chronic diseases. Proposed solutions run a similar gamut, from more health education and stronger attacks on unhealthy habits, to improved food availability and better public transportation. Obviously, this is a complex problem that won't be solved with a single solution. Still, we know one single type of physical activity that can make a difference: walking.
The problem is, we don't do enough to make walking possible. In fact, in some places, we make it nearly impossible.
The stakes in this fight for better health are high, to say the least. Indiana ranks 41st in the nation in terms of residents' health, according to America's Health Rankings, with nearly 32 percent of Hoosiers being obese and 11 percent having diabetes. Each year, cardiovascular diseases claim the lives of 274 out of every 100,000 Hoosiers.
Why? Well, for one thing, 31 percent of adults say they get no physical activity outside of work. Of course, we don't make it easy. Some neighborhoods have no sidewalks, crumbling sidewalks or sidewalks that don't connect to places people need to go, such as school, work, stores or transit stations. We focus our infrastructure on automobiles, not walkers or people in wheelchairs or on bikes.
We're not the only ones who have noticed this problem—it's a national concern. U.S. Surgeon General Dr. Vivek Murthy recently issued a statement calling for the design of communities that encourage walking, wheelchair rolling and more physical activity.
Our organizations—Health by Design and the Indianapolis Chapter of the American Institute of Architects—not only support Dr. Murthy's statement, but we have committed to work with our members and stakeholders to make walkability a priority in the design and redevelopment of our neighborhoods.
Where to start? Safe walkways would be a good place. Over the last five years in Marion County, more than 80 people have died and hundreds of others have been injured in more than 1,100 pedestrian crashes. Having safe places to walk could have saved lives.
Other communities have seen dramatic results by focusing on walkability.
In Texas, for example, the city of Austin created Mueller, a neighborhood where walkability is a priority. A mixed-income, planned community developed on a 711-acre former airport site not far from downtown, Mueller was created for 10,000 residents, with at least 25 percent of homes being affordable housing. The high-density, residential area (about 14 residents per acre) features well-connected street networks, sidewalks, 140 acres of parks and 13 miles of hiking and biking paths/lanes.
The impact is clear. Researchers found that more than half the people who have moved to Mueller walk more than they did in their previous homes. Because of the network of sidewalks, people drive less.
But the impact of walkability isn't limited to health. People who live in Mueller say they see each other more and get to know each other better. Such connections make for safer streets: People who know each other are more likely to watch out for one another, and crime risk is reduced where there is increased pedestrian activity.
Walkability is also good for the wallet. An Urban Land Institute study shows that homebuyers are willing to pay more for homes in walkable neighborhoods, and a Real Estate Research Corp. analysis supported this by showing property values rise fastest in pedestrian-friendly areas.
Other studies have found other benefits of walkable communities, including better school outcomes and increased sales for retail businesses.
With all of this evidence, it seems our job is clear: Create more walkable communities. Everyone should have access to places where walking is safe and easy. As a city, we should design and redevelop neighborhoods that include well-maintained sidewalks, pedestrian-friendly streets, adequate lighting, access to public transit and pathways that connect people to destinations. As citizens we should demand communities that make us healthier, safer and more successful.
Yes, our communities' health problems are complex and daunting, and the solutions are many and varied. But we can go a long way toward making things better by creating more walkable communities, places where people can walk, bike and roll their wheelchairs safely. Let's just say it would get things off on the right foot. •
__________
Kim Irwin is CEO of Health by Design and Jason Shelley is executive director of the Indianapolis Chapter of the American Institute of Architects.
Please enable JavaScript to view this content.