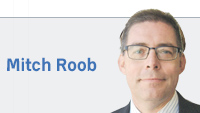 We all know that Indiana faces a road funding problem. We need to figure out how to get more money to repair and expand our network or face perpetual gridlock.
The underlying issue is governance of the road system or road utility. The Indiana Utility Regulatory Commission should be given responsibility of defining a level of service on our state's highways and the authority to raise or lower gas taxes or other user fees to fund the necessary capital and operating budget.
Years ago, the General Assembly created the IURC to regulate water, waste water, electricity and natural gas. The regulation establishes physical safety standards and economic security for customers and investors alike. A well-understood and transparent system has evolved over the last several generations, with the General Assembly and governor maintaining oversight and appointment authority.
The governance structure of public utilities has worked well for transportation of commodities by pipe and wire. Why not people and products by road?
The Indiana Department of Transportation has shifted much of its focus to maintaining infrastructure rather than expansion. This is prudent in an era of tighter budgets. Unfortunately, this will mean less-safe and slower movements in the "Crossroads of America." Our logistics and manufacturing industries will suffer and the rate of traffic fatalities will likely increase.
The law of unintended consequences is at work here as well. As cars and trucks become more fuel-efficient, revenue per vehicle miles traveled decreases as the gas tax per gallon remains flat. Yet, wear and tear on roads does not correspondingly decrease. Alternative fuels and batteries may be good for the environment, but from an economic perspective, they are free riders on the roads.
Each of these problems is solvable in the near term assuming a legislative political consensus can be reached. An increase in registration fees, gas taxes or billing based on vehicle miles traveled may work.
Perhaps a congestion tax on time of day traveled and/or the number of passengers in a vehicle would be an option. For instance, if four riders were in a car, their cell phone electronic signatures could easily be monitored to validate a decrease in the charge per vehicle mile at a specific time of day.
Or consider a floating gas tax. When oil is up in price, gas user fees go down; when oil is down, gas user fees go up. People far smarter than I have kicked these ideas around for years.
Today, no governmental entity is in charge of assuring adequate funding for roads. The nature of the revenue traditionally used to fund road development and repair has no natural growth. Unfortunately, even if the Legislature and the governor choose to increase revenue, a new funding squeeze will soon be on the horizon.
We need a structure that can bring better predictability to capital budgets. It is time for Indiana to once again lead the nation in creating workable models of public governance.
The General Assembly is good at creating governing structures and monitoring their performance. The Department of Transportation can remain a state agency under this model, focused on design, construction and maintenance of the road utility. The IURC can set levels of service and rates.
Designing governmental structures effectively does not guarantee good results, but it increases the odds.•
__________
Roob, executive vice president at Keramida Environmental, has run Indiana Economic Development Corp. and Family and Social Service Administration. Send comments on this column to [email protected].

Please enable JavaScript to view this content.