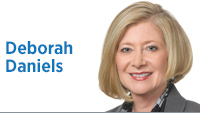 I fully agree that we need to be forceful in our response to violent criminals, incapacitating them through lengthy imprisonment.

But we must not over-incarcerate non-violent, low-level offenders—unless we want more crime.

When crime surged in the 1980s, we began to hit hard at the drug trade, with mandatory minimum sentences and "three strikes, you're out" laws. The U.S. prison population increased dramatically: By 2008, one in 100 adults was behind bars.

From 1991 to 2008, nationwide prison expenditures increased from $19 billion (adjusted for inflation) to $52 billion. Today, imprisonment costs consume over one-quarter of the entire Department of Justice budget.

Meanwhile, recidivism remained static, at just over 60 percent within three years of release. A recent government report on state prison releases in 2005 shows the situation did not improve as we imprisoned more people: The average recidivism rate was over 40 percent within one year of release, over 60 percent within three years, and nearly 80 percent within five years.

Who is in prison for drug crimes? The Department of Justice cites data indicating that only 0.7 percent of federal drug offenders used violence or threats of violence, 16 percent had a weapon, and only a small percentage played a leadership role in a drug conspiracy.

In 2007, states began trying to improve public safety by studying research on how to reduce recidivism by non-violent, low-level offenders. They typically are sentenced to short prison terms and return to their communities as better-trained criminals, with little supervision.

The answer was to save scarce prison beds for violent criminals, while enhancing probation for the non-violent, subjecting them to random drug testing and swift and certain sanctions for violation of probation conditions. The anticipated prison cost savings were reinvested in drug and mental health treatment and enhanced supervision by probation officers.

Texas, hardly a soft-on-crime state, was the first to try this, and by 2009 it had begun to bend the recidivism curve downward. Texas reduced imprisonment 11 percent, reinvesting $241 million in community supervision and treatment—and reduced its crime rate 24 percent.

A program in Hawaii employing this approach was subjected to a rigorous randomized controlled trial. The results: Probationers in the experimental group—subjected to randomized drug testing, drug and mental health treatment, and swift and certain probation violation sanctions—were 55 percent less likely to be arrested for a new crime and 72 percent less likely to use drugs, among other positive outcomes.

Congress is entertaining similar legislation to reform sentencing on the federal level. State and federal reform legislation enjoys the support of many current and former prosecutors, police chiefs and other law enforcement officials.

Indiana is one of many states trying this approach. Our public officials have worked since 2010 to get the formula right. In 2015, the General Assembly, having previously adopted some reductions in sentences of imprisonment for low-level offenders, dedicated a fairly significant sum to community supervision and drug and mental health treatment.

We have a chance here in Indiana to make our communities safer, through lengthy imprisonment of violent criminals and community accountability, and treatment for those who don't pose the same threat of violence, but who may repeatedly victimize the public without this approach. We need to help non-violent offenders go straight, and not yield to the temptation to imprison them—the least effective means of recidivism reduction—just to look tough.

Let's make sure we do this right, for the safety of all Hoosiers.•

__________

Daniels, managing partner of Krieg DeVault LLP, is a former U.S. attorney, assistant U.S. attorney general, and president of the Sagamore Institute. Send comments on this column to ibjedit@ibj.com.