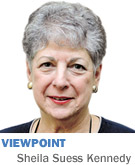 I always look forward to IBJ's "Eight@8" email. It's unfailingly clever and occasionally snarky, and there is usually at least one item I wouldn't otherwise see.
One of those items was a Pro Publica investigation of the Red Cross—more specifically, the experience of that venerable charitable organization with management practices appropriated from (and appropriate to) the private sector.
In 2008, the organization chose Gail McGovern as its new executive director.
From Pro Publica:
"A former AT&T executive who had taught marketing at Harvard Business School, McGovern pledged to make the tough choices that would revitalize the Red Cross, which was chartered by Congress to provide aid after disasters. In a speech five years ago, she imagined a bright future, a 'revolution' in which there would be 'a Red Cross location in every single community.'
"It hasn't worked out that way."
McGovern brought former AT&T colleagues to the Red Cross, to preside over what Pro Publica characterizes as a "string of previously unreported management blunders that have eroded the charity's ability to fulfill its core mission of aiding Americans in times of need."
McGovern slashed the organization's payroll by more than a third. She eliminated thousands of jobs and closed hundreds of local chapters. In response to the new management practices, large numbers of veteran volunteers left, further crippling the charity's ability to respond when disasters strike.
Scholars of not-for-profit management could have predicted some of these problems.
We Americans are suckers for simple solutions—slogans, actually—to complicated issues. For too many years, people who fail to understand the very real and very salient differences between the public, private and not-for-profit sectors have responded to every failure of government agencies or not-for-profit organizations with the same mantra: It needs to be run like a business. If [insert agency name here] were only run like a business, its performance would improve.
What the mantra routinely misses, of course, is that government agencies and mission-based not-for-profits are fundamentally different from private business enterprises. It is one thing to insist that government agencies and not-for-profits be run in a business-like fashion—that they exhibit fiscal prudence, transparency and other hallmarks of good management appropriate to their missions—but it is another thing entirely to suggest that they operate with management practices appropriate to for-profit enterprises.
According to Pro Publica, "McGovern, selected after a global search by a headhuntingfirm, was seen as a candidate who would bring private-sector methods to the nonprofit. 'Isn't it great that we have someone that really has had that business expertise in developing and working with a brand and recognizing the power of it?' [Board Chairwoman Bonnie] McElveen-Hunter told The Washington Post at the time."
There's a reason that university courses in not-for-profit and public management are separate and distinct from business school management courses. The skills needed by for-profit enterprises focused on bottom-line returns are significantly different from the skills required by mission-driven organizations.
We measure business success with "green chips"—return on investment, shareholder satisfaction, growth in sales.
Measuring the success or failure of government is complicated by disagreements over the role government should play (if a government agency is doing something you don't think it should be doing in the first place, how do you determine whether it is succeeding?). But generally, both government agencies and charitable organizations are assessed by measuring outputs against inputs: Are services being rendered efficiently and economically? Are the proper people being served?
Different sectors, different missions, different management practices.•
__________
Kennedy is a professor of law and public policy at the School of Public and Environmental Affairs at IUPUI. She blogs regularly at www.sheilakennedy.net. She can be reached at skennedy@ibj.com. Send comments on this column to ibjedit@ibj.com.
Please enable JavaScript to view this content.