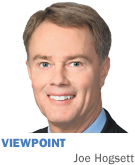 In the weeks before taking office, I had the opportunity to sit down with groups of city-county councilors over dinner. As we ate, they started opening up about their time on the council and issues they saw in their own neighborhoods. As I suspected, the problems they discussed were similar, no matter if the councilor represented the near-east side, the far-north side, or the old south side. No matter if he or she were a Republican or Democrat. Abandoned homes, drug trafficking and aging infrastructure were issues every single one of them had heard about from constituents. And it is why I am firm in my resolve to be the mayor of ALL of Indianapolis.

For too long, we have been divided by our partisan political affiliation. It has happened at the local level partially because the national rhetoric on both sides has been so hostile to differing opinions. For too long, we have been entrenched in, and therefore complicit in, the emergence of party-driven politics. I fear we have lost the simple and most important aspect of our democracy, which is two or more people sitting down, talking and listening to each other over a cup of coffee. Political operatives have become skilled at discerning what voters want, but this has caused our elected representatives to forget that our system sometimes requires they do more than merely mirror the most vocal of their electorate and conduct themselves accordingly.

Political parties have existed since the onset of our democracy. They are not some foreign creation. They are made up of people like you and me, and have a utility within our system of government. Unfortunately, every day, it becomes a little bit harder to distinguish between where partisan politics ends and governance begins. Every day, this process further accelerates and elevates what divides us at the expense of what unites us. Every day, we seem to be moving away from a democracy that asks people, rather than parties, to govern. Every day, we seem to be moving toward a perpetual partisanship that makes government at every level unable to answer the problems of the present.

And that is among the greatest dangers we face. At every level of government, the challenges we confront are daunting enough. If the democratic process itself is broken, we stand no chance at all. We must get out of our own way and break this stalemate.

How? First, we can start by remembering who we are and from where we have come. However large this nation grows, we must never forget that it sprang from small towns and villages—places and people that did not have the luxury of divisive political ideologies, mistrust, resentment or gridlock, people who understood that they needed one another more than anything else. These were people who knew that, if they were to survive and if they wanted a better life for their children, they had to get things done, and they had to work together to do so.

So must we. And we should never forget that. Now let's—ALL of us—get to work.•

__________

Democrat Joe Hogsett was elected mayor in November and began his term on Jan. 1. He is a former U.S. attorney and secretary of state.