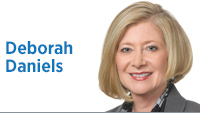 Joe Hogsett has already made the best decision he will make as mayor of Indianapolis.

By appointing Troy Riggs, a veteran of Republican Greg Ballard's administration, as chief of police, the mayor has demonstrated he is fully committed to reducing crime in Indianapolis. He is living up to his post-partisan "One City" promise. And he is willing to put strong, visionary people in place and allow them to execute on their vision.

This city could not find a better choice for police chief than Riggs. He was an assistant police chief in Louisville and assistant city manager in Corpus Christi, Texas. He knows Indianapolis and IMPD. He knows effective enforcement must be informed by data. He knows our crime problem cannot be solved through enforcement alone, but that longer-term social issues must be addressed for our future safety.

Mayor Hogsett further decreed that Riggs will report directly to him. Had he not, I would have advised Riggs to decline. But the mayor has made it clear he will work directly with Riggs to ensure that the chief's strategic vision is carried out.

The two have developed an impressive approach, based on reducing crime, reducing the fear of crime, and enhancing public safety. While those three goals might sound the same, they are related but distinct.

To reduce crime, IMPD will engage in aggressive enforcement, targeting the more than 1,400 people with outstanding felony warrants. It will also create a homicide-response team to identify and pursue the criminal activity that often leads to murder. That includes drug dealing, gang activity and illegal firearms procurement.

Hogsett and Riggs will continue IMPD's enhanced focus on the 13 square miles within Indianapolis in which a full 45 percent of criminal homicides are occurring, an approach Riggs initiated as public safety director under Ballard.

They will create a "real time crime center," using data to identify existing and emerging threats. This will enable IMPD to focus its resources and engage in "predictive policing," joining the ranks of the most progressive departments in America by using data to drive strategy and tactics.

They will engage in community policing—in Riggs' words, "as a philosophy, not as a program." This is critical. Many police departments fail to understand that community policing must be embedded in the department's culture. Police must become true partners with residents of the community, developing a trust relationship with them. It is hard work, but if done right, it will make a world of difference. Community members must trust the police enough to report crime.

By developing a partnership with the community and consequently increasing the reporting of crime, IMPD will go a long way toward reducing both criminal activity and the fear of crime. The fear of crime can be even more damaging to the fabric of a community than crime itself. As people feel safer, they will trust the police more, and partner with them, creating a virtuous cycle leading to enhanced public safety.

Finally, the mayor and chief understand that mental illness plays a significant role in crime, and also in police-citizen confrontations gone tragically awry. Our fire department will offer Indianapolis residents mental health services, and IMPD officers will receive additional mental health awareness training.

A prediction: In short order, Riggs will become one of the leading police chiefs in the nation. Indianapolis will become a national example of innovative and effective policing. And, over time, our community will not only feel safer, but also be safer.

Good move, mayor.•

__________

Daniels, managing partner of Krieg DeVault LLP, is a former U.S. attorney, assistant U.S. attorney general, and president of the Sagamore Institute. Send comments on this column to ibjedit@ibj.com.