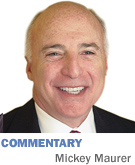 Former Subway pitchman Jared Fogle was sentenced to 15 years and eight months in prison by U.S. District Judge Tanya Walton Pratt. Fogle is guilty. He pleaded guilty. He deserves to be incarcerated for his despicable behavior, but for a number of reasons the sentence was in excess of what should have been imposed. Pratt, normally a sensible judge, exercised faulty judgment.

Under the terms of Fogle's plea agreement, the prosecution led by a United States attorney and supported by senior litigation counsel agreed not to ask for a sentence greater than 12 years and seven months in consideration of the defendant's and his counsel's accommodation not to ask for a sentence below five years. That left a wide range for Judge Pratt to mete out fair justice.

Pratt's disregard for the plea agreement could have a chilling effect on a criminal justice system that relies on the plea bargain to address what would otherwise be an impossible number of cases to litigate. The result would be a clogged docket —an adverse consequence for those seeking a fair and timely adjudication. Although Pratt was within her authority, she was offensive to the process.

Exceeding the limits of a negotiated plea agreement may be appropriate in extraordinary circumstances, including collusion, fraud and an egregious result. But what's the hullabaloo about in the Fogle case? Assuming Fogle will serve 85 percent of his sentence, Pratt has succeeded so far in tacking on just a couple years to an incarceration of about a decade and a half.

Judge Pratt could have rejected the plea bargain and given defense counsel the right to withdraw the plea or negotiate a different sentencing range. Instead Pratt's incomprehensible deviation from the reasonable suggested sentencing parameters hashed out by two competent and experienced teams dealt a blow to the entire system of justice.

Pratt's sentence was excessive. Fogle pleaded guilty to two counts: distributing and receiving visual depictions of minors engaged in sexually explicit conduct and conspiring with others to do so, and traveling in interstate commerce in order to engage in unlawful commercial sexual acts with minors. Fogle admitted to having sex with a 16-year-old prostitute in New York, which under the law in that state would be described as a Class E felony. A 16-year-old is one year under the age of consent in New York. According to defense counsel in New York, a John found guilty of a Class E felony would probably serve less than a year, if anything.

As for all that blather in the press about Fogle's lustful desires, if that stuff is to be considered Jimmy Carter would be making license plates instead of collecting his presidential pension (Carter Playboy interview 1976). Just last month a three-judge panel of the federal appeals court declined to reinstate the conviction of a former New York police officer who was accused of plotting kidnappings when he exchanged on-line messages about abducting, torturing, killing and eating women. The panel wrote, "We are loathe to give the government the power to punish us for our thoughts and not our actions." Further, "Fantasizing about committing a crime, even a crime of violence against a real person whom you know, is not a crime."

Given that the normal penalty for having sex with a 16-year-old prostitute in New York is hardly enough time to take fingerprints, Pratt must have focused on the dirty photographs. Fogle did not take these pictures; nor did he sell them. He did not touch these girls or anyone else under 16. He does not deserve 15 years for his illicit library.

Last month, Fogle's appellate attorney, Ron Elberger, filed a notice that he is appealing the sentence. Ron is a respected veteran who takes cases he expects to win. I predict he will prevail in his quest to reestablish trust in the plea bargaining system and to achieve a fair sentence for Jared Fogle.•

__________

Maurer is a shareholder in IBJ Corp., which owns Indianapolis Business Journal. His column appears every other week. To comment on this column, send e-mail to mmaurer@ibj.com.