Indiana University's Assembly Hall and long-gone Market Square Arena have a couple of things in common. They both debuted in the 1970s (Assembly Hall in 1971, MSA in 1974), and both were saddled with not-exactly-fan-friendly architectural oddities.
The big difference between them is their fates. In 2001, MSA found itself on the business end of the wrecking ball. Assembly Hall, however, is currently undergoing a $40 million-plus renovation—an overhaul that includes a massive new entry atrium and upgrades to all facets of the venue.
Why not just level the place and start over? Perhaps because the building's design, though odd, does have its good points.

Glass
"For me, the most important feature of this project is that we're able to preserve what I think is the greatest home-court advantage in college basketball for another generation," said Fred Glass, Indiana University vice president and director of intercollegiate athletics.
"There was some discussion about whether we should just scrape the thing up and start over. I was not a fan of that. There are very few iconic venues left, and I think that, notwithstanding its idiosyncratic features, Assembly Hall is one of those."
Glass calls it idiosyncratic. Others might call it just plain weird.
Workers have continued building the new south entrance during the basketball season. Renovations to the arena itself will include installing a massive new video scoreboard. University officials aim to complete the entire project in October. (IBJ photo/Quinn Andrews)
Originally costing $26.6 million, Assembly Hall was designed by the New York architectural firm Eggers & Higgins. The company already had done several major IU buildings, but this was its first basketball arena. Ever.
School administrators wanted most of its 17,000 seats on the sides, with seating behind the baskets kept to a minimum. Fulfilling that wish necessitated packing in seating on a decidedly steep grade. The slopes on the building's two balconies are even more Everest-like.
And yet, the scheme has its advantages. Sportscaster Gus Johnson called the arena the Carnegie Hall of basketball. And it has earned a reputation as one of the loudest college basketball venues in the nation, with ESPN ranking it the third-best home-court advantage in a 2012 poll.
Administrators felt that was worth preserving.
"I've been going here since I was a kid," Glass said, "and the steps are uneven, the seating's weird and the balconies are no prize. I get that. But it's been home to an amazing run of great college basketball.
"When the lights come on and the announcer says, 'We're live from Assembly Hall,' you know you're live from Assembly Hall."
There's also a hefty financial component to the decision. Though renovating is sometimes trickier than building from scratch, it's still usually much cheaper. While a new arena would likely cost north of $100 million, the Assembly Hall work is priced at around $40 million, most of it covered by a donation from Cindy Simon Skjodt, daughter of the late mall tycoon Mel Simon. For her trouble, the building will be renamed Simon Skjodt Assembly Hall.
Skjodt told IBJ last fall that the gift was a no-brainer because some of her fondest memories of her father were at Assembly Hall.
"There's a rumor going around that I wanted to tear it down," she said. "Hell, no. No. It's iconic. It's one of the greatest college sports venues in the world. Why would I want to see it torn down? Never, ever."
What's planned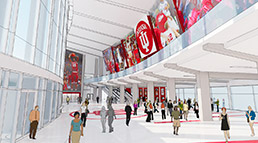 The year-long project includes renovating concourses, renovating and adding restrooms, renovating concession stands, and replacing ramps with escalators. (Rendering courtesy of CSO Architects)
Renovations began in April and will continue into this fall. The redesign's most prominent addition is a south lobby main entrance featuring an atrium with a massive window overlooking the court. When the building reopens next fall, it will become Assembly Hall's front door.
The basketball season has also been a big obstacle for construction workers, who can't touch the actual arena until play concludes in the spring.
So far, crews have found no show-stopping problems—just the typical surprises that come with renovating an older structure.
"Every time we dug into the foundation, we'd find a utility we didn't know existed," said Jim Funk, principal at CSO Architects and project manager for Assembly Hall. "We'd have to build around it or move it."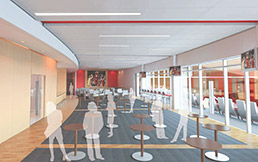 The renovation will add club seating and event space accommodating up to 200 people. The new hospitality revenue will help support maintenance of the building. (Rendering courtesy of CSO Architects)
Add to that the fact that the building's mechanical room sits directly beneath the new south entrance. It had to be unroofed, leaving it exposed to the elements for months while the addition rose above it.
Construction on the south entrance has continued unabated throughout basketball season.
"Part of the design features a big glass window so that, as you walk into the south entry, you'll be able to look into the arena," Funk said. "That was cut into the wall, and right now it's covered up, waiting for basketball season to be over so we can do more."
While the project has been complicated, it's far from overwhelming, said Tom Morrison, IU vice president for facilities and capital planning. Indeed, tweaking Assembly Hall isn't as hard as, say, renovating a residence hall.
"We have academic buildings that have been through several renovations because they were built a hundred years ago," Morrison said. "So it's not uncommon for us to reinvigorate and renovate older buildings. It just so happens that this one is an arena, and we only have one of those. So it's not like we can shut the building down during construction and just delay basketball for a year."
Better fan experience
The new south entrance is a radical departure from the building's original design, but renovations in the arena itself—also called "the bowl"—will be less drastic. They include swapping out the building's north and south ramps for escalators, expanding and renovating the bathrooms and vending areas, and putting in a massive new video scoreboard.
"I think our fans will notice the bathrooms," Glass said. "All 309 existing toilets will be upgraded, and we'll add another 150 on top of that, two thirds of which will be for women. That will be a big plus for people, because that was a big problem."
The least-seen but perhaps most vital component will be swapping out everything from the electrical systems to the plumbing and environmental control systems.
"We've found water pipes that were completely occluded with rust and corrosion," Morrison said. "It reminds you as to why we need these types of improvements."
Most of the seats will also receive new bottoms, or "pans."
"The seat count will not change at all," Morrison said. "That was one of our goals going into this project. We did not want to lose seats."

Fehribach
Seating for the handicapped actually might get a boost. Advising on Assembly Hall's Americans with Disabilities Act compliance is Indianapolis attorney Greg Fehribach, co-founder of The Fehribach Group and a consultant on making buildings accessible.
Obviously, it's easier to do that with a brand new structure, where ADA considerations can be baked into the design. Dealing with an older venue, one from the days before the disabled were given any consideration at all, is more problematic. For instance, while the scratch-built south entrance will be completely ADA-friendly, and the rest rooms and vending areas upgraded for handicapped accessibility, the upper balconies remain inaccessible.
"It's impossible because of the pitch of the seats," said Fehribach, who uses an electric wheelchair. "I've not been up there. I can't get up there. But I understand that, when you're in your seat, you're basically looking straight down. It would be just impossible to safely get somebody up there and then keep them safe once they're there."
The rest of the building is more amenable. Fehribach is still working on where to place ADA seats and therefore isn't sure how many there will be—though it won't be fewer, and will possibly be more, than before the renovation.
"We'll get to where we need to be," he said. "We're actually working on the idea of being able to put some floor seats down there, too."
Glass said that, with the project at roughly the midway point, everything seems to be progressing nicely. Which means the new Assembly Hall could open on time in October.
"Most of the bad stuff in projects happens early, when you first get into the ground and find a bunch of surprises," he said.
"Thankfully, we avoided that. We think there's nothing on the horizon that could throw us off budget or off schedule. We haven't touched the contingency fund. To be this deep into the project without doing that is a big plus."•
Please enable JavaScript to view this content.