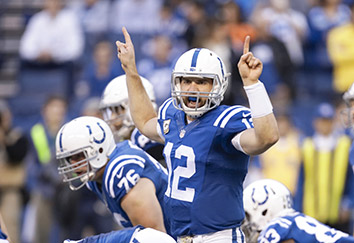 The Indianapolis Colts and star quarterback Andrew Luck are at a crossroads.
Luck has been so good in his first four years in the NFL that he could command a salary to rival those of Green Bay's Aaron Rodgers and New Orleans' Drew Brees.
But the Colts want to avoid mistakes of the past, when the team devoted so much of its salary cap to Peyton Manning that it was a herculean effort to build a solid roster around him.
After all, while the Colts had great success with Manning as their quarterback for 13 seasons, going to two Super Bowls and winning one, the Denver Broncos matched those results with Manning in just four seasons. That's at least in part because his lower salary let the Broncos beef up other roster spots.
So, as Colts officials prepare to negotiate Luck's second contract—talks that are set to take off this spring and hit full speed in the summer—they have a bigger picture in mind.

Irsay
"It's more challenging to retain your star players and all the other talent you need to win championships in the NFL than it is in any other league," said Marc Ganis, president of Chicago-based SportsCorp Ltd., a consulting firm that counts several NFL teams as clients. "You're dealing with a league that has a hard salary cap and that creates some real challenges for team owners and general managers."
The challenge is so steep that, a decade ago, NFL teams began hiring a specialist—usually an attorney who doubles as an accounting whiz—whose sole job is to study the team's salary cap.
All 32 teams now have "a capologist" on staff, said Exclusive Sports Group President Andrew "Buddy" Baker, an Indianapolis-based agent who represents 20 NFL players.
"There are guys in the league who do nothing but look at the team's player payroll and salary cap situation all day, every day," Baker said. "You have to deal with getting 53 players signed under the cap while maintaining balance on offense, defense and special teams."

Baker
It's a situation that Ganis said "can create a lot of headaches. That's putting it mildly."
The NFL's hard salary cap means a team's total player payroll cannot exceed a limit negotiated by the owners and players' union, based on total league revenue. Unlike in the NBA, there are no exceptions.
In 2015, the salary cap was $143.3 million; it's expected to escalate to $155 million for the 2016 season. Teams will be informed by league executives in early March of the exact figure.
That $12 million bump is good news for the Colts.
They aren't in terrible shape—yet. The team should be more than $20 million under the cap headed into the 2016 season. But signing Luck to a lucrative long-term deal is only one of many concerns coming off of a disappointing 8-8 season.
The offensive line—critical in protecting the franchise quarterback—is a Dumpster fire. Pass rushers and run stoppers are desperately needed, as is help at the linebacker position and a cornerback to play opposite Vontae Davis.
Lucky bargain ending
Colts General Manager Ryan Grigson, who got a new contract last month, will be under immense pressure to better manage the roster.

DeGaris
Knowing the window was closing on Luck's bargain rookie contract, Grigson last year signed several high-priced free agents, including wide receiver Andre Johnson, who turned out to be a bust.
With Luck's salary about to skyrocket, Grigson will have much less room for error in future seasons.
The pay for NFL rookies—even top draft choices—is relatively low; the last collective bargaining agreement assured that.
That means teams who get quality players right out of college—like Luck—get off cheap for four years.
"He's definitely outperformed the amount he's been paid under his contract," said Mark Rosentraub, a University of Michigan dean and noted sports business author. "Now the party is coming to an end."
Even though Luck was the No. 1 overall pick in the 2012 draft, his salary—or the amount counted against the team's salary cap—was just $4.02 million. That's a nice paycheck, to be sure, but modest by NFL standards. It was one-fourth of what the Colts paid Manning a year earlier.
Luck's pay for his second through fourth seasons grew slowly, hitting $7.03 million in 2015. In his fifth and final year under that contract, Luck will earn $16.2 million, unless that figure is renegotiated in the new contract.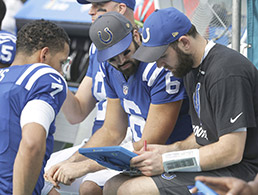 Signing Andrew Luck to his second contract is just one of the many challenges facing team owner Jim Irsay and General Manager Ryan Grigson. The Colts' troubles this past season exposed glaring weaknesses, especially with the pass defense and run defense. (AP photo)
Colts owner Jim Irsay said of Luck's impending contract: "It's going to be a big number"—possibly a nine-figure, long-term deal starting at $20 million annually.
That's an eye-popping salary. But the number isn't what matters, Ganis said.
"Everybody points to the giant annual salaries," he said. "The really important number is what percentage of the total payroll that sucks up. That determines if you're going to be able to field a championship team or not."
During Luck's first four years, his salary accounted for only a small percentage of the team's total salary cap: 3.36 percent his rookie year, 3.89 percent his second season, 4.87 his third, and 4.91 his fourth.
Manning, meanwhile, ate up nearly 14 percent of the team's cap during his final year with the Colts. In 2008, Manning's pay consumed 16.1 percent of the salary cap; in 2003, it hit a high-water mark at 20.5 percent.

That, said NFL insiders, made it difficult for then-Colts General Manager Bill Polian to make the Colts' defense as consistently potent as its offense.
Selfish or selfless
Manning isn't alone. The likes of Brees, San Diego's Philip Rivers and Detroit's Matt Stafford—to name a few—have also gobbled up considerable chunks of their teams' salary caps.
Other franchise players have taken a different tack. New England's Tom Brady, for instance, accounted for only 9.9 percent of the Patriots' player payroll in 2015.
Manning agreed to a $4 million pay cut heading into the 2015 season with Denver and accounted for only 12 percent of the team's payroll. That allowed Denver to pursue valued free agents, which helped lead Manning to a win in his second Super Bowl for the team.
"When you get into the 14 to 15 percent range, that's starting to be a danger zone," Ganis said. "A team is only going as high as 17 percent for an incredibly special guy. When you hit 19, 20 percent, that's very troublesome no matter who we're talking about. At that level, it just gets to be difficult to sign enough quality support players."
ESPN's Bill Barnwell, who covers the NFL, suggested Irsay give Luck a blank check.
"Not figuratively—literally. Just leave the terms of the deal blank, and let Luck fill them in," Barnwell said. "The Colts can't afford to let Luck go."
And it probably wouldn't be Luck's best play to break the Colts' bank.
"Their best chance of getting him to take a below-market deal might be to try to guilt him into taking less money, also knowing he's smart enough to not wreck their cap from a team-building standpoint," Barnwell said.
It's difficult to tell what Luck is thinking. He's not talking about his contract and his agent—also his uncle—Will Wilson did not return calls seeking comment.
All indications are that Luck is the kind of guy who won't try to bleed the Colts, Ganis said.
"Ever since there has been free agency, there have been two kinds of players: selfish and selfless," Ganis said. "Everything he has done to date indicates he will work with the team so they can sign other top players. His personality is a selfless, team-first player."
Super Bowl payoff
A player's—especially a quarterback's—motives for accepting less money are not always purely altruistic, said Larry DeGaris, director of academic sports marketing programs at the University of Indianapolis.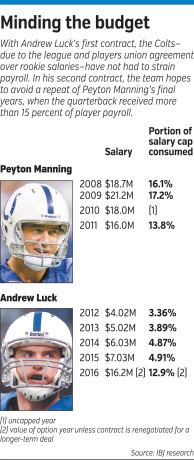 "In the long run, a star player can make more in endorsements and media deals than he can playing," DeGaris said. "Being on a winning team, especially a Super Bowl-winning team, means a player is going to have a lot more endorsement opportunities.
"You put a [Super Bowl] ring on a guy like Andrew Luck and he has a lifetime of endorsements ahead of him," he added. "You put two on him and he's in living-legend territory."
Green Bay's Rodgers didn't become known for State Farm's discount double-check until after he won the 2011 Super Bowl. He also signed with Ford, Previa and Adidas after that game—deals that sports marketers estimate pay him $8 million a year.
After New Orleans beat the Colts in the 2010 Super Bowl, Brees signed pacts with Wrangler, Pepsi, Verizon and Procter & Gamble that have been valued by sports marketers at $11 million annually.
And after Russell Wilson's 2014 Super Bowl triumph with Seattle, the quarterback signed endorsement deals with Braun, Bose, Microsoft and Duracell valued at $7 million annually.
Irsay, as talkative an owner as there is in the NFL, has been more reserved with his comments about Luck's contract than he was during Manning's prime, when he repeatedly promised to make Manning the league's highest-paid player, almost as if it were a point of pride.
This time around, Irsay has two primary goals for his franchise quarterback's contract.
"You want to make it cap-friendly," he said. "And you want to have the ability to possibly alter it as time goes on to help the cap and different things like that."
Both laudable goals. And equally difficult.•
 
Please enable JavaScript to view this content.