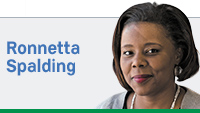 Every time I see the state's slogan, "Indiana, a state that works," I want to rewrite it. Indiana is a state that sometimes works. Indiana is a state that could work. My new favorite retooling is, "Indiana, a state that worked so hard to erase the Religious Freedom and Restoration Act (RFRA) from our memories." Now that's a catchy slogan.

It's never a good idea to attempt to rewrite a crisis, especially one that state leadership created with RFRA. Taking responsibility, showing empathy and being prepared with a game plan is typically the better approach.

Lucky for us, The Indianapolis Star has snagged email exchanges between Gov. Mike Pence's administration and the pricey PR firm hired to help "erase" all those precious RFRA memories. The emails partly detail the state's efforts to monitor and hopefully conquer the endless "Indiana is unwelcoming" reports.

Not so precious are the countless blacked-out (redacted) sentences, which, according to The Star's report, restrict full—and probably embarrassing—accounts of some email conversations. Taking months to adhere to the newspaper's public records request, the administration had plenty of time to cross out a lot of unflattering items featured in the emails.

What we knew back then is now confirmed—the RFRA local and national backlash in 2015 was a big concern for the Pence administration, and rightfully so. (They stood their ground publicly while panicking privately.) Once word spread that Indiana was becoming more unwelcoming by the minute, the state rushed to rewrite the story—eventually hiring Porter Novelli in April 2015, only to fire the firm a few months later. This brief PR partnership cost the state $365,000, a questionable fee for the amount of work completed in the short time period.

As a quick reminder, no one has forgotten or will ever forget the massive outrage over RFRA and the governor's refusal to say the law would not permit discrimination against the lesbian, gay, bisexual and transgender community. Furthermore, the longer Pence danced around the discrimination and equal-protection issues, the more our neighbors (and convention competitors) trashed our state's reputation and the governor's leadership.

For some reason, elected officials and leaders in general think people have short-term memories and will embrace good news over remembering the chaos that led to the need for good news in the first place. That approach has not worked for Indiana, and it is not working for our neighbors in Flint, Michigan. By now, we all know Michigan's governor has attempted to rewrite news of Flint's dangerous lead-ridden water conditions, previously denying the severity and deflecting blame. It went from an in-state concern to a national nuisance (Democrats are even holding a presidential debate in Flint).

First impressions are hard to shake. As I've said before, Pence is the governor for all Hoosiers, not just the ones who voted for him and for those special interests who support his viewpoints. Until all Hoosiers see that discrimination of any kind will not be permitted in Indiana, RFRA baggage is a permanent talking point with no chance of "good news" replacing it anytime soon.•

__________

Spalding is a communications specialistand brand strategist. Send comments to ibjedit@ibj.com.