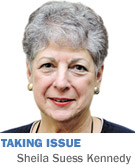 For a variety of reasons, the United States has chosen not to socialize its medical care through government, but through the insurance industry. I've just had a firsthand look at how that's working out.

Three weeks ago, I had a nasty fall, fracturing my pelvis and clavicle. After eight days in the hospital, the doctors wanted to send me to acute rehab. (Acute rehab is appropriate for people who have been active and can be expected to respond to longer sessions of physical therapy—and thus get home more quickly.) Anthem, my primary insurance company, rejected the recommendation. No consultation with the doctors—just a denial.

According to the very apologetic caseworker, insurers deny approximately 50 percent of requested moves to acute rehab. There doesn't seem to be a pattern for these refusals, which are issued without seeing the patients or consulting with their doctors. The hospital can appeal, and I'm told about half of those "peer-to-peer" appeals are granted, but, according to the medical staff, even the appeal process becomes something of a game (calls routinely returned after hours, for example, when the insurance company knows the physician won't be available).

The orthopedic doctors were insistent that I needed rehab, and initiated the appeal. They made several calls; it was two days before anyone from Anthem responded. This didn't make business sense; two days of added hospitalization were surely more expensive than rehab.

When Anthem finally did return the multiple calls from the hospital, and the doctors had once again explained the charts, X-rays, reports from in-hospital PT, etc., they were told that, according to Anthem's algorithm, I was "not a candidate" for rehab.

Anthem's algorithm, you see, knows more about what is "medically necessary" than the doctors who actually examined and treated me. As one of the doctors said, "Why did I waste all that time in medical school?"

Not having the acute rehab will lengthen my recovery, but I'm confident I'll eventually be fine; I have a pretty extensive family-and-friends support system.

What was truly eye-opening about this experience, however, were the comments posted to my blog, where I reported what was transpiring. It was as if I'd opened a floodgate; readers—including a surprising number of doctors and nurses—shared heartbreaking stories of decisions that would be malpractice if made by medical personnel rather than the impersonal and anonymous "algorithm" of an insurance company. (As more than one opined: These are the real "death panels.")

I asked whether the hospital has the same problem with Medicare. It doesn't. But then, Medicare isn't focused on "market efficiencies."

Last year, IBJ ran articles on Anthem's plans to "chop expenses" and on the company's executive pay. The top four earners received a combined $27.4 million. And they didn't even have to go to medical school.

Evidently, the algorithm used to determine executive compensation approved.•

__________

Kennedy is a professor of law and public policy at the School of Public and Environmental Affairs at IUPUI. She can be reached at skennedy@ibj.com.