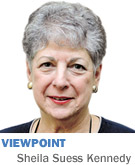 As we have "matured" (OK, gotten old), my husband and I have opted for early voting. We make our obligatory trek to the Marion County Clerk's Office in the City-County Building, and generally are in and out in a very few minutes—secure in the belief that, if we're hit by a bus before Election Day, our votes will still count.
On April 23, our experience was a bit different. The place was mobbed with early voters.
Evidently, the large early turnout wasn't a surprise, because the Clerk's Office was set up to accommodate it. Even with relatively long lines, the process was fast and efficient. But it did give rise to a question (posed in terms appropriate for a Passover seder): Why is this primary election different from other primary elections?
I can only assume the show of interest this year is a combination of the fact that it's a presidential year, and that Indiana's primary will actually matter. Most years, America has chosen its nominees well before the process comes to the Hoosier state, and it's hard to persuade non-base voters to cast a ballot that will make no difference.
Of course, the reason our primary will matter—the reason neither party has definitively settled on its nominee—is disconcerting. To be blunt, this has been a year when politics appears to have become untethered to information about the system candidates are vying to control.
First of all, look at that word: control. On both sides of the political aisle, presidential candidates are making sweeping promises about what they "will" do if elected. Granted, for the Democrats, Sanders admits he'll need a "revolution" in order to make good on his promises, which signals that he's somewhat connected to reality. But on the Republican side, both "The Donald" and Cruz are proposing measures that fly in the face of 200 years of American constitutional law. (Trump has clearly never heard of things like "separation of powers" or "checks and balances," while Cruz—who surely knows better—proposes to appoint justices who will ignore two centuries of church/state jurisprudence. Good luck with that, Ted.)
Candidates' making grandiose promises that are impractical or unconstitutional or counterproductive is nothing new. What is troubling, at least to someone who teaches public administration through a constitutional lens, is that large numbers of voters don't seem to understand the most basic rules of the system these candidates propose to manage.
A substantial percentage of the American population appears to believe we elect a person to serve as "monarch" for a four-year term. He or she will assume office, wave that magic wand, and change or create rules and/or policies at will. I am constantly bemused by my friends on the political left who complain that Obama has been such a disappointment, because he hasn't done thus-and-so: closed Guantanamo, reformed immigration policy, whatever. They seem utterly oblivious to the fact that Congress has a role to play if these policies are to be realized—and that Congress has shown no inclination even to come to the playground, let alone cooperate.
Indeed, this Congress has refused even to consider (as in "look at") either the president's budget or his nominee for the vacancy on the Supreme Court.
When and if the American people show as much interest in off-year elections, and elections for the U.S. House of Representatives and Senate, as they do for choosing our supposed monarch, I'll feel a whole lot better.•
__________
Kennedy is a professor of law and public policy at the School of Public and Environmental Affairs at IUPUI. She can be reached at skennedy@ibj.com.
Please enable JavaScript to view this content.