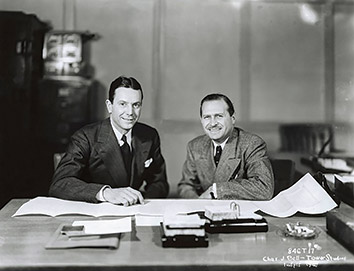 The 100th running of the Indianapolis 500 brings inevitable questions about the long-term future of the race and its famous track.
But thanks to a savvy tax-avoiding maneuver made long ago by late track owner Anton "Tony" Hulman Jr., his grandchildren and great-grandchildren appear poised to lead the Indianapolis Motor Speedway into the next era, sources told IBJ.
Hulman's lone living child, Mari Hulman George, turns 82 in December, and the relationships among her four children haven't always been harmonious. That's fueled speculation that discord or estate-tax issues might trigger a sale of the goliath, 107-year-old landmark that has an assessed valuation of more than $75 million and a market value likely many multiples larger.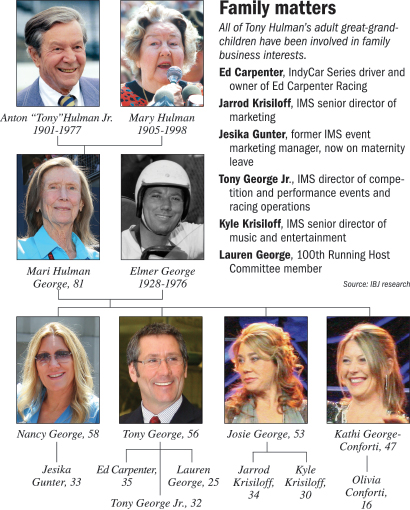 But sources close to the family said much of the friction has been quelled. Mari's only son, Tony George, who was fired in 2009 as chief of the Speedway and IndyCar Series by his mother and three sisters—Nancy George, Josie George and Kathi George-Conforti—and later resigned from the Hulman & Co. board, has since rejoined the board. And sources said he's made peace with the company's new boss, Mark Miles.
Family members also have diversified the board, adding community stalwarts such as Indiana Pacers executive Jim Morris and Miles, a former ATP Tour CEO and 2012 Super Bowl Host Committee chairman. They later added Purdue University President and former Indiana Gov. Mitch Daniels as well.
Daniels was subsequently named trustee over the Hulman family trust, to help manage its assets and the transition from one generation to the next, sources with knowledge of the appointment said. It was a rare—and quietly carried out—move for the Hulman-George family, which has historically kept dealings within the family and a small circle of confidants.
Daniels was not available for comment by IBJ deadline. However, sources said the move to appoint the former governor was prompted by Miles, who was named Hulman & Co. CEO in late 2012 and sought to stabilize the company's short-term and long-term future.
It wasn't the first time Miles hand-picked Daniels for a job. In 1990, when Miles left Indianapolis to become CEO of the Association of Tennis Professionals, he selected his longtime friend to replace him as executive director of public affairs at Eli Lilly and Co. Inc.
Miles emphasized that Hulman-George family members have no interest in selling the track or IndyCar Series.
Hulman & Co. holdings include investments in banking, real estate, oil production and manufacturing Clabber Girl products, in addition to the racing empire that includes the track, open-wheel race series and a broadcast production company.
Miles called rumors of a potential sale "complete nonsense."
"The family is not interested in selling [Hulman & Co.], the Speedway or the IndyCar Series," Miles said emphatically during the opening day of practice for this year's Indy 500. "That's all there is to it."
Miles did acknowledge the family is periodically approached about selling all or parts of the Hulman business—especially the racing interests.
"Anytime anyone asks about it, it's a quick 'no,'" Miles said.
Rockefeller lesson
As trustee, Daniels would have final say over whether to sell the Speedway. But even if he and any of Mari Hulman George's children wanted to sell the track or IndyCar Series, it might be difficult—in part because it could undercut a highly tax-advantaged "generation-skipping trust" that Tony Hulman set up many decades ago, sources told IBJ.
The tax treatment of generation-skipping trusts fundamentally changed with Congress' passage of the Tax Reform Act of 1976, which added provisions ensuring that a transfer tax is imposed at least once every generation.
But the measure grandfathered earlier trusts. Under those prior rules, "a transferor could establish a trust that would last for many years and benefit several generations of beneficiaries, without the imposition of any subsequent estate or gift taxes," according to a primer on the law by Baltimore attorneys A. MacDonough Plant and Lynn Wintriss.

Miles
Rodney Retzner, a partner in the local law firm Krieg DeVault who has no role in the Hulman family's estate planning, said altering generation-skipping trusts can wreak fiscal havoc.
"Whenever you deal with an irrevocable trust grandfathered for generation-skipping purposes, people get really nervous about any transaction involving the trust or altering the trust in any way," said Retzner, chairman of the firm's estate planning and administration practice group. "Some changes can cause you to lose its grandfathered status, and that would be a very big problem."
Hulman—who bought the dilapidated IMS for $750,000 in 1945, three years after inheriting his family fortune—took a page from the Rockefeller family's playbook. Just as billionaire John D. Rockefeller Jr. had done in 1934 for his own descendants, Hulman placed familybusinesses in the generation-skipping trust, sources told IBJ.
Hulman, a Yale University graduate, died unexpectedly in 1977 at the age of 76. But by that time, his company's and his family's futures were secure.
"Tony Hulman was a savant," one person familiar with his business dealings said. "He was way ahead of his time in using generation-skipping strategies that were brilliant."
"Tony Hulman was a really, really smart man, and he knew what this facility meant to the state and what this facility meant to his family," said Speedway President Doug Boles.
Boles added that Hulman secured the business for "generations of which he hadn't even met," but declined to elaborate on the structure of the family's succession plan.
Estate taxes on the entirety of Hulman & Co. would be staggering. Estate taxes on much smaller enterprises—notably the Miami Dolphins—have caused the controlling family to sell because family members couldn't cover the sizable bill.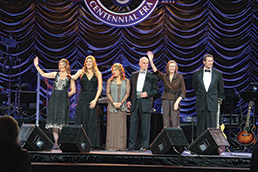 The IMS board in 2009, at the Centennial Era Gala that February, from left: Kathi George-Conforti, Nancy George, Josie George, longtime family friend and attorney Jack Snyder, Chairwoman Mari Hulman George and Tony George—who left the board later that year but has since returned. (Photo courtesy of Indianapolis Motor Speedway)
So-called generation-skipping trusts are designed specifically to protect a family's assets from generation to generation as they appreciate in value, while heirs receive income generated by the assets in the form of dividends.

Boles
Without the trusts, people with great wealth had sought to pass assets straight to their grandchildren to avoid paying estate taxes twice—once when the assets passed to their children and again when they passed to their children's children. The estate planning strategy adopted by Hulman and Rockefeller in some cases can push estate taxes more than 100 years into the future.
Additionally, assets placed in generation-skipping trusts are sometimes frozen at their value at the time they were placed in the trust, greatly lowering the sting of the eventual tax bill.
No rush
One source familiar with such arrangements said the generation-skipping trust should remain valid for 21 years after the death of Mari Hulman George's last living child. This means she and her children should have no trouble passing Hulman & Co. along.
 
After that, Krieg DeVault's Retzner said, it would be up to the estate planning of the living heirs to assure the company remains in the family.
"The family will have to use sophisticated planning techniques themselves or alternatives, such as life insurance, to come up with the liquidity to pay the tax bill," he said.
George's heirs still will have to pay taxes on her assets outside the trust after her death, but a source familiar with the family's business dealings said that's likely in the $30 million to $40 million range—well within the means of herchildren to pay.
Plus, one source close to the business said, George's heirs could have up to15 years to pay that tax bill at a low interest rate under federal tax provisions for small businesses.
George's advanced age and rumors of a Speedway or IndyCar Series sale have not hampered Hulman racing enterprises' ability to sign deals with sponsors and other corporate partners, Boles said.

Ungar
"I think people know this company isn't for sale and hasn't been for sale," he said. "The family is committed to owning the Indianapolis Motor Speedway. It's an Indiana asset and treasure that they're going to protect. Part of what makes it special is that we're still family-owned."
That family ownership differentiates—in a good way—the Speedway and IndyCar Series from racing operators such as NASCAR and track owner Speedway Motorsports Inc., Boles added.
Several sponsors contacted by IBJ said the Speedway's and IndyCar Series' future leadership and ownership are not a major concern.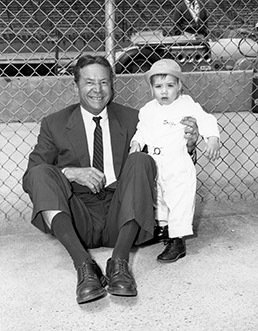 Tony Hulman and his only grandson, Tony Hulman George, in 1961. (Photo courtesy of Indianapolis Motor Speedway)
"I know the Hulman-George family has been approached time and time again about selling, and the answer is 'no, thank you' every time," said Zak Brown, founder of Zionsville-based Just Marketing International, which representsIndyCar sponsors Verizon, HHGregg and Fuzzy's Ultra Premium Vodka. "They're not in a position where they have to sell it. And they don't want to sell it.There are more questions about the future leadership of Formula One and who's going to replace Bernie Ecclestone than there are about the IndyCar Series."
In-house development
Although Hulman CEO Miles has detractors, some saying he doesn't know much about the sport and others saying he's only using his position to boost his own brand, many Speedway and IndyCar partners are heartened by his leadership.
"Mark Miles has brought the track and the series a sense of stability and direction moving forward," Brown said, adding that he's helped mend fences within the Hulman-George clan. "Tony George has a very good relationship with Mark Miles."
Ken Ungar, former Speedway and IndyCar Series chief of staff, said Miles has assembled a leadership team capable of growing the operation.
"Mark has done a great job of maximizing revenue streams and preparing the entire organization for the future," said Ungar, whose company, U/S Sports Advisors, represents Honda, one of the series' biggest partners.

Brown
Miles also has worked to develop the next generation of leadership within the Hulman-George family. Working closely with Mari Hulman George's grandchildren, Miles has insisted that Hulman Motorsports is a "meritocracy" and only those that demonstrate ability and willingness to work hard will advance.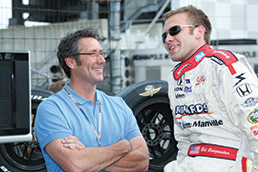 Tony George's stepson, Ed Carpenter, owns an IndyCar team and has twice won the pole position in the Indianapolis 500—in 2013 and 2014. (Photo courtesy of Indianapolis Motor Speedway)
Miles and Boles have worked especially closely with Jarrod Krisiloff, the Speedway's senior director of marketing, and his brother, Kyle, senior director of music and entertainment, as well as Tony George's son Tony Jr., who is director of competition and performance events.
Tony George's daughter, Lauren George, a 2013 University of Notre Dame graduate, is working closely with Hulman Motorsports Senior Vice President Allison Melangton on event planning for the 100th running of the Indy 500.
"Mark has created a very deep bench of leaders to lead this organization into the future," Ungar said.
Miles' future
Miles' own future has been the source of considerable speculation.
When asked by IBJ—shortly after he accepted the Hulman job 3-1/2 years ago—how long he intended to lead the company, he said, "To make a dent in something like this, I think three to five years is the absolute minimum."
He's certainly made a dent—increasing IndyCar Series television ratings and live attendance, bumping up sponsorship revenue, and overseeing the sellout of the 100th running of the Indianapolis 500, a first in 20 years. He also helped secure a $100 million state loan to make massive improvements to the storied Speedway.
And, sources said, he's halved the annual operating deficit of the IndyCar Series, from $20 million to $10 million. Miles told IBJ the Speedway and IndyCar Series combined are now profitable.
If he can put a successful 100th Indy 500 in his rearview mirror, some series partners and those within the IndyCar paddock have speculated, Miles, 62, might leave after this season.
"That is up to my board," Miles said. "I'm really enjoying this, we're making good progress, and I hope to be here a few more years. I don't feel I have any reason to leave."
He said he's still hoping to get more cars on the IndyCar grid full time, expand and stabilize the series schedule, and further bolster sponsorship sales, TV ratings and attendance series-wide.
But when he does leave, Miles said, the Speedway and IndyCar Series will be ready. For his eventual replacement, he said, he hopes "we choose a strong internal candidate."
"Any well-run company thinks about succession," he said. "We have a development plan for 50 people. We very closely chart their performance and development. We have good talent here, and we're going to do all we can to develop it."
Please enable JavaScript to view this content.