It's no small responsibility being born into the family that owns a landmark that has helped define this city over the past century and controls the future of a sport employing thousands of central Indiana residents.

So while the Indianapolis Motor Speedway revels in its centennial this month and motorsports aficionados take a nostalgic look back, the next generation of heirs to the Hulman George fortune has its eyes firmly fixed on the future.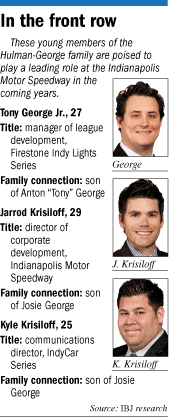 This seven-member group will have a dramatic impact on which direction the IMS, IndyCar Series and entire sport of open-wheel racing is steered. And the 20-something heirs are already starting to make their mark.

"Everybody there understood early on these kids were the next generation of leadership, the lifeblood that was going to keep this operation going," said Dave Moroknek, an executive for the Speedway and Indy Racing League from 1993 to 2002. "And everybody understood the importance of making sure they had early exposure to the business side. That was mission critical."

For better or worse, the grandchildren of Mari Hulman George have had a front-row seat for a family-run show that over the last 20 years has been at times glorious and at times gory, but rarely boring.

They've watched their parents—Anton "Tony" George, Nancy George, Josie George and Kathi George Conforti—attempt to keep the family fortune intact while not letting the pressure that comes with running a billion-dollar enterprise sever family ties.

The ups included a windfall from bringing NASCAR racing to the track in 1994, while the downs included losing hundreds of millions of dollars on the fledgling IRL—later renamed the IndyCar Series—and the unraveling of the Speedway's relationship with Formula One, which staged the U.S. Grand Prix here from 2000 to 2007.

Family tensions spilled into public view in May 2009, when Tony's mother and three sisters fired him as Speedway CEO. The dismissal stemmed largely from frustration over mounting losses, most tied to the IndyCar Series, which to this day hasn't turned a profit.

"They've seen it all up close and personal," said Zak Brown, president of a locally based motorsports marketing firm who has worked closely with Tony George in recent years. "They've seen how the pressure of running this operation can tear at the family. And I think they've learned from that."

Already working full time in the family's racing businesses are Josie's sons Jarrod and Kyle Krisiloff; Tony's son, Tony George Jr.; and Nancy's daughter, Jesika Gunter. Tony's stepson, Ed Carpenter, is an IndyCar driver, while his daughter Lauren just finished her sophomore year at the University of Notre Dame and is working at the Speedway part time. The other heir, Kathi's daughter, Olivia, is a teenager.

Through a spokesman, Hulman George family members declined to be interviewed.

Future leaders

Already, Jarrod and Kyle Krisiloff and Tony George Jr. are scaling the management ranks.

Jarrod, the eldest of the next generation at 29, is the Speedway's corporate development director. Kyle, 25, is IndyCar Series communications director. And Tony Jr., 27, is manager of league development, working closely with the Firestone Indy Lights feeder series.

All have considerable racing experience—along with other sports interests.

Kyle and Jarrod both were champion BMX bicycle racers. Jarrod broke his neck as a youth in a bike race, which shortened his auto-racing career, but not before he won a national quarter-midgets title in 1997. He also is an avid in-line skater, having competed alongside Olympian Apolo Anton Ohno.

Kyle raced stock cars until 2009, when he retired to work for the IndyCar Series full time. He won 320 races and nine national championships in the quarter-midget ranks from 1995 to 1999, later ascending to one of the top NASCAR feeder series.

The Krisiloff brothers are sons of longtime open-wheel racer Steve Krisiloff. Both attended Park Tudor School. Kyle went on to graduate from the University of Southern Indiana, where he studied marketing and advertising.

Tony George Jr. was an avid go-kart racer as a youth, and also became an accomplished hockey player. While he later graduated from IUPUI, his greatest learning experience may have been watching his father run IMS and the fledgling open-wheel series, former Speedway insiders say.

"Tony Sr. was on 24 hours a day," said Ken Ungar, who worked for the Hulman George empire from 1996 to 2005, most notably as the series' senior vice president and Speedway chief of staff. "So Tony Jr. grew up hearing about the business around the dinner table. I think that's had a dramatic impact on him, and helped him develop a keen interest in the business side."

Some observers speculate that Jarrod one day could succeed IMS CEO Jeff Belskus, and that Tony Jr. could replace IndyCar Series CEO Randy Bernard.

Derek Daly, a former racer whose son is coming up through the open-wheel ranks, said Tony Jr. is quickly becoming a critical component in the series' efforts to develop good, young American drivers.

"He's going to play a key role in whether this series succeeds or fails," Daly said. "It's a heavy burden for a young person to bear, but I sense he's up for it."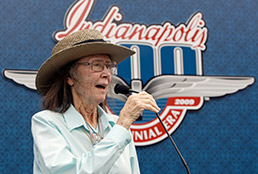 Mari Hulman George, the only child of the late Indianapolis Motor Speedway owner Tony Hulman, has promised to pass the track on to her grandchildren. (IBJ Photo/ Perry Reichanadter)
Jarrod sat in on the interview process that led to Bernard's hiring early last year.

"I could see right away he was very knowledgeable about the sport," Bernard said. "He offered his insight and asked very intelligent questions."

Bernard said the impression Jarrod left on him and the commitment of the new generation of heirs were big reasons he left the growing Colorado-based Pro Bull Riders circuit to succeed Tony George Sr. as IndyCar CEO.

"When it's a family-run business, I think you naturally have some concerns," Bernard said. "I questioned the board of directors about the leadership. I realize at some point, this next generation will likely be my bosses. But after meeting them, and now working with them, I don't have any concerns about the future of this operation."

Nancy's daughter, Jesika, is making her mark, as well. As coordinator of event marketing, she and her marketing team promote special events and work on ways to attract younger fans.

No sale

Each year, especially in May, rumors crop up about the Speedway's potential sale. After meeting the young heirs, Bernard became convinced the family has no intention of selling.

"They're completely committed to this sport and this business," he said. "It's as much a calling as a profession."

Robin Miller, a motorsports journalist for four-plus decades, said he is certain the Speedway will stay in the family.

Matriarch Mari Hulman George "has said numerous times, 'It's not for sale. It's for my grandkids,'" said Miller, who has close ties to the clan and has broken several major stories involving family matters. "And I believe her. This is the Hulman George family legacy. It's about a lot more than money."

Friends and business associates said Jesika, Lauren, Ed and Olivia have skills that will complement the leadership of Jarrod, Kyle and Tony Jr., and all eventually may assume key roles.

"It's really amazing how well their skills fit together and complement each other," Ungar said. "Jarrod understands creative marketing and new media, Kyle understands the on-track product inside and out, Jesika is an event marketer with great artistic abilities, while Tony has proven to be very talented in the business of racing."

Though Lauren is only 20, she should not be underestimated, Ungar said.

"Lauren is very, very bright and has an incredible street sense," he said.

Lauren is playfully known among employees as "G.O.M," short for Goddess of Motorsports—a nickname that reflects her likability as well as their respect for her knowledge of the sport.

Lauren previously worked for Vision Racing, the IndyCar team her dad operated before it went broke last year. Ungar said that experience gave Lauren unique insight into the team side of the business.

Family associates say once his racing career ends, Carpenter, 30, could be a natural successor to Brian Barnhart, the series' president of competition.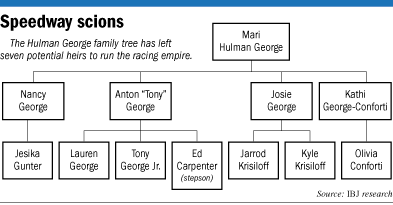 Hands-on training

One key difference between this generation and the previous one is, it's starting from the bottom up.

Mari's three daughters took positions on the company's board with little motorsports experience.

Tony's first meaningful position—besides that of a minor-league racer—was as the Speedway's president.

"Before he became president, I mostly remember Tony playing a lot of golf," said Miller, an analyst for Versus and Speedcable channels.

The IMS faced a crisis of leadership following the death of Joe Cloutier in late 1989. Cloutier had been Tony Hulman's longtime lieutenant and Speedway treasurer, and became president following Hulman's death in 1977.

The family members on the board at the time had to decide whether to keep the top post in the family or hire an outsider.

With some trepidation, the board voted to make Tony president in January 1990. Several of the family's top advisers counseled board members to make Tony the president of a smaller family enterprise before turning over the track to him. Tony even doubted his own readiness.

"In the minds of most, I probably wasn't the logical successor at the time," George told Road & Track magazine in 2004. "By my own admission, I probably hadn't attained, or at least didn't feel comfortable that I had attained, as much knowledge or experience or competence going into the business in a leadership role.

"In the end, it was decided it would be best to try to keep leadership of the company inside the family. With some reluctance and trepidation, they decided to give me a shot. I was a bit honored by that, but at the same time, a bit overwhelmed."

George became a decisive chief executive, and a divisive force in the world of open-wheel racing.

In 1994, he brought NASCAR racing to the Brickyard, a decision that generated hundreds of millions of dollars for the family. He also brought in F1 racing in 2000 and later MotoGP motorcycle racing, with both generating modest profits, though F1 exited after 2007 amid declining attendance.

But George's most controversial—and costly—move was forming a series to rival Champ Car. The Indy Racing League, now known as the IndyCar Series, launched in 1996, and according to motorsports business sources, has lost more than $500 million.

As confused and disgruntled fans and sponsors left the sport, Champ Car folded, giving the Hulman George family no choice but to keep the IndyCar Series going if it wanted the Indianapolis 500 to be part of a series.

The board overseeing the family business was dominated by family until this year, when veteran Indianapolis executives Andre Lacy, Michael L. Smith and Jerry Throgmartin came aboard. At the same time, Tony Sr., who left the board following the 2009 family rift, rejoined the board.

Pushed into spotlight

IndyCar CEO Bernard put the young generation in the spotlight this January when he showcased them at the annual IndyCar State of the Series, a glitzy event at the Westin Hotel.

Introducing the future leaders, Bernard said, was important for several reasons.

"I wanted to show the Hulman George family is in this for the long haul," he said. "And I wanted to show that this [new generation] wasn't born with a silver spoon in their mouth. They're here every day working alongside us in the trenches."

Even Miller, who often has been critical of the family-run business, agrees the new generation has a strong work ethic.

"Jarrod is one of the first guys in and last guys out every day," Miller said. "All of these guys are working their way up, holding a lot of different positions and learning various facets of the business."

Ungar recalls that after the 2001 Brickyard 400, as most employees packed up, Jarrod stood out in the 90-plus-degree heat handing out sales brochures for next year's event.

"It was the end of a brutal day, and most of us were ready to be done," Ungar said. "Not Jarrod. He's always on."

Some motorsports insiders whisper there are already rivalries brewing among the new generation.

Ungar, an attorney who specialized in family-run businesses before joining the Speedway, said this generation must learn from the last if the family is to retain control.

"The principal challenge they face is, they must develop a joint mission," Ungar said. "They need to understand that each member contributes in their own unique way and that each contribution has value."•