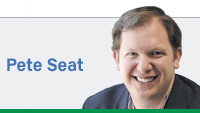 How in the world did we not see Donald Trump's nomination coming? The landscape was ripe for his taking, but very few predicated the ultimate outcome, including me. Except, I did see it coming. I just needed to read my own columns to figure it out.
If "2014 is in fact a good year for the [Republican] party, be wary of anyone who says, 'We're going to run 2016 the same way we did it in 2014.' That's a surefire recipe for disaster."
I ended a March 2014 column with those words following a string of polls showing that election cycle would be favorable to the Grand Old Party. And, as is the case following electoral routs, campaigns and parties tend to double-down on their strategies and hope to strike gold twice or thrice. As the 2016 cycle unfolded, that turned out to be the case.
Jeb Bush looked to shock and awe through massive fundraising and equally massive television advertising buys. Scott Walker built himself a staff operation worthy of someone who actually was the nominee. And other candidates did as traditional candidates do—exactly what I was afraid would happen.
Authenticity was the topic of a July 2014 column, but the main subject was Hillary Clinton. Bombarded with criticism over assertions that she and former President Bill Clinton found themselves "dead broke" after leaving the White House, I offered free advice that she own who she is and let authenticity shine through. I wrote, "Americans vote for national leaders more times than not based on their personality traits rather than their tangible solutions to real problems." And I added this: "Reality television shows dominate the ratings because we get to see people in their most raw and unguarded moments."
In August 2014, on the vast political portal known as Politico, I analyzed the emerging presidential contest this way: Candidates for the Republican nomination hope "the party chooses to 'fall in love' rather than 'fall in line' in 2016. And there's a high probability that will be the case." Bingo. Right on the nose. I shall pat myself on the back.
I elaborated on this point by defining "fall in love" as nominating an individual who had not previously run for president. That immediately eliminated aspirants such as former Texas Gov. Rick Perry and former Pennsylvania Sen. Rick Santorum—who were among the first to drop their bids.
What exactly makes someone presidential? That was a question I posed in October 2015, well into the Trump phenomenon. At that time, the non-Trump candidates for the nomination were trying to make temperament an issue. They wanted primary voters to side with them that one's demeanor was a qualifying trait for the office.
That ploy hardly worked. However, I concluded the piece with this: "We could make Cuban-American presidential. We could make Indian-American presidential. We could make reality television host presidential." Therefore, I will chalk that up as on the right track.
The need to campaign differently, the public's desire for authenticity and the evolving definition of presidential—again, how did I not see Trump coming? I listened to the traditional voices of the Beltway rather than the voices of the Heartland—including my own. I saw this coming; I just needed to read my own work.•
__________
Seat is a former deputy press secretary to George W. Bush, the author of "The War on Millennials" and senior project manager at Hathaway Strategies. Send comments to ibjedit@ibj.com.
Please enable JavaScript to view this content.