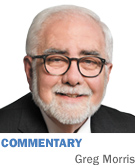 I was discussing the general state of affairs recently with fellow Indiana newspaper publisher and friend Chris White of the Times Media Co./Times of Northwest Indiana. We're both on the board of the Hoosier State Press Association, and Chris is board president. He comes from a respected, Munster-based news organization serving Crown Point, Merrillville, Hammond, Gary, Portage and Valparaiso, to name a few. You know—"the Region."

I was intrigued to hear from Chris that his company partnered last year with the Gary Chamber of Commerce in an endeavor intended to promote civility. Now that's an interesting concept. Civility is a lost art that we don't experience much anymore. You mean people can come to the table with diverse opinions, have a civil discussion and maybe even work together to find solutions to problems? It reminded me of the old days. I wanted to hear more.

The concept started to gel after the Gary Chamber's public policy committee discussed ideas with the potential to improve Gary and surrounding communities. Chris and Times Media jumped on board, and the Community Civility Counts movement was born. It launched with a joint news conference where the initiative's vision was communicated and results were promised. The idea was marketed with logos affixed to T-shirts and posters.

Chris said this in the Times last April: "If we are going to accomplish what we can in Northwest Indiana, we are going to have to work together. If we could keep our conversations centered around issues, be respectful and civil to each other, we can get more done. That person who is your biggest opponent today, just may be your biggest ally tomorrow."

The Times has devoted a prominent section of its website to the effort and has consistently kept the importance of civility front and center in its print publication. Readers add to what the Times publishes by sharing their thoughts and experiences in print, online and on social media. There's a Facebook page and the #civilitycounts hashtag where readers share anecdotes and observations about civility. Comments on the website are monitored closely for tone and content.

Near the top of the civility-branded webpage appears the following:

"As we witness incidents of disrespect, discourtesy, intolerance, bullying and violence in all of our communities, we see the need to raise the conscious level of everyone and those from every walk of life. Whether in politics, business, education or our personal lives, we can be better. We must be better in order to live in a civil manner and in a civilized society."

The civility movement in northwestern Indiana, now about 14 months old, is going strong and gaining strength. Other communities have joined the movement. Of course, bad habits aren't learned overnight and aren't eliminated overnight. But the results feel good so far.

I love this story. It gives me hope we can jump off this 24/7 merry-go-round of perpetually negative news. And can this presidential election season be over with soon? Please! Today's (and every day's) presidential campaign headlines and stories are nothing more than a sewer of incivility, divisiveness and bad behavior. As a result, to maintain my sanity and generally pleasant disposition, I limit my exposure to all that poisonous venom as much as possible.

That's why, now more than any other time I can remember, I find the civility movement so appealing. Does it sound corny to you? Here in the "big city," do you think the community civility counts movement sounds like a small-town idea? Well, I'll take corny when it comes to this topic. And you can rest assured there's nothing small-town about the communities in northwestern Indiana. They're all basically a suburb of Chicago. I know the area well. Civility is a good idea there. It's a good idea here. And, it's a good idea in every community, big or small.

Our words and actions matter. Civility matters. And I'm looking in the mirror as I write this. We can't control the actions of others, but we can control our own actions and reactions to others.

Please have a safe and enjoyable upcoming Independence Day holiday weekend. God bless America, and best to you and your loved ones. Thanks for reading and supporting IBJ.•

__________

Morris is publisher of IBJ. His column appears every other week. To comment on this column, send email to gmorris@ibj.com.